 News
Now That's What I Call Music 8 to be reissued as a two-CD set
The 1986 compilation is released on CD for the first time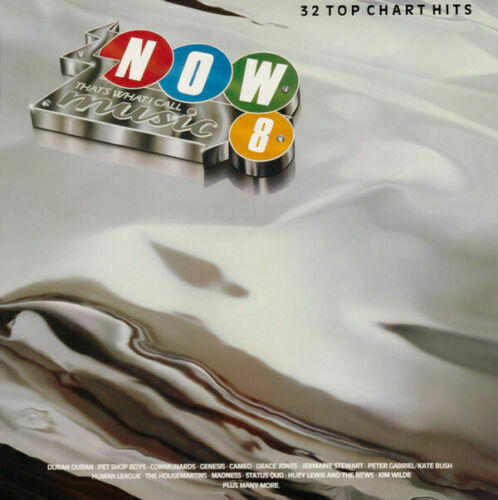 1986 'various artists' compilation Now That's What I Call Music 8 will be issued as a two-CD set for the first time later this month.

Issued in November 1986, just three months after number seven, Now 8 was a massive seller, going quadruple platinum in the UK and reaching number one in the charts. They actually all reached number one (except for Now 4) until the rules were changed to exclude compilations from the 'main' album chart (Now 13 was the last chart-topper, fact fans).
Now 8 contained "32 top chart hits" (a 17-track CD was also released) and is a decent compilation, starting particularly strongly with Duran Duran's transatlantic top ten hit 'Notorious' and the remix of Pet Shop Boys 'Suburbia' –  the fourth, and final single from 'Please'.
Other popular hits of the day include Peter Gabriel and Kate Bush's 'Don't Give Up' (Gabriel's second consecutive appearance on a 'Now'), Run DMC's 'Walk This Way', the Communards' 'Don't Leave Me This Way', Swing Out Sister's 'Breakout', Steve Winwood's 'Higher Love', Cameo's 'Word Up', The Cutting Crew's '(I Just) Died In Your Arms' and Robert Palmer's 'I Didn't Mean To Turn You On'.
I'd argue that this set is the last compilation in the series that still feels (more or less) like classic, high-quality, diverse 'Eighties' pop music. Subsequent sets still have their moments, of course, but as dance music (Steve 'Silk' Hurley, M/A/R/R/S etc.) and Stock-Aitken-Waterman productions creep in, the tone shifts and perhaps some 'magic' is lost.
There's no confirmation, yet, as to how faithful the reissue will be to the original 32-track collection (the lack of attention to detail around mixes and random omissions has been well documented) but if 'they' are going to have licensing issues, then let's hope we lose Nick Berry this time (with his Eastenders-promoted) 'Every Loser Wins', rather than, say, David Bowie!
Now That's What I Call Music 8 will be reissued as a two-CD set on 26 March 2021.
Compare prices and pre-order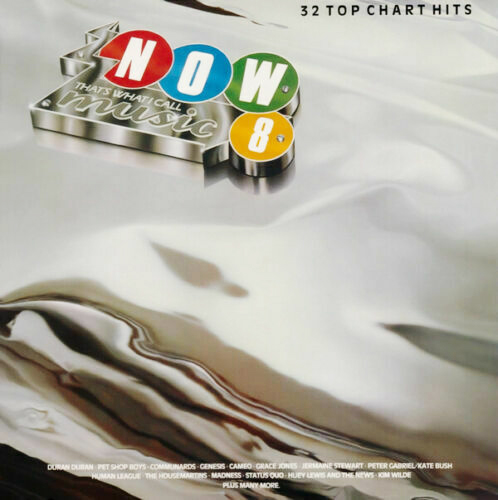 Various Artists
NOW Thats What I Call Music! 8
Original track listing. Reissue not confirmed.
Notorious
Duran Duran
Suburbia
Pet Shop Boys
Walk This Way
Run DMC
Don't Leave Me This Way
The Communards
Breakout
Swing Out Sister
Higher Love
Steve Winwood
(Forever) Live And Die
Orchestral Manoeuvres In The Dark
In Too Deep
Genesis
Word Up
Cameo
I'm Not Perfect (But I'm Perfect For You)
Grace Jones
Showing Out (Get Fresh At The Weekend)
Mel & Kim
We Don't Have To Take Our Clothes Off
Jermaine Stewart
Step Right Up
Jaki Graham
What Have You Done For Me Lately
Janet Jackson
Human
The Human League
I Wanna Wake Up With You
Boris Gardiner
Don't Give Up
Peter Gabriel & Kate Bush
Think For A Minute
The Housemartins
(Waiting For The) Ghost Train
Madness
In The Army Now
Status Quo
Stuck With You
Huey Lewis & The News
One Great Thing
Big Country
Greetings To The New Brunette
Billy Bragg
(I Just) Died In Your Arms
Cutting Crew
You Keep Me Hanging On
Kim Wilde
Calling All The Heroes
It Bites
Waterloo
Doctor & The Medics
French Kissin' In The USA
Deborah Harry
I Didn't Mean To Turn You On
Robert Palmer
The Wizard
Paul Hardcastle
(They Long To Be) Close To You
Gwen Guthrie
Every Loser Wins
Nick Berry