 News
Now That's What I Call Music 9
Full compilation on 2CD for the first time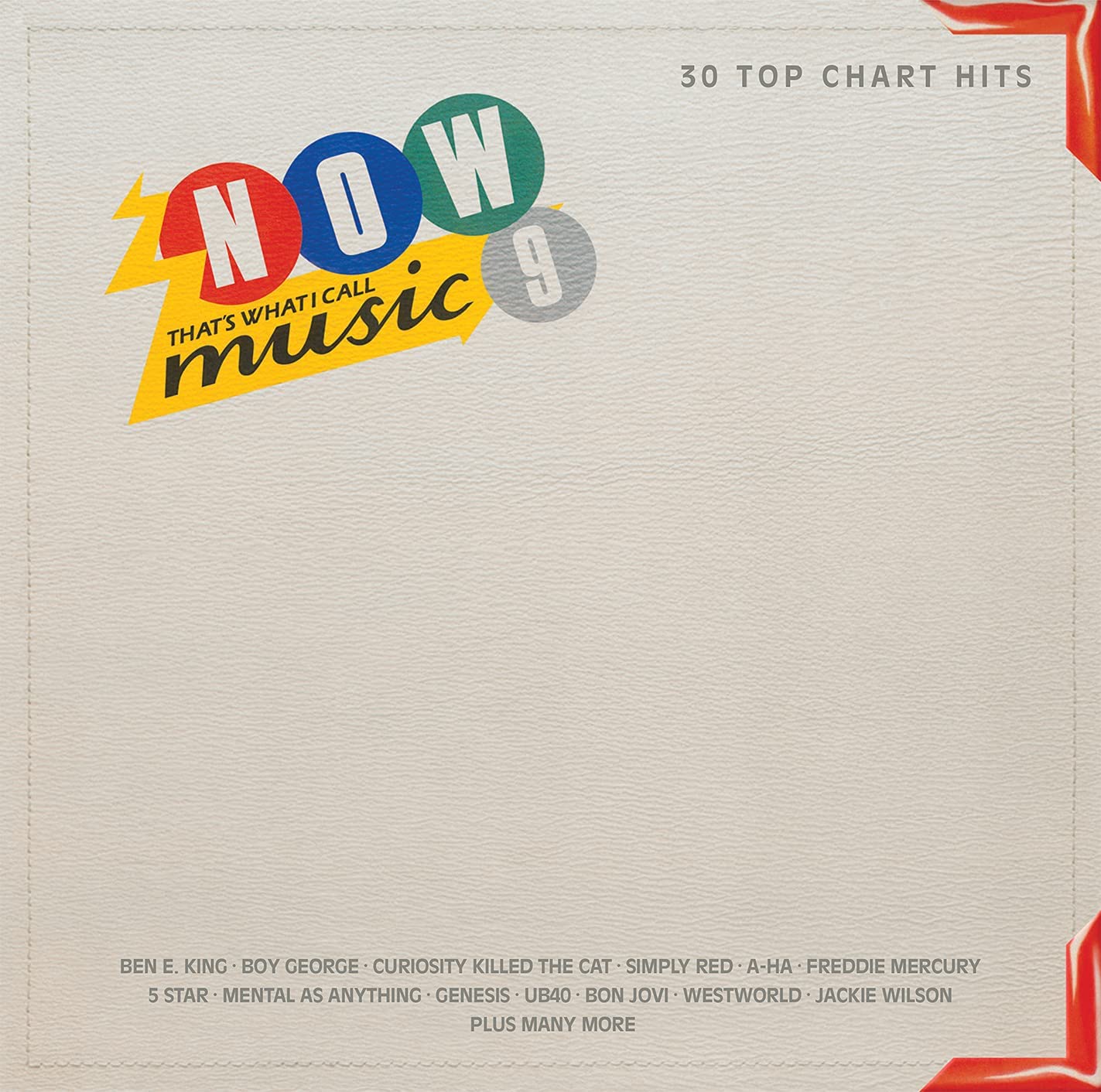 The Now team continue to reissue the original compilations and have announced that Now That's What I Call Music 9 is to be released, in full, on CD for the first time later this month.
Originally issued in March 1987, the 30-track various artists collection knocked U2's mighty The Joshua Tree from the top spot of the UK albums chart and spent five weeks at number one.
Now 9 was actually released as a 15-track, abbreviated, single CD back in the day, but this is the first time it has been available in its entirety across two CDs, and there are no tracks missing!
The selection is very '1987' and it includes some brilliant pop songs like Simply Red's 'The Right Thing', Curiosity Killed The Cat's 'Down to Earth', Erasure's 'Sometimes', Robbie Nevil's 'C'est La Vie', Mental As Anything's 'Live It Up', The Blow Monkeys' 'It Doesn't Have To Be This Way', a-ha's 'Manhattan Skyline', the Pretenders' 'Hymn to Her' and Berlin's 'Take My Breath Away', to name but a few.
But the compilation also signposts the shifting musical landscape. Ben E King's 'Stand By Me' and and Jackie Wilson's 'Reet Petite' reminds us of the British public's penchant for putting old songs at the top of the charts (Boris Gardener's 'I Want To Wake Up With You' was on Now 8) and the power of TV/advertising. Meanwhile, Steve 'Silk' Hurley's 'Jack Your Body' paved the way for House/Acid House scene. Perhaps surprisingly, given this is 1987, there are no Stock Aitken Waterman-produced songs on this collection.
Now That's What I Call Music 9 is released as a two-CD set on 23 July 2021.
Compare prices and pre-order
Various Artists
Now 9 - 2CD set
Tracklisting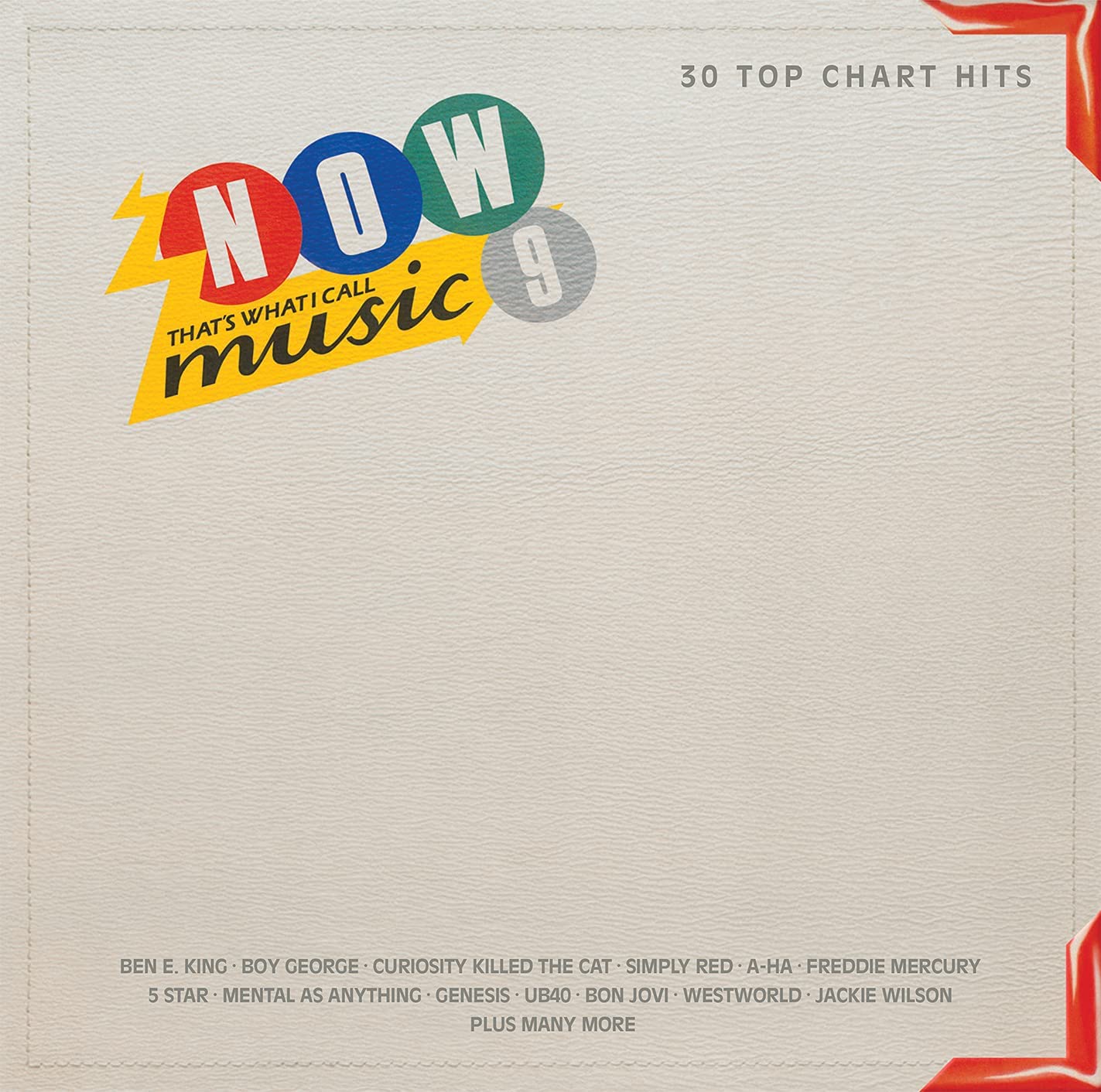 Now That's What I Call Music 9 Various Artists
/
2CD reissue
CD 1

Jackie Wilson – Reet Petite
Mental As Anything – Live It Up
Simply Red - The Right Thing
Erasure – Sometimes
Robbie Nevil – C'est La Vie
Hot Chocolate – You Sexy Thing
The Blow Monkeys – It Doesn't Have To Be This Way
The Housemartins – Caravan Of Love
Boy George – Everything I Own
UB40 – Rat In Mi Kitchen
The Gap Band – Big Fun
Five Star – Stay Out Of My Life
Pepsi & Shirlie – Heartache
Bananarama – A Trick Of The Night
Berlin – Take My Breath Away (Love Theme From "Top Gun")

CD 2

Freddie Mercury – The Great Pretender
Ben E. King – Stand By Me
Curiosity Killed The Cat – Down To Earth
The Communards – So Cold The Night
Steve "Silk" Hurley – Jack Your Body
Taffy – I Love My Radio
Nick Kamen – Loving You Is Sweeter Than Ever
a-ha – Manhattan Skyline
Westworld – Sonic Boom Boy
Bon Jovi – Livin' On A Prayer
Genesis – Land Of Confusion
Europe – The Final Countdown
Gary Moore – Over The Hills And Far Away
The Ward Brothers – Cross That Bridge
Pretenders – Hymn To Her