 News
NOW The 80s: USA
Entertainment USA (without Jonathan King)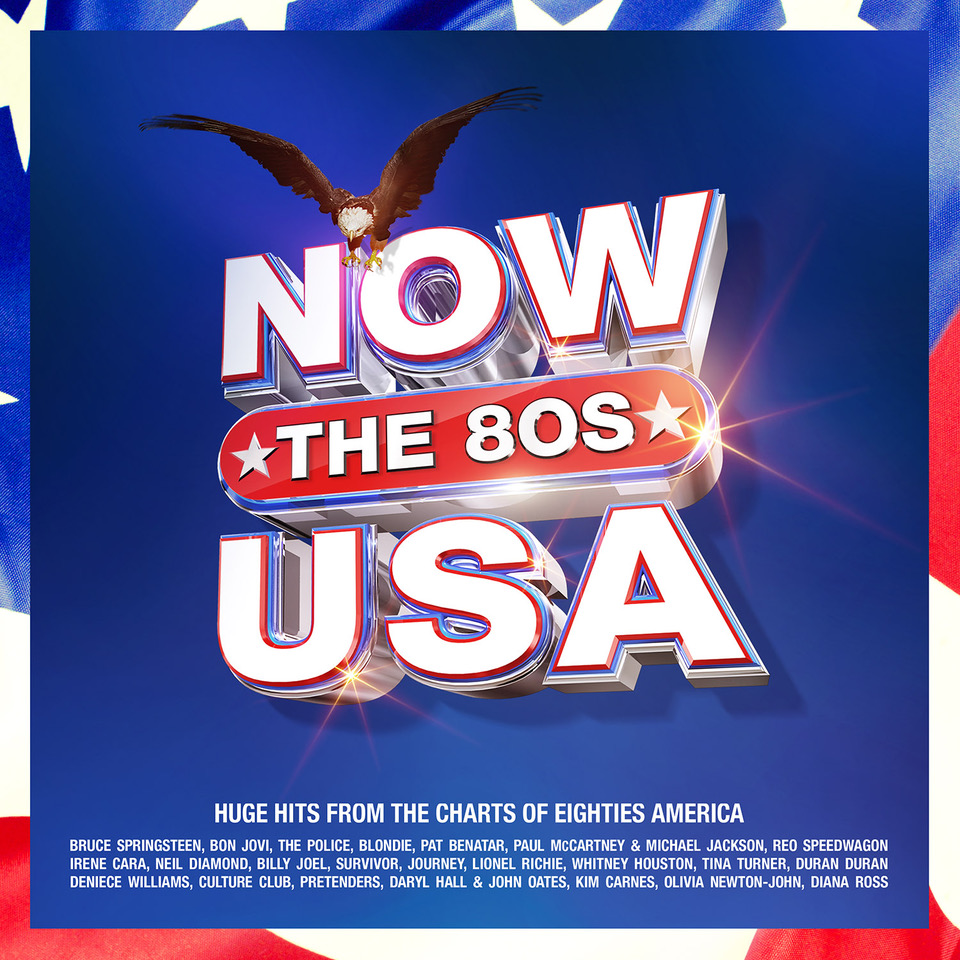 Now That's What I Call Music are issuing a new compilation called NOW The 80s: USA.
The idea is clearly to spotlight hits from the decade that enjoyed significant success Stateside, some of which did well in the UK as well, but others that didn't.
This compilation is available as a 4CD set (with the non-deluxe 8-panel card sleeve) and a snazzy looking triple 3LP red, white and blue coloured vinyl package. The former features 79 hits while the latter offers 44 songs.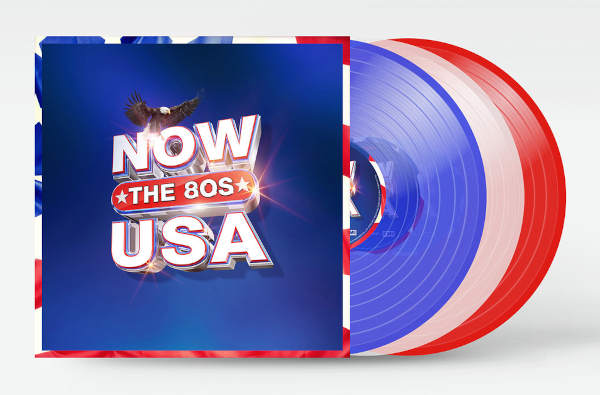 There's plenty of very familiar names of course, including Bruce Springsteen, Daryl Hall & John Oates, Journey, Paul Simon, Kenny Loggins, Nena, Go-Go's, Irene Cara, Christopher Cross, Toto, Pat Benetar, Anita Baker and many more.
NOW The 80s: USA will be released on 11 August 2023. Talking of NOWs, the beach-towel-tastic NOW 15 compilation, originally issued in 1989 was also recently announced. All 32 tracks are present and correct, except for INXS' 'Mystify', which hasn't been included due to licensing restrictions. Scroll down for the tracklisting.
Compare prices and pre-order
Various Artist
Now the 80s USA - 4CD set
Compare prices and pre-order
Various Artist
Now the 80s USA - 3LP coloured vinyl
Compare prices and pre-order
Various Artist
NOW 15 - 2CD set
Tracklisting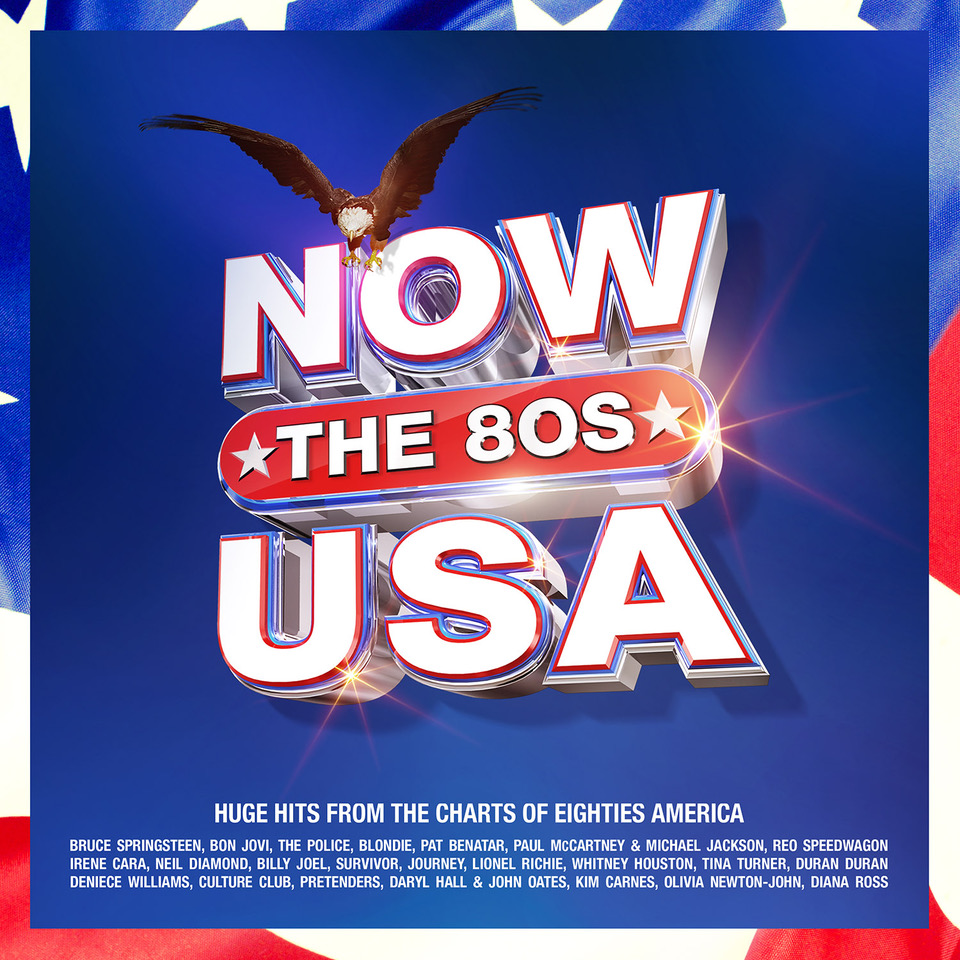 NOW The 80s USA Various Artists
/
CD 1

Bon Jovi – Livin' On A Prayer
Bruce Springsteen – Hungry Heart
John Mellencamp – Jack & Diane
The Police – Every Breath You Take
Pat Benatar – Love Is A Battlefield
Rick Springfield – Jessie's Girl
Daryl Hall & John Oates – You Make My Dreams (Come True)
Billy Joel – A Matter Of Trust
Kim Carnes – Bette Davis Eyes
Journey – Open Arms
Toto – I Won't Hold You Back
REO Speedwagon – Keep On Loving You
Paul Simon – Late In The Evening
Christopher Cross - Ride Like The Wind
Juice Newton – Angel Of The Morning
Kenny Rogers – Lady
Tina Turner - What's Love Got To Do With It
Anita Baker - Giving You The Best That I Got
Jennifer Holliday – And I'm Telling You I'm Not Going
Neil Diamond – America (From "The Jazz Singer" Soundtrack)

CD 2

Paul McCartney & Michael Jackson – Say Say Say
Irene Cara – Flashdance…What A Feeling
Michael Sembello – Maniac
Ray Parker Jr. – Ghostbusters
Deniece Williams – Let's Hear It for The Boy
Diana Ross – Upside Down
Eddie Murphy – Party All The Time
Olivia Newton-John – Physical
Lipps Inc. – Funkytown
Company B - Fascinated
The S.O.S Band – Take Your Time (Do It Right)
Aretha Franklin – Freeway Of Love
Pebbles – Mercedes Boy
Ready For The World – Oh Sheila
Sheila E. - The Glamorous Life, Pt. 1
Young MC – Bust A Move
LL COOL J – I Need Love
Lisa Lisa & Cult Jam – Lost In Emotion
Exposé – Seasons Change

CD 3

The Bangles – Walk Like An Egyptian
Culture Club – I'll Tumble 4 Ya
Go-Go's – We Got The Beat
R.E.M. – Stand
The Fixx – One Thing Leads To Another
The Romantics – Talking In Your Sleep
The Cars - Shake It Up
Duran Duran - The Reflex
Peter Schilling – Major Tom (Coming Home)
Nena – 99 Luftballons
Corey Hart – Sunglasses At Night
A Flock Of Seagulls – I Ran (So Far Away)
Wang Chung – Everybody Have Fun Tonight
Gloria Estefan and Miami Sound Machine – Conga
El DeBarge – Who's Johnny
Stacey Q - Two Of Hearts
Paula Abdul – Cold Hearted
Debbie Gibson - Foolish Beat
Smokey Robinson – Being With You
Lionel Richie – My Love
Whitney Houston – You Give Good Love

CD 4

Survivor – Eye Of The Tiger
Kenny Loggins – Danger Zone (From "Top Gun" Original Soundtrack)
Blondie – Call Me (Theme From "American Gigolo")
Steve Miller Band – Abracadabra
Yes - Owner of a Lonely Heart
Laura Branigan - Spanish Eddie
Pretenders - Show Me
Belinda Carlisle – Mad About You
Eric Carmen – Hungry Eyes (From "Dirty Dancing" Soundtrack)
Night Ranger – Sister Christian
The J. Geils Band – Centerfold
Don Johnson – Heartbeat
Robert Palmer - Simply Irresistible
John Waite – Missing You
Richard Marx – Endless Summer Nights
Steve Winwood – Back In The High Life Again
Bruce Hornsby & The Range – Mandolin Rain
Chicago – Hard To Say I'm Sorry
Foreigner – Waiting For A Girl Like You

LP 1

Side A

Bruce Springsteen – Hungry Heart
John Mellencamp – Jack & Diane
The Police – Every Breath You Take
Pat Benatar – Love Is A Battlefield
Kim Carnes – Bette Davis Eyes
Daryl Hall & John Oates – You Make My Dreams (Come True)
Rick Springfield – Jessie's Girl
REO Speedwagon – Keep On Loving You

Side B

Diana Ross – Upside Down
Lipps Inc. – Funkytown
Company B - Fascinated
Michael Sembello – Maniac
Aretha Franklin – Freeway Of Love
The S.O.S Band – Take Your Time (Do It Right)
Ray Parker Jr. – Ghostbusters

LP 2

Side A

Steve Miller Band – Abracadabra
Yes - Owner Of A Lonely Heart
Duran Duran - The Reflex
A Flock Of Seagulls – I Ran (So Far Away)
Corey Hart – Sunglasses At Night
Peter Schilling – Major Tom (Coming Home)
Nena – 99 Luftballons

Side B

Kenny Loggins – Danger Zone (From "Top Gun" Original Soundtrack)
Christopher Cross - Ride Like The Wind
The J. Geils Band – Centerfold
Night Ranger – Sister Christian
Journey – Open Arms
Richard Marx – Endless Summer Nights
Foreigner - Waiting For A Girl Like You

LP 3

Side A

Blondie – Call Me (Theme From "American Gigolo")
R.E.M. – Stand
The Fixx – One Thing Leads To Another
Pretenders - Show Me
Belinda Carlisle – Mad About You
The Bangles – Walk Like An Egyptian
Culture Club – I'll Tumble 4 Ya
Debbie Gibson - Foolish Beat

Side B

Paul McCartney & Michael Jackson – Say Say Say
Olivia Newton-John – Physical
Tina Turner - What's Love Got to Do With It
Juice Newton – Angel Of The Morning
Whitney Houston – You Give Good Love
Jennifer Holliday – And I'm Telling You I'm Not Going
Neil Diamond – America (From "The Jazz Singer" Soundtrack)
Tracklisting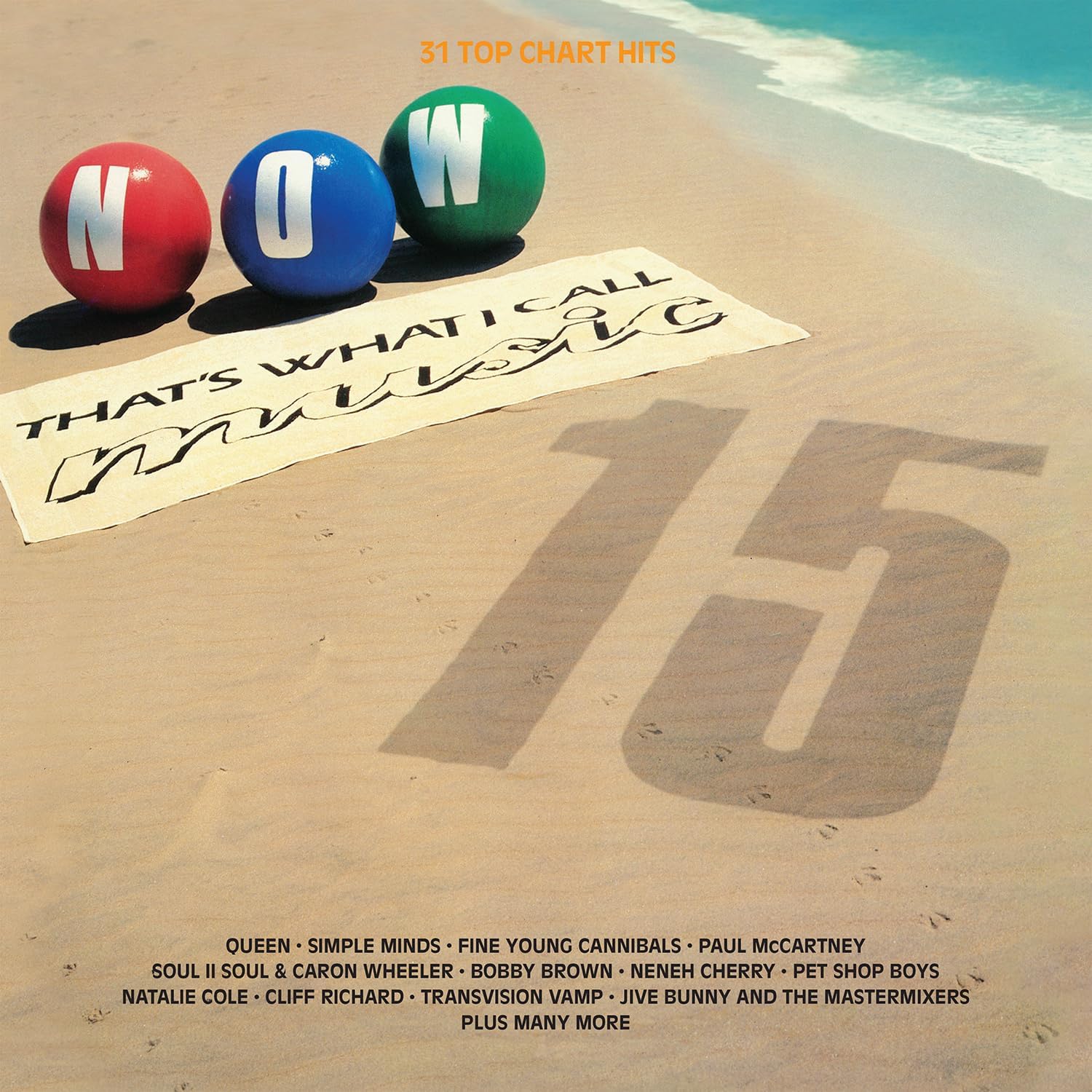 NOW 15 Various Artists
/
CD 1

Queen – I Want It All
Simple Minds – Kick It In
Fine Young Cannibals – Good Thing
Holly Johnson – Americanos
Transvision Vamp – Baby I Don't Care
Roxette – The Look
Stevie Nicks – Rooms On Fire
Paul McCartney – My Brave Face
The Christians, Holly Johnson, Paul McCartney, Gerry Marsden & Stock Aitken Waterman – Ferry 'Cross the Mersey
The Beautiful South – Song For Whoever
Kirsty MacColl – Days
Danny Wilson – The Second Summer Of Love
Waterfront – Cry
Hue & Cry – Violently
Cliff Richard – The Best Of Me

CD 2

Soul II Soul & Caron Wheeler – Back To Life
Neneh Cherry – Manchild
Bobby Brown – Every Little Step
Inner City – Do You Love What You Feel (Duane Bradley Remix)
D-Mob feat. LRS – It Is Time To Get Funky
Donna Allen – Joy And Pain
Gladys Knight – Licence To Kill (From "Licence To Kill" Soundtrack)
Natalie Cole – Miss You Like Crazy
Pet Shop Boys – It's Alright
Jive Bunny And The Mastermixers – Swing The Mood
Swing Out Sister – You On My Mind
Bananarama – Cruel Summer '89
De La Soul – Say No Go
Norman Cook & M.C. Wildski – Blame It On The Bassline
Double Trouble + Rebel MC – Just Keep Rockin' (Sk'ouse Mix)
The Cure – Lullaby