 News
Now Yearbook '80-'84: The Final Chapter
Bonus Yearbook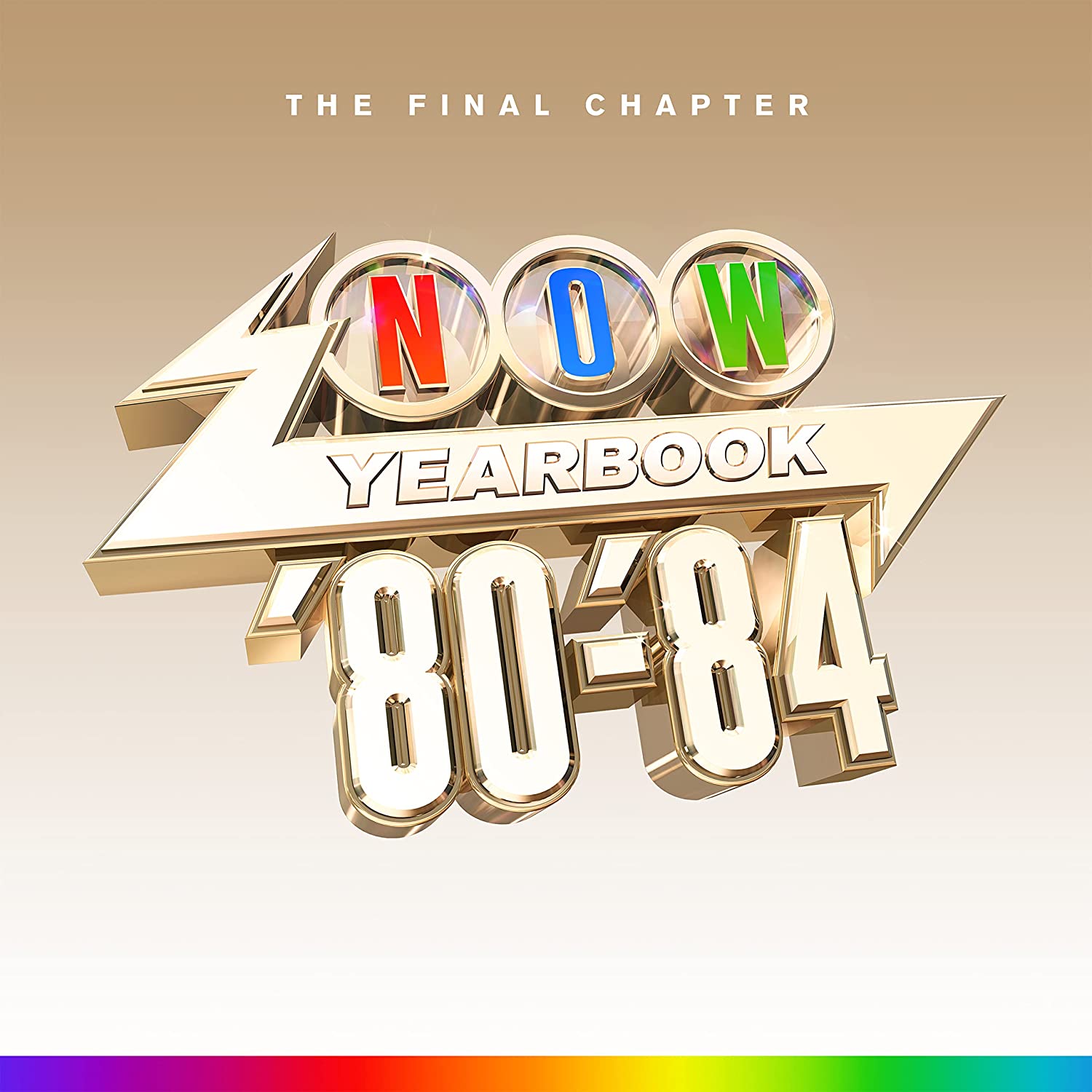 The Now That's What I Call Music Team say they intend to "move forward to the second half of the 1980s" with the popular NOW Yearbook series but before they do that they will take care of unfinished business with regards to the "golden pop years" of 1980-1984. To that end, they will issue a special Yearbook which spans that era and has the subtitle 'The Final Chapter'.
They point out that there were more than 1500 new entries in the UK top 40 singles chart between 1980 and 1984 but so far the Yearbooks and 'Extras' have presented 726 tracks between them, which is less than half of that total. So there is one last hurrah: NOW Yearbook 1980-1984: The Final Chapter.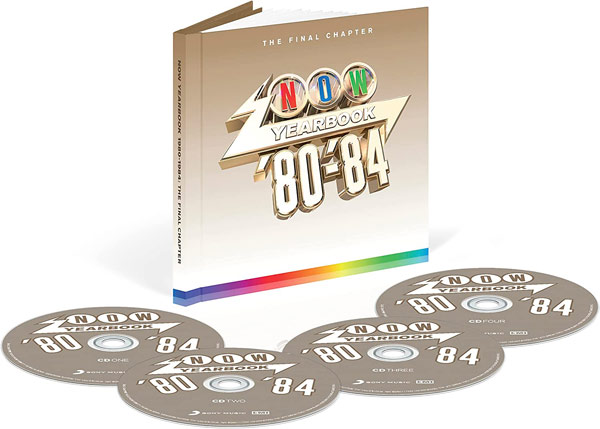 In 4CD guise, this offers 81 tracks issued between '80 and '84 and is presented in deluxe hardcover book format, which comes with the usual 28-page booklet featuring a summary of the period and track-by-track guide, original singles artwork and a quiz. There is also a standard 4CD version in a card sleeve and a 43-track 3LP vinyl set pressed on gold-coloured vinyl.
Even though this is clearly a mopping up exercise, such was the quality of this era, it doesn't really feel like it. This new set includes hits from Wham!, Eurythmics, Kate Bush, The Smiths, Scritti Politti, Sade, Spandau Ballet, Roxy Music, The Police, Paul McCartney, Kim Wilde, Toyah, Culture Club, Gary Numan, Ultravox, Blancmange, The Human League, Howard Jones, Nik Kershaw, U2, New Order, The Jam, The Creatures and more!
NOW Yearbook 1980-1984: The Final Chapter will be released on 2 December 2022.
Compare prices and pre-order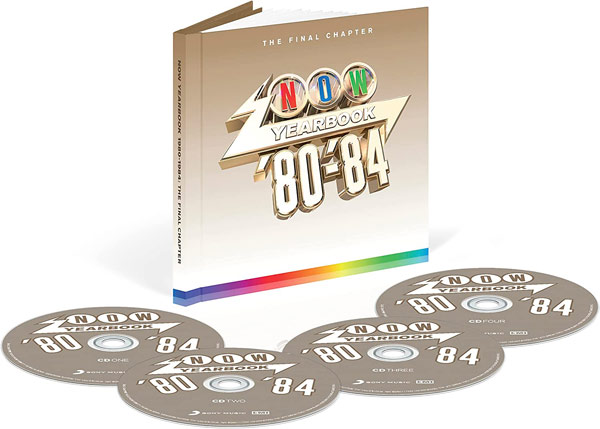 Various Artists
Yearbook 80-84 - 4CD deluxe edition
Compare prices and pre-order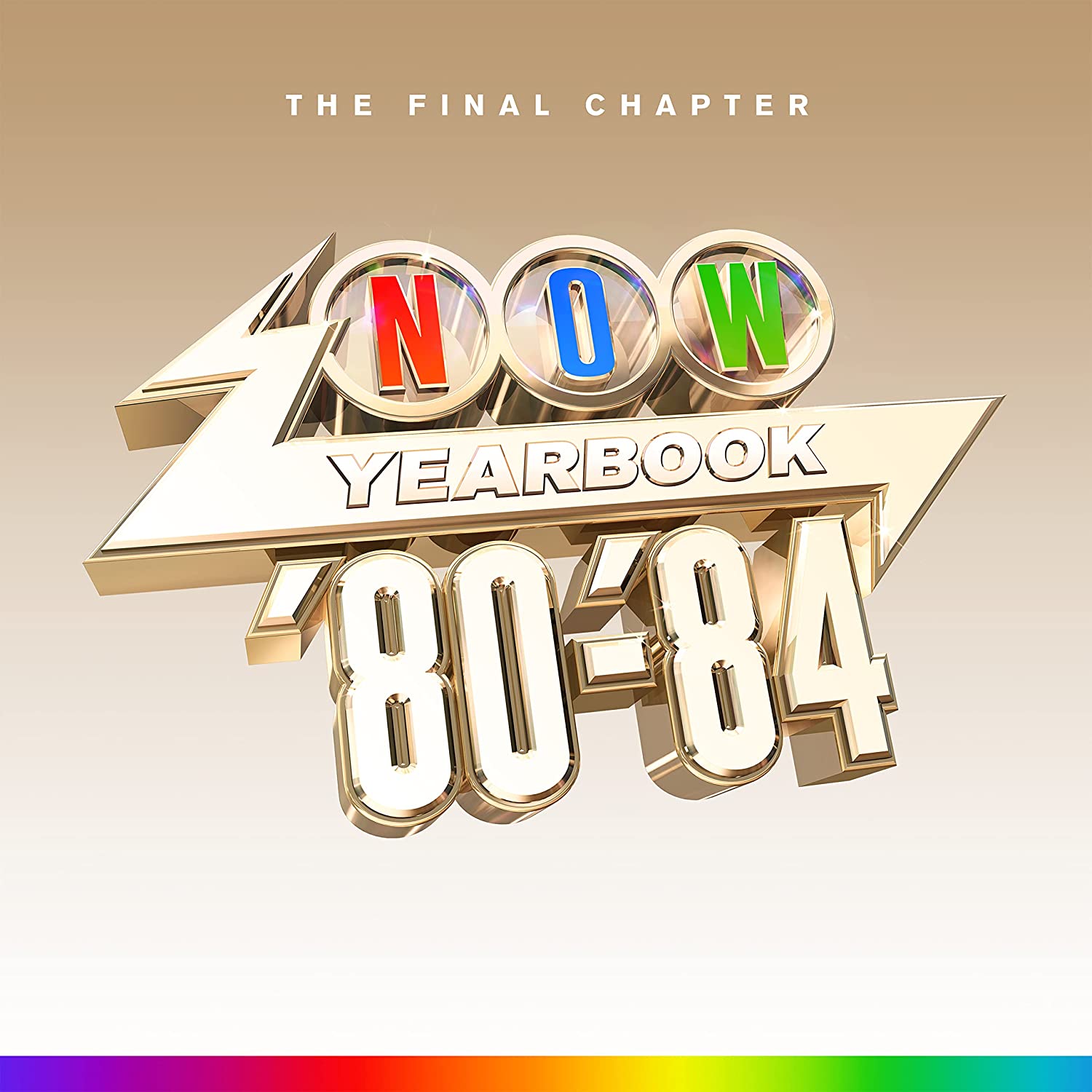 Various Artists
Yearbook 80-84 - 3LP coloured vinyl
Compare prices and pre-order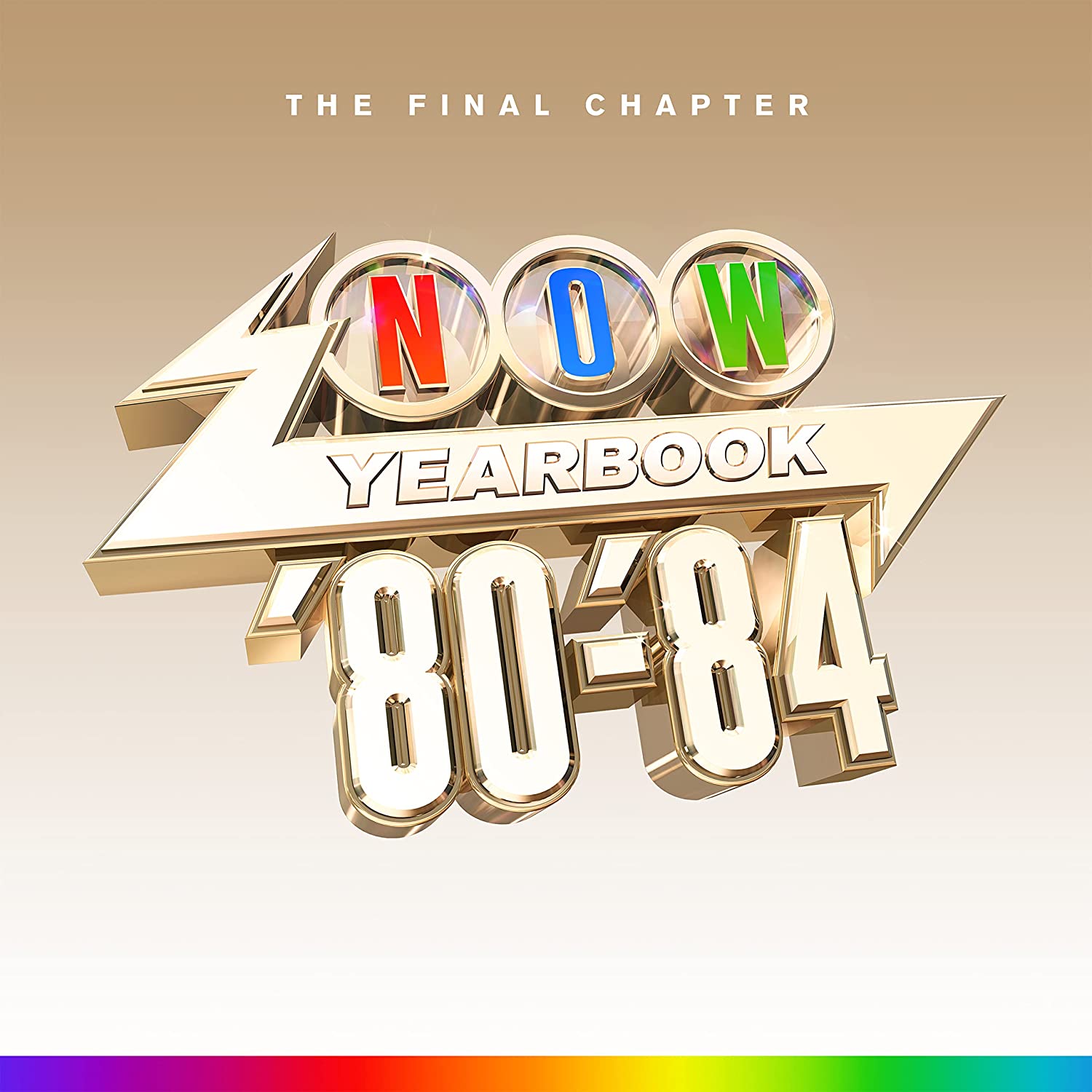 Various Artists
Yearbook 80-84 - 4CD standard edition
Tracklisting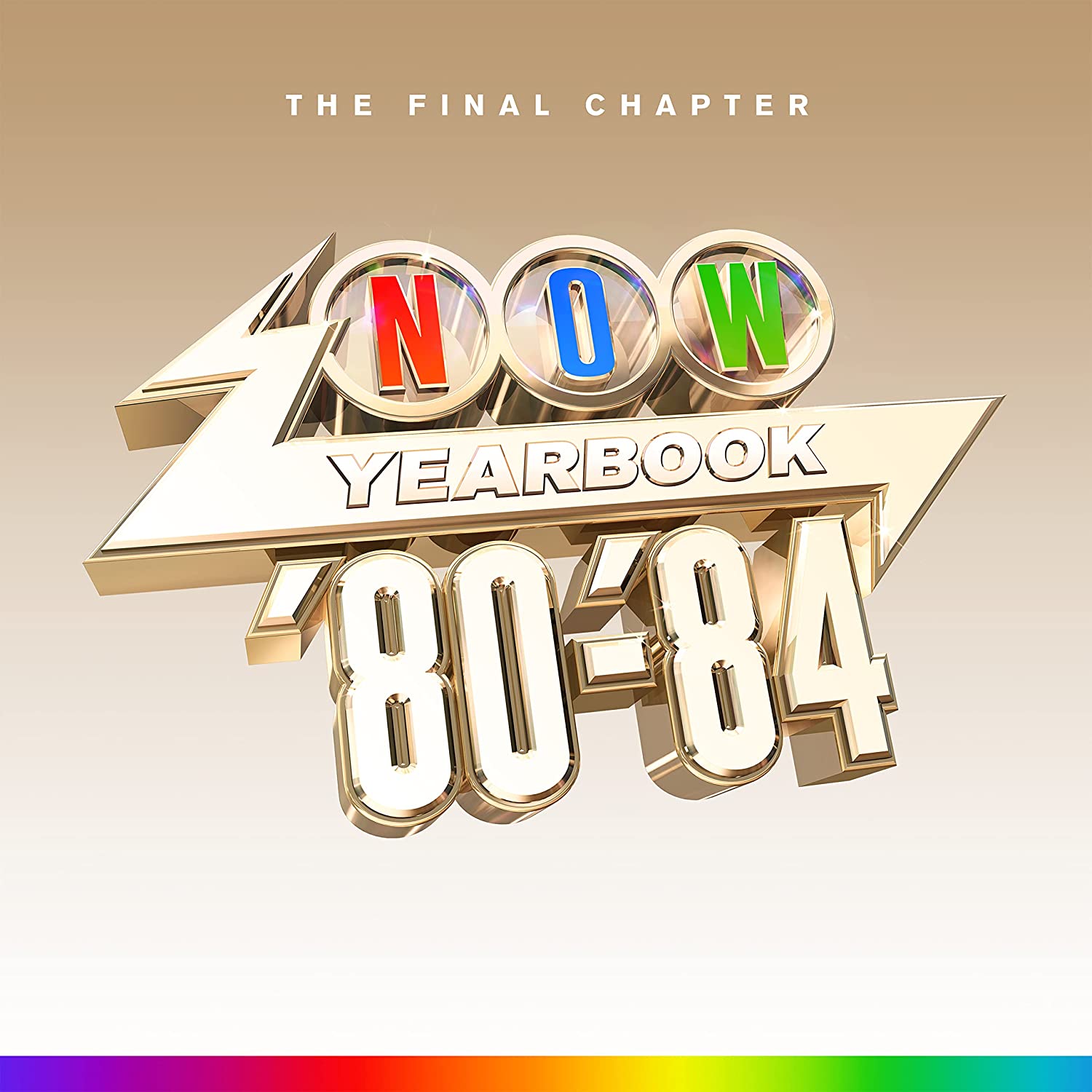 Now Yearbook '80-'84: The Final Chapter Various Artists
/
CD 1

Wham! – Freedom
Eurythmics, Annie Lennox, Dave Stewart – Love Is A Stranger
Laurie Anderson – O Superman
Kate Bush – Sat In Your Lap
The Smiths – What Difference Does It Make?
Scritti Politti – Absolute
Bronski Beat – Why?
Sade – When Am I Going To Make A Living
Tom Robinson – War Baby
Robert Wyatt – Shipbuilding
Spandau Ballet – Round And Round
Roxy Music – Take A Chance With Me
The Police – So Lonely
The Specials – Nelson Mandela
Fun Boy Three – Our Lips Are Sealed
Elton John – Kiss The Bride
Billy Joel – The Longest Time
Neil Diamond – Love On The Rocks (From "The Jazz Singer" Soundtrack)
Paul McCartney – We All Stand Together

CD 2

Bananarama – Na Na Hey Hey (Kiss Him Goodbye)
Adam Ant – Desperate But Not Serious
Kim Wilde – Water On Glass
Toyah – Thunder In The Mountains
Gary Numan – We Are Glass
Ultravox – Hymn
Blancmange – Living On The Ceiling
Talk Talk – Talk Talk
Orchestral Manoeuvres In The Dark – Tesla Girls
Thomas Dolby – Hyperactive!
Heaven 17 – Crushed By The Wheels Of Industry
Simple Minds – Someone Somewhere (In Summertime)
Soft Cell – Where The Heart Is
The Human League – Louise
Howard Jones – Hide And Seek
Nik Kershaw – Human Racing
Thompson Twins – Lay Your Hands On Me
Kajagoogoo – Hang On Now
Culture Club – The Medal Song
Tracey Ullman – Move Over Darling

CD 3

Iron Maiden – Run To The Hills
Meat Loaf – Modern Girl
Pretenders – Day After Day
Rick Springfield – Human Touch
Laura Branigan – The Lucky One
Chicago – Hard Habit To Break
Daryl Hall & John Oates – Say It Isn't So
Tina Turner – Better Be Good To Me
The Fixx – One Thing Leads To Another
Madness – Grey Day
UB40 – Cherry Oh Baby
The Style Council – A Solid Bond In Your Heart
Jo Boxers – Just Got Lucky
The Go-Go's – We Got The Beat
Hazel O'Connor – D-Days
The Creatures – Miss The Girl
The Jam – Just Who Is The 5 O'Clock Hero?
U2 – 11 O'Clock Tick Tock
New Order – Everything's Gone Green
Echo And The Bunnymen – Silver
Associates – 18 Carat Love Affair
Japan – Cantonese Boy

CD 4

Lionel Richie – Running With The Night
Donna Summer – Love Is In Control (Finger On The Trigger)
Shalamar – Friends
The Pointer Sisters – I'm So Excited
Flash And The Pan – Waiting For A Train
Patrice Rushen – Forget Me Nots
Kool & The Gang – Fresh
Jeffrey Osborne – Stay With Me Tonight
The Temptations – Treat Her Like A Lady
Linx – Intuition
Animal Nightlife – Mr. Solitaire
Modern Romance – Don't Stop That Crazy Rhythm
Stars On 45 / Starsound – More Stars (ABBA Medley) / Stars On 45 Vol. 2
Bucks Fizz – Piece Of The Action
F.R. David – Words
Sheena Easton – When He Shines
Kenny Rogers – Coward Of The County
The Art Company – Susanna
Goombay Dance Band – Seven Tears
Renée & Renato – Save Your Love

LP 1

Side A

Wham! – Freedom
Eurythmics, Annie Lennox, Dave Stewart – Love Is A Stranger
Laurie Anderson – O Superman
Kate Bush – Sat In Your Lap
Scritti Politti – Absolute
Bronski Beat – Why?

Side B

The Smiths – What Difference Does It Make?
The Jam – Just Who Is The 5 O'Clock Hero?
The Police – So Lonely
The Specials – Nelson Mandela
U2 – 11 O'Clock Tick Tock
New Order – Everything's Gone Green
Simple Minds – Someone Somewhere (In Summertime)
Japan – Cantonese Boy

LP 2

Side A

Bananarama – Na Na Hey Hey (Kiss Him Goodbye)
Kim Wilde – Water On Glass
Toyah – Thunder In The Mountains
The Creatures – Miss The Girl
Adam Ant – Desperate But Not Serious
Culture Club – The Medal Song
Kool & The Gang – Fresh
Lionel Richie – Running With The Night

Side B

Ultravox – Hymn
Gary Numan – We Are Glass
Orchestral Manoeuvres In The Dark – Tesla Girls
Blancmange – Living On The Ceiling
Thompson Twins – Lay Your Hands On Me
Nik Kershaw – Human Racing
Howard Jones – Hide And Seek

LP 3

Side A

Donna Summer – Love Is In Control (Finger On The Trigger)
Shalamar – Friends
Jeffrey Osborne – Stay With Me Tonight
The Pointer Sisters – I'm So Excited
Flash And The Pan – Waiting For A Train
Roxy Music – Take A Chance With Me
Spandau Ballet – Round And Round

Side B

Iron Maiden – Run To The Hills
Pretenders – Day After Day
Tina Turner – Better Be Good To Me
Elton John – Kiss The Bride
Billy Joel – The Longest Time
Neil Diamond – Love On The Rocks (From "The Jazz Singer" Soundtrack)
Paul McCartney – We All Stand Together