 News
Now Yearbook '85 – Extra
3CD set with 60 hits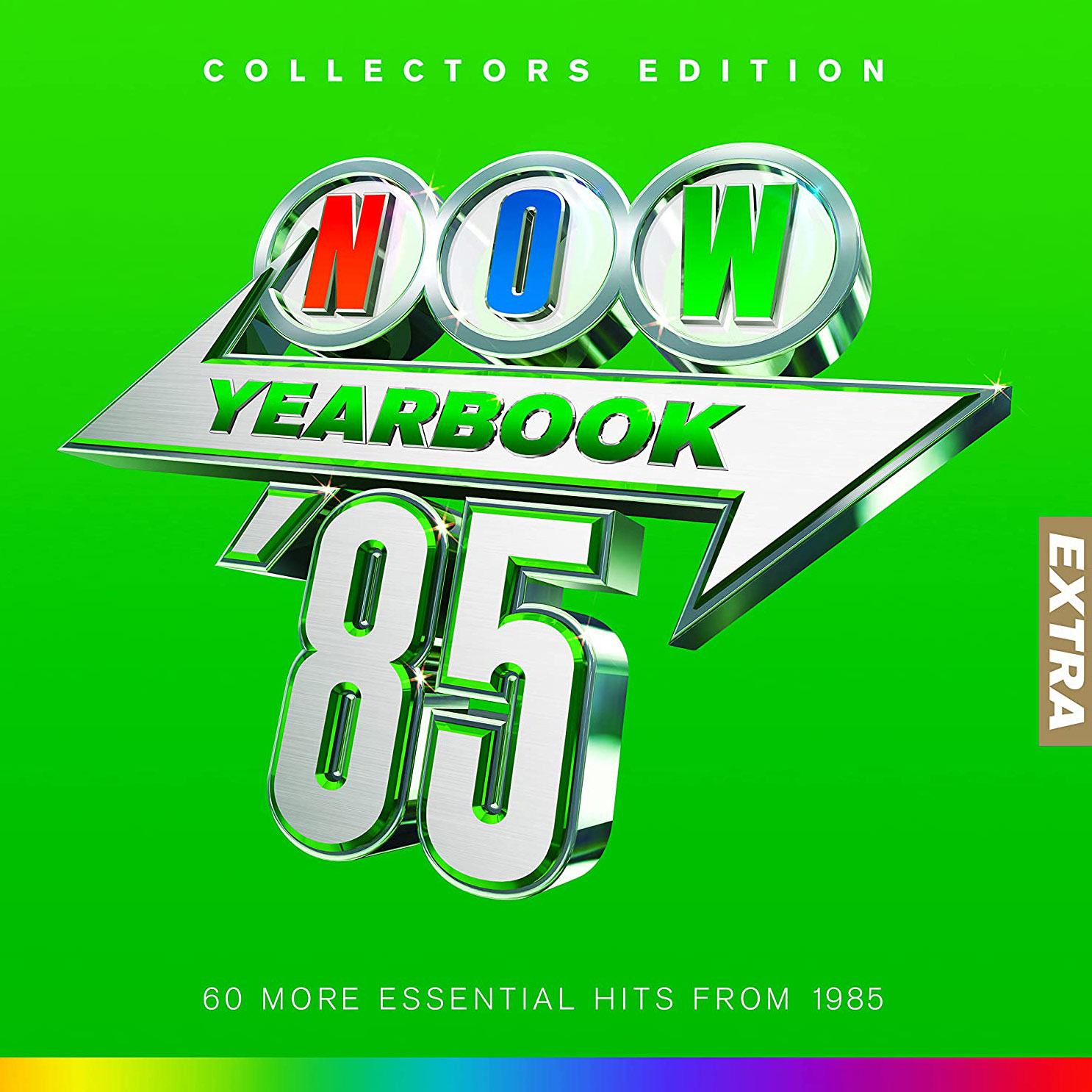 Now Yearbook '85 – Extra will be released early next year and the various artists compilation offers 60 more hits from from 1985.
The 3CD set delivers some big pop moments on the first disc including Wham!'s 'I'm Your Man', 'Sisters Are Doing It For Themselves', Eurythmics collaboration with Aretha Franklin, Tears For Fears' Head Over Heels, Howard Jones' 'Look Mama', Go West's Don't Look Down (The Sequel), Thompson Twins' 'Don't Mess With Doctor Dream' and many more.
CD 2 has an indie/alternative vibe with songs from The Smiths, Siouxsie & The Banshees, The Cure, Lloyd Cole and the Commotions, The Damned, Echo & The Bunnymen, Killing Joke, Propaganda, China Crisis and more.
The final disc starts off exploring mid-80s Dance, Electro and Hip-Hop crossover before moving on to some 'grown up' pop from the likes of Sting, Bryan Ferry, more Tears For Fears and Marillion. Yearbook '85 ends blissfully with Art of Noise's 'Moments in Love'.
Now Yearbook '85 will be released on 6 January 2023.
Compare prices and pre-order
Various Artists
Now Yearbook 1985 - Extra - 3CD set
Tracklisting
Now Yearbook 85 – Extra Various Artists
/
CD 1

I'm Your Man – Wham!
Sisters Are Doin' It for Themselves – Eurythmics, Annie Lennox, Dave Stewart & Aretha Franklin
Don't Look Down (The Sequel) – Go West
Head Over Heels – Tears for Fears
We Belong – Pat Benatar
Rebel Yell – Billy Idol
Rage to Love – Kim Wilde
Don't Fall in Love (I Said) – Toyah
Don't Mess With Doctor Dream – Thompson Twins
My Heart Goes Bang (Get Me to the Doctor) – Dead Or Alive
Change Your Mind – Sharpe & Numan
Icing On the Cake – Stephen Duffy
Look Mama – Howard Jones
Don Quixote – Nik Kershaw
Wrap Her Up – Elton John
Tomb of Memories – Paul Young
The Taste of Your Tears – King
Suddenly – Billy Ocean
Do What You Do – Jermaine Jackson
Nightshift – Commodores

CD 2

The Boy With the Thorn in His Side – The Smiths
Bring On the Dancing Horses – Echo & the Bunnymen
Inbetween Days – The Cure
Cities in Dust – Siouxsie and the Banshees
Grimly Fiendish – The Damned
Love Like Blood – Killing Joke
Lost Weekend – Lloyd Cole and The Commotions
A New England – Kirsty MacColl
Laura – Nick Heyward
Black Man Ray – China Crisis
Cry – Godley and Creme
So in Love – Orchestral Manoeuvres in the Dark
Lover Come Back (To Me) – Dead Or Alive
The Perfect Kiss – New Order
P:Machinery – Propaganda
Miami Vice Theme (From 'Miami Vice') – Jan Hammer
Celebrate Youth – Rick Springfield
Get It On (Bang a Gong) – The Power Station
Sleeping Bag – ZZ Top
Can't Fight This Feeling – REO Speedwagon
Stairway to Heaven – Far Corporation

CD 3

Step Off – Grandmaster Melle Mel & The Furious Five
I Wonder If I Take You Home – Lisa Lisa and Cult Jam With Full Force
Single Life – Cameo
Let Me Be the One – Five Star
Dare Me – The Pointer Sisters
Eye to Eye – Chaka Khan
A Love Bizarre (Pt. 1) – Sheila E.
Maria Magdalena – Sandra
Knock On Wood (1985 7″ Remix) – Amii Stewart
Conga – Gloria Estefan & The Miami Sound Machine
Love Is Just the Great Pretender – Animal Nightlife
Yeh Yeh – Matt Bianco
Don't Stop the Dance – Bryan Ferry
Fortress Around Your Heart – Sting
Alive and Kicking – Simple Minds
Lavender – Marillion
Leaving Me Now – Level 42
I Believe (A Soulful Re-recording) – Tears for Fears
Moments in Love – The Art of Noise