 News
NOW Yearbook '92 – Extra
60 more hits from 1992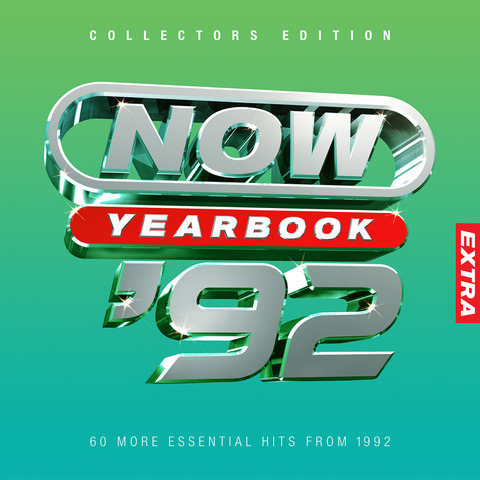 Now That's What I Call Music will follow up their NOW Yearbook '92 compilation with a 3CD 'Extra' version next month.
This offers 60 more hits from the era and acts as a companion to the original release. There's a bit of a 'Noah's Ark' thing going on with two tracks from Annie Lennox ('Precious', 'Cold'), a couple from Crowded House ('It's Only Natural, Four Seasons in One Day'), a pair from Kylie Minogue ('Finer Feelings' and 'What Kind of Fool?'), a dual offering from Suzanne Vega ('In Liverpool' and '99.9F°'), two from Take That ('A Million Love Songs', 'I Found Heaven') and the same from Simply Red ('Your Mirror, Thrill Me).
Queen are represented by solo offerings from Freddie Mercury and Brian May and this 'Extra' set offers us tracks from Tori Amos, Dina Carrol, Sophie B. Hawkins, Sade, Tina Turner, Cher, Belinda Carlisle, Gloria Estefan, CeCe Peniston and er, Sonia.
CD 2 dips its elbow into the bathwater of 'indie' with tracks from the Manic Street Preachers (their excellent cover of 'Theme From MAS*H (Suicide Is Painless)', Suede, The Cure and Carter The Unstoppable Sex Machine and there's ad hoc surprises throughout including the now cat-friendly Curiosity and their last hit ('Hang On In There Baby)' and Ryuichi Sakamoto & David Sylvian's 'Heartbeat (Tainai Kaiki II) Returning To The Womb'. Not all of these surprises are pleasant (see Nick Berry's Heartbeat, Billy Ray Cyrus' Achy Breaky Heart and Urban Hype's 'A Trip To Trumpton') but hey, these were hits at the time! As ever, full tracklisting for this release can be found below.
NOW Yearbook '92 – Extra will be released on 18 August 2023/
Compare prices and pre-order
Various Artist
NOW Yearbook 92 - Extra - 3CD set
Tracklisting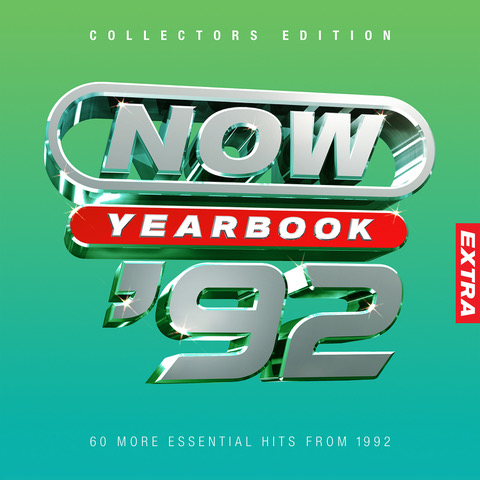 NOW Yearbook '92 Various Artists
/
3CD
CD 1

Freddie Mercury & Montserrat Caballé – Barcelona
R.E.M. – Man On The Moon
Crowded House – It's Only Natural
Take That – A Million Love Songs
Kylie Minogue – Finer Feelings (Brothers In Rhythm 7" Mix)
Cicero – Love Is Everywhere
Stereo MC's – Connected
Was (Not Was) – Shake Your Head
Simply Red – Your Mirror
The Temptations – My Girl
Lionel Richie – Do It To Me
Dina Carroll – So Close
Sophie B. Hawkins – California Here I Come (Remix)
Suzanne Vega – In Liverpool
Tori Amos – Silent All These Years
Annie Lennox – Cold
Sade – Feel No Pain
Ryuichi Sakamoto & David Sylvian – Heartbeat (Tainai Kaiki II) Returning To The Womb (Remix)
Elton John – The Last Song

CD 2

Brian May – Too Much Love Will Kill You
Mike Oldfield – Sentinel
Richard Marx – Take This Heart
Cher – Could've Been You
Tina Turner – Love Thing
KISS – God Gave Rock 'N' Roll To You II
Manic Street Preachers – Theme From M*A*S*H (Suicide Is Painless)
The Cure – High
Suede – The Drowners
Carter The Unstoppable Sex Machine – The Only Living Boy In New Cross
Suzanne Vega – 99.9 F
Annie Lennox – Precious
Aztec Camera – Spanish Horses
Billy Ray Cyrus – Achy Breaky Heart
Billy Joel – All Shook Up (From 'Honeymoon In Vegas' OST)
Curtis Stigers – I Wonder Why
Michael Bolton – To Love Somebody
Crowded House – Four Seasons In One Day
Belinda Carlisle – Half The World
Gloria Estefan – Always Tomorrow

CD 3

En Vogue – Free Your Mind
Bobby Brown – Humpin' Around
Dina Carroll – Special Kind Of Love
CeCe Peniston – We Got A Love Thang
Soul II Soul – Joy
Rozalla – Are You Ready To Fly
Felix – Don't You Want Me
Urban Hype – A Trip To Trumpton
Doctor Spin – Tetris
The B-52's – Good Stuff
Kylie Minogue – What Kind Of Fool? (Heard All That Before)
Sonia – Boogie Nights
Take That – I Found Heaven
Undercover – Never Let Her Slip Away
Roxette – Church Of Your Heart
Simply Red – Thrill Me
The Pasadenas – I'm Doin' Fine Now
Curiosity – Hang On In There Baby
Nick Berry – Heartbeat
Boney M. – Megamix
Darlene Love – All Alone On Christmas