 News
Ocean Colour Scene / Yesterday Today 1992-2018
15CD or 5LP coloured vinyl box set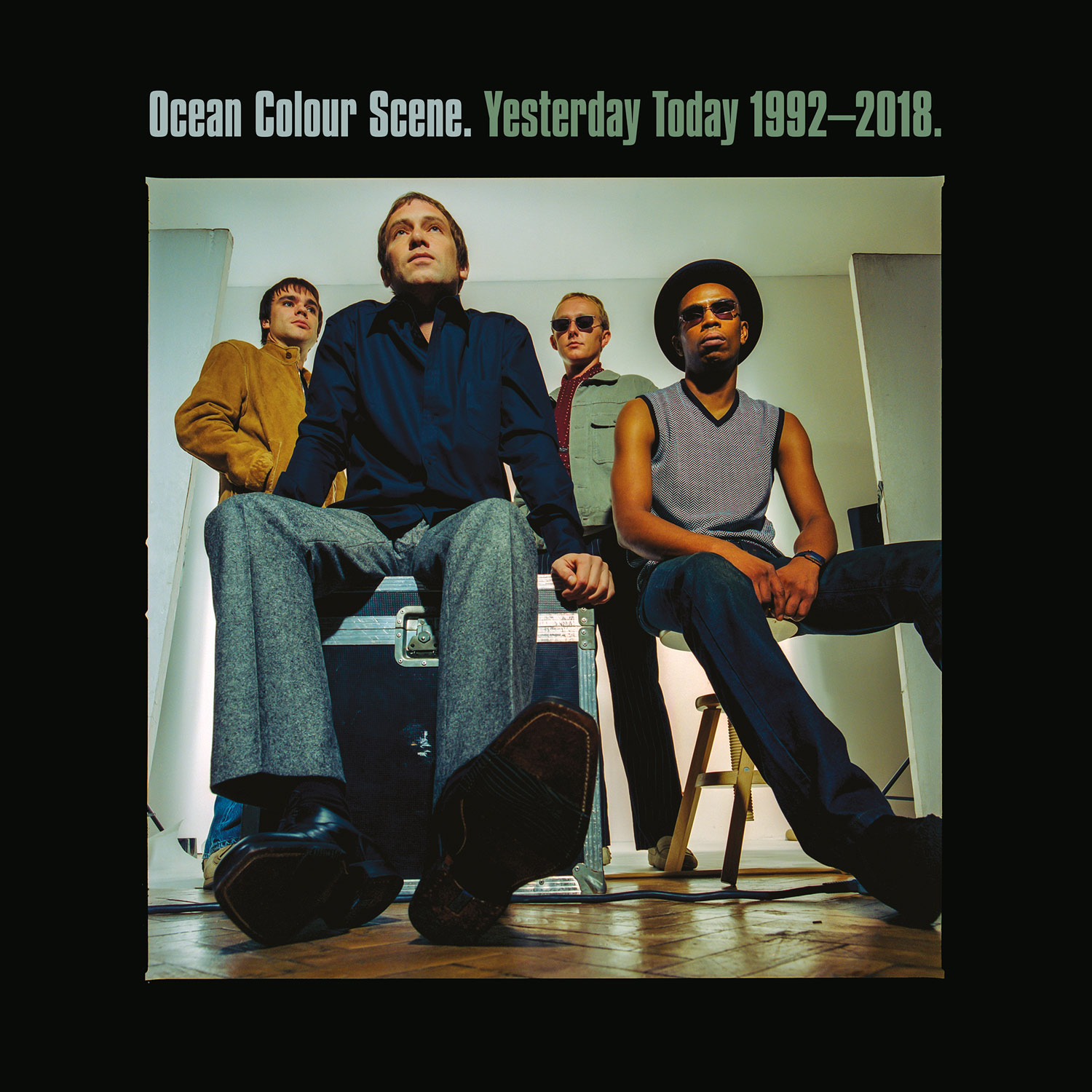 Demon Music kick off an Ocean Colour Scene reissue campaign with Yesterday Today 1992-2018, a massive 15CD box set.
The large format package Includes all 10 of their studio albums. They are: Ocean Colour Scene (1992), Moseley Shoals (1996), Marchin' Already (1997), One For The Modern (1999) , Mechanical Wonder (2001), North Atlantic Drift (2003), A Hyperactive Workout For The Flying Squad (2005), On The Leyline (2007), Saturday (2010), and Painting (2013).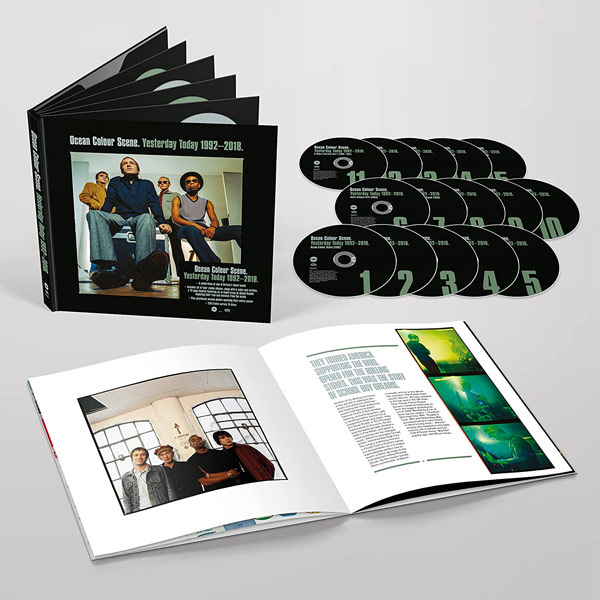 Additionally, there's five bonus discs featuring a very large selection of B-sides and rarities including the Free inspired 'So Sad' and 'Men Of Such Opinion', 'Huckleberry Grove' featuring the Jamaican ska legend Rico Rodriguez, and the more sedate ballads 'Robin Hood', 'I Need A Love Song' and 'Mrs Jones' and a cover of 'Day Tripper', featuring Noel and Liam Gallagher. The package offers 230 tracks in total.
The box set comes with a 72-page hardback book, with in-depth essay from award winning author Daniel Rachel depicting the rise of Ocean Colour Scene from the inside. The book includes photographs from Ocean Colour Scene photographers Lawrence Watson and Tony Briggs, many previously unseen.
A limited edition, 5LP coloured vinyl collection with the same name will be released at the same time. Smaller in scale, this simply offers the band's first three studio albums Ocean Colour Scene, Moseley Shoals (2LP)and Marchin' Already (2LP).
Both sets will be released on 24 February 2022 via Edsel/Demon Records and the label promises a "year-long" campaign marking 30 years of the band. The official shop is currently offer both editions with signed prints.
Official OCS shop
Compare prices and pre-order
Ocean Colour Scene
Yesterday Today - 15CD box set
Compare prices and pre-order
Ocean Colour Scene
Yesterday Today - 5LP coloured vinyl box
Tracklisting
Yesterday Today 1992-2018 Ocean Colour Scene
/
CD 1: OCEAN COLOUR SCENE (1992) 

Talk On 
How About You 
Giving It All Away 
Justine 
Do Yourself A Favour 
Third Shade Of Green 
Sway 
Penny Pinching Rainy Heaven Days 
One Of Those Days 
Is She Coming Home 
Blue Deep Ocean 
Reprise

CD 2: MOSELEY SHOALS (1996) 

The Riverboat Song 
The Day We Caught The Train 
The Circle 
Lining Your Pockets 
Fleeting Mind 
40 Past Midnight 
One For The Road 
It's My Shadow 
Policemen & Pirates 
The Downstream 
You've Got It Bad 
Get Away

CD 3: MARCHIN' ALREADY (1997) 

Hundred Mile High Club 
Better Day  
Travellers Tune 
Big Star  
Debris Road 
Besides Yourself  
Get Blown Away  
Tele He's Not Talking  
Fozy's Folk Faced  
All Up  
Spark And Cindy  
Half A Dream Away  
It's A Beautiful Thing

CD 4: ONE FROM THE MODERN (1999) 

Profit In Peace  
So Low 
I Am The News  
No One At All  
Families  

July  
Jane She Got Excavated  
Emily Chambers  
Soul Driver  
The Waves  
I Won't Get Crazed

CD 5: MECHANICAL WONDER (2001) 

Up On The Downside  
In My Field  
Sail On My Boat 
Biggest Thing 
We Made It More 
Give Me A Letter 
Mechanical Wonder 
You Are Amazing  
If I Gave You My Heart 
Can't Get Back To The Baseline  
Something For Me

CD 6: NORTH ATLANTIC DRIFT (2003)

I Just Need Myself
Oh Collector
North Atlantic Drift
Golden Gate Bridg
Make The Deal
For Every Corner
On My Way
Second Hand Car
She's Been Waiting
The Song Goes On
When Evil Comes

CD 7: A HYPERACTIVE WORKOUT FOR THE FLYING SQUAD (2005)

Everything Comes At The Right Time
Free My Nam
Wah Wah
Drive Away
I Love You
This Day Should Last Forever
Move Things Over
Waving Not Drowning
God's Word
Another Time To Stay
Have You Got The Right
Stary Of The Day
My Time

CD 8 : ON THE LEYLINE (2007)

I Told You So
On The Leyline, Waiting
For Dancers Onl
Man In the Middle
I Just Got Over You
Go To The Se
These Days I'm Tired
You'll Never Find Me
Don't Get Me
Loneliest Girl In The Whole Wide World
Mr Brown
Two Lovers
Daylight

CD 9: SATURDAY (2010)

100 Floors Of Perception
Mrs Maylie
Saturday
Just A Little Bit Of Love
Old Pair Of Jeans
Sing Children Sing
Harry Kidna
Magic Carpet Days
The Word
Village Life
Postal
What's Mine Is Yours
Fell In Love on the Street Again
Rockfield

CD 10: PAINTING (2013)

We Don't Look In the Mirror
Painting
Goodbye Old Town
Doodle Book
If God Made Everyone
Weekend
Professor Perplexity
George's Tower
I Don't Want To Leave England
The Winning Side
Mistaken Identity
The Union
The New Torch Song
Here Comes The Dawning Day

CD 11: B-SIDES & RARITIES PART 1 (1990 – 1992)

Sway (Single Version)
Lullaby
Sway (12" Version)
One Of These Days
Yesterday Today
Another Girl's Name
Fly Me
No One Says
My Brother Sarah
Mona Lisa Eyes
Bellechoux
Blue Deep Ocean (Alt. Version)
Is She Coming Home (Alt. Version)
Flowers
Don't Play
The Seventh Floor
Patsy In Green
Suspended Motion

CD 12: B-SIDES & RARITIES PART 2 (1996)

So Sad
Charlie Brown Says
Robin Hood
I Wanna Stay Alive With You
Huckleberry Grove
You've Got It Bad (Demo Version)
Here In My Heart
Beautiful Losers
Men Of Such Opinion (Demo Version)
The Clock Struck 15 Hours Ago
I Need A Love Song
Chicken Bones And Stones
The Day We Caught The Train (Acoustic Version)
Travellers Tune (Original Version)
Justine
Song Of A Baker
Mrs Jones
Cool Cool Water
Top Of The World
The Circle (Acoustic)
Chelsea Walk
Alibis
Day Tripper (Live, Electric Ballroom, 9 May 1996)

CD 13: B-SIDES & RARITIES PART 3 (1997 – 1999)

The Face Smiles Back Easily
Falling To The Floor
Hello Monday
Song For the Front Row
On The Way Home
All Gods Children Need Travelling Shoes
Hundred Mile High City (Live at Wembley Arena, 1997)
The Best Bet On Chinaski
On And On
Mariners Way
Going Nowhere For A While
Expensive Chair
If You Get Your Way
Flood Tide Rising
Step By Step
Carnation
Hoping You're Making It Too
The Inheritors

CD 14: B-SIDES & RARITIES PART 4 (2000 – 2003)

July (New / Single Version)
I Am The News (New Version)
July (Forza Moderna Mix)
July (Live At The London Astoria, St. Patrick's Day, April 17, 2000)
I Am The News (Live At The Dublin Point)
This Understanding (Live At Stirling Castle)
Anyway, Anyhow, Anywhere
These Are The Ones
Take You Back
Free On The Wind
I Was
Crazy Lowdown Ways
Come Home
Best Friends and Lovers
Will You Take Her Love
Me, I'm Left Unsure
Questions
I Wanna See The Bright Lights Tonight
Perfect Strangers
I Never Believed It Too
We Ris
Cecelia
I Just Need Myself (Caged Baby Remix)

CD 15: B-SIDES & RARITIES PART 5 (2003 – 2018)

Get Away (Live Bristol Academy 12/10/03)
The Riverboat Song (Live Glasgow Barrowlands 06/10/03)
Golden Gate Bridge (Live Manchester Apollo 10/10/03)
The Day We Caught The Train (Live Bristol Academy 12/10/03)
Better Than Before
Make It Better
Jimmy Wonder
Right On Time
William Bailey
Little Boy Could Be A Rolling Stone
Smile
Over My Head
Stay Alive Tonight
Dawn Cried The Day
Twenty-One
Shooting The Bridge
Come Up And See Me
Old, Old Song
Another Bard May Chant
Be With You
Because You're Mine
Standing In The Place That You Used To Do

LP 1: OCEAN COLOUR SCENE

Side A

Talk On
How About You
Giving It All Away
Justine
Do Yourself A Favour
Third Shade Of Green

Side B

Sway
Penny Pinching Rainy Heaven Days
One Of Those Days
Is She Coming Home
Blue Deep Ocean
Reprise

LPs 2 & 3: MOSELEY SHOALS

Side A

The Riverboat Song
The Day We Caught The Train
The Circle

Side B

Lining Your Pockets
Fleeting Mind
40 Past Midnight

Side C

One For The Road
It's My Shadow
Policemen & Pirates

Side D

The Downstream
You've Got It Bad
Get Away

LPs 4 & 5: MARCHIN' ALREADY

Side A

Hundred Mile High City
Better Day
Travellers Tune

Side B

Big Star
Debris Road
Besides Yourself

Side C

Get Blown Away
Tele He's Not Talking
Foxy's Folk Faced
All Up

Side D

Spark And Cindy
Half A Dream Away
It's A Beautiful Thing