 News
Ozzy Osbourne / See You On The Other Side / 24LP signed vinyl box
24-coloured vinyl LPs • Ozzy-signed certificate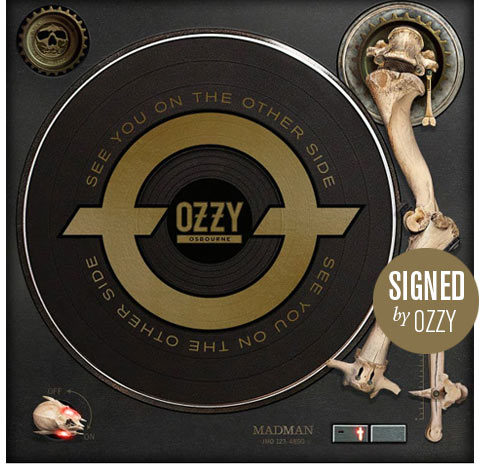 Sony's Legacy Recordings will issue a mammoth Ozzy Osbourne vinyl box called See You On The Other Side in November.

The box delivers 16 solo albums across 24 vinyl records (there's six doubles and one triple) with each pressed on 150g multi-coloured 'splatter' vinyl. Many of the albums are previously unavailable, or long out of print, on vinyl.

See You On The Other Side also includes a newly compiled non-album track collection called Flippin' The B-Side and the label point out that 1991's No More Tears was remastered from the flat analog master, so this will offer uncompressed audio and is now actually a 2LP set. The box also includes a flexi-disc featuring never-before-released demo of  'See You On The Other Side.'




The box comes with TEN newly-designed 24″ x 36″ posters (one for each album issued between 1981 and 2010) plus twelve "augmented reality (AR) experiences" which are supposed to have 'triggers' that, lead to rare live performances and exclusive video content (more details apparently in the coming weeks).

Most importantly, considering this is far from a cheap box set, each collection comes with an individually numbered vellum certificate of authenticity hand-signed by OZZY.



Perhaps unsurprisingly, Ozzy likes his own box set! "This one's the most elaborate collection so far," he says. "It's very well thought-out and well put together. It's got everything in there that you possibly could want and some surprises along the way. The sound of a vinyl record is different, and I do believe that vinyl sounds better."

See You On The Other Side is only available from the official Ozzy store and is released on 29 November 2019. Note: if you are in America, then there's a different store for you.


Albums Included:

Blizzard Of Ozz (1 LP)
Mr. Crowley live (1 LP) *
Diary Of A Madman (1 LP)
Bark At The Moon (1 LP) *
The Ultimate Sin (1 LP) *
Tribute (2 LP) *
No Rest For The Wicked (1 LP) *
Just Say Ozzy (1L P) *
No More Tears (for the first time as a 2 LP set) **
Live & Loud (3 LP) *
Ozzmosis (2 LP) *
Down To Earth (1 LP) *
Flippin' The B Side (newly compiled collection of non-LP tracks) **
Live At Budokan (2 LP) **
Black Rain (2 LP) *
Scream (2 LP) *

* Currently unavailable on Vinyl
** Previously unreleased on Vinyl


Flippin' The B Side track listing
Side A
"You Looking At Me Looking At You
Originally from the "Crazy Train" UK 7" single, released 1980
"One Up The B Side"
Originally from "Bark At The Moon" 7" single, released 1983
"Spiders"
Originally from "Bark At The Moon," 7" single, released 1983
"Hero"
Originally a hidden track from the "No Rest For The Wicked" US CD and cassette release, released 1988
"The Liar"
Originally from the "Miracle Man" UK 12" single, released 1988
"Don't Blame Me"
Originally from the "Mama I'm Coming Home" UK 7" single, released 1991
Side B
"Party With The Animals"
Originally from the "Mama I'm Coming Home" US CD single, released 1992
"Living With The Enemy"
Originally from the "Perry Mason" UK CD single, released 1995
"Voodoo Dancer"
Originally from the "I Just Want You" UK CD single, released 1996
"Back On Earth"
Originally from "The Ozzman Cometh" compilation, released 1997
"No Place For Angels"
Originally from the "Gets Me Through" CD single, released 2001
"Walk On Water"
Originally released on "Prince Of Darkness," released 2005