 News
Paul McCartney reissues a series of live albums on CD and coloured & black vinyl
Four live albums – one from each decade starting with the 1970s – given the reissue treatment. Some remastered and one remixed.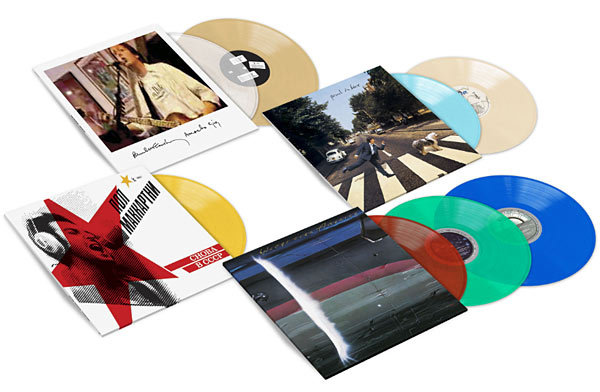 Paul McCartney is reissuing four live albums on CD and vinyl, with limited coloured vinyl editions available.

The four albums in question are 1976's Wings Over America (the only album of the four to have already been part of Paul's 'Archive Collection' reissue campaign), Choba B CCCP Paul's 1988 live-in-the-studio rendition of rock 'n' roll classics that was exclusive to the Soviet Union (for a while), Paul Is Live from 1993, which features live cuts performed on McCartney's 'New World Tour' in support of the Off The Ground album (including five from that very album) and finally Amoeba Gig the first full commercial release of Paul's 2007 free gig at Hollywood's Amoeba Music (he was promoting Memory Almost Full at the time).




Points of interest are that Paul is Live and Choba B CCCP are both newly remastered at Abbey Road while Amoeba Gig goes one step further and is remixed for this release as well as including a bonus track 'Coming Up' (soundcheck). The Russian Album (as it was known) also adheres to the original 11-track version released in the Soviet Union and not the 14-track edition put out on CD in 1991.

Given that this is a gathering of live albums, it's a little surprising that 1991's Unplugged (The Official Bootleg) isn't part of this line-up and arguably would have been a bit more attractive to fans than putting forward Wings Over America to a fanbase that have likely already bought the 2013 reissue on vinyl. Ditto 1990's Tripping The Live Fantastic. Presumably we'll get them at some point.




All of the four live albums are being released again on CD (WOA is a double, of course), as well as black and coloured vinyl. As with previous coloured vinyl editions Universal 'reserve' these for McCartney's store and their own direct-to-consumer channels, so unfortunately, like other independent retailers, we don't get access to this stock for the SDE shop. MusicVaultz in Canada have a special bundle available, and other channels in other territories have followed suit.

Wings Over America, Choba B CCCP, Paul Is Live and Amoeba Gig will all be reissued on 12 July 2019.


Amoeba Gig
2LP vinyl (same tracks on the CD)
A1. Drive My Car
A2. Only Mama Knows
A3. Dance Tonight
A4. C Moon
A5. The Long And Winding Road
A6. I'll Follow The Sun
B1. Calico Skies
B2. That Was Me
B3. Blackbird
B4. Here Today
B5. Back In The USSR
B6. Nod Your Head
C1. House Of Wax
C2. I've Got A Feeling
C3. Matchbox
C4. Get Back
D1. Baby Face
D2. Hey Jude
D3. Let It Be
D4. Lady Madonna
D5. I Saw Her Standing There
D6. Coming Up [Soundcheck]
Choba B CCCP
vinyl (same tracks on the CD)
A1. Kansas City
A2. Twenty Flight Rock
A3. Lawdy, Miss Clawdy
A4. Bring It On Home To Me
A5. Lucille
A6. Don't Get Around Much Anymore
B1. That's All Right (Mama)
B2. Ain't That A Shame
B3. Crackin' Up
B4. Just Because
B5. Midnight Special
Paul Is Live
2LP vinyl (same tracks on the CD)
A1. Drive My Car
A2. Let Me Roll It
A3. Looking For Changes
A4. Peace In The Neighbourhood
A5. All My Loving
A6. Robbie's Bit (Thanks Chet)
B1. Good Rockin' Tonight
B2. We Can Work It Out
B3. Hope Of Deliverance
B4. Michelle
B5. Biker Like An Icon
B6. Here, There And Everywhere
B7. My Love
C1. Magical Mystery Tour
C2. C'mon People
C3. Lady Madonna
C4. Paperback Writer
C5. Penny Lane
C6. Live And Let Die
D1. Kansas City
D2. Welcome To Soundcheck (link)
D3. Hotel In Benidorm (soundcheck)
D4. I Wanna Be Your Man (soundcheck)
D5. A Fine Day (soundcheck)
Wings Over America 3LP vinyl
A1. Venus And Mars / Rock Show / Jet
A2. Let Me Roll It
A3. Spirits Of Ancient Egypt
A4. Medicine Jar
B1. Maybe I'm Amazed
B2. Call Me Back Again
B3. Lady Madonna
B4. The Long And Winding Road
B5. Live And Let Die
C1. Picasso's Last Words
C2. Richard Cory
C3. Bluebird
C4. I've Just Seen A Face
C5. Blackbird
C6. Yesterday
D1. You Gave Me The Answer
D2. Magneto And Titanium Man
D3. Go Now
D4. My Love
D5. Listen To What The Man Said
E1. Let 'Em In
E2. Time To Hide
E3. Silly Love Songs
E4. Beware My Love
F1. Letting Go
F2. Band On The Run
F3. Hi, Hi, Hi
F4. Soily