 News
Pet Shop Boys announce 2CD special edition of Hotspot and signed prints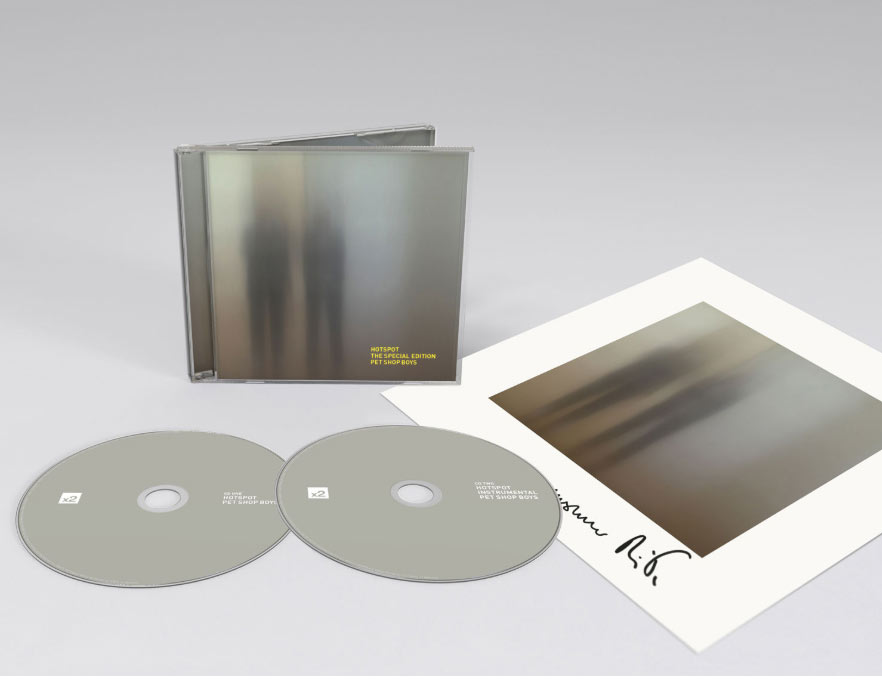 The Pet Shop Boys have ramped up the marketing for their forthcoming album Hotspot by announcing a 'special edition' two-CD version (and cassette) on their website and incentivising fans with the promise of a 'hand signed print' with any format ordered via their shop before Christmas.

The two-CD special edition offers a bonus disc of instrumentals of every track on the album (something they did previously with 2012's Elysium) and the cassette edition – while largely pointless – at least looks pretty cool.
It's an interesting development and underlines how important signed items can be in terms of securing a high chart position. Surprisingly, given both their popularity during their 'imperial' phase (1987-1990) and the ongoing loyalty of their fans, the Pet Shop Boys have only ever had one number one album in the UK* – 1993's Very. By way of contrast Erasure had four number one albums IN A ROW between 1988 and 1994!
Neil Tenant and Chris Lowe will be hoping they can reach the top spot again and improve on the number three peak of 2016's Super. There were some signed CD and vinyl editions of that album available too, but you had to turn up in person at their 'pop-up' shop in Hoxton, London to secure one.
Hotspot is released on 24 January 2020. Head to the Pet Shop Boys online shop before midday (GMT) on 24 December to secure an order with the signed print (the 2CD set appears to be exclusive to their store, also). Standard pre-orders from other channels are below. The 'Burning the Heather' single is out today.
---
*The Pet Shop Boys had three consecutive number two albums in the late eighties/early nineties. Michael Jackson's Bad, U2's Rattle and Hum and Paul Simon's The Rhythm of the Saints kept Actually (1987), Introspective (1988) and Behaviour (1990) off number one, respectively.
---
Hotspot
1. Will-O-The-Wisp
2. You Are The One
3. Happy People
4. Dreamland
5. Hoping For A Miracle
6. I Don't Wanna
7. Monkey Business
8. Only The Dark
9. Burning The Heather
10. Wedding In Berlin
Hotspot bonus CD on the special edition
1. Will-O-The-Wisp instrumental
2. You Are The One instrumental
3. Happy People instrumental
4. Dreamland instrumental
5. Hoping For A Miracle instrumental
6. I Don't Wanna instrumental
7. Monkey Business instrumental
8. Only The Dark instrumental
9. Burning The Heather instrumental
10. Wedding In Berlin instrumental