 News
Pet Shop Boys complete 'Catalogue' reissue series with early '90s albums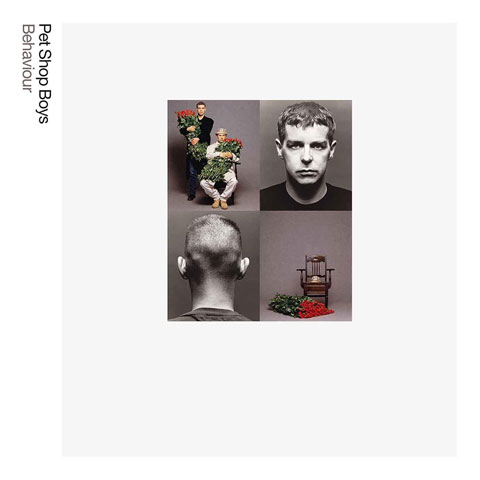 Three albums remastered • new vinyl • 2CD sets as before
The Pet Shop Boys will issue their fourth and final set of 'Catalogue' reissues at the end of August with the re-release of early-to-mid '90s albums Behaviour, Very and Bilingual.

Behaviour saw Chris Lowe and Neil Tennant enter their 'post-imperial' phase as number ones became top 10 and top 20 hits. Co-produced by Harold Faltermeyer, 1990's Behaviour is widely considered to be their best album and features the singles So Hard, Being Boring, How Can You Expect To Be Taken Seriously and Jealousy, although that's only half the story, since the album tracks – like Only The Wind, My October Symphony and The End Of The World – are seriously good. Johnny Marr contributes guitar.
Very was released in September 1993. Lots of fans love this record but I never fell prey to its charms. While I enjoyed the single Can You Forgive Her? after the serious and grown-up tone of Behaviour I thought songs like Go West, I Wouldn't Normally Do This Kind Of Thing were a bit 'silly' and only okay. While the social commentary of tracks like The Theatre was incredibly clunky. For me, a clear dip in the quality of the songwriting (especially lyrically).
I hadn't given up on them though and I absolutely loved 1996's Bilingual. It's funny how no matter hard you try, you just simply can't 'get into' certain albums, but others have an immediate impact. One of the mysteries of music. There was a real sadness to the lyrics of songs like Discoteca and Single-Bilingual and the lead single, Before, seemed effortless, whereas with Very it felt like they were trying too hard. Album track To Step Aside is a PSB classic!
Anyway, as before all the audio is remastered but other than that, the two-CD 'Further Listening' sets are more or less identical to the previous ones. Nice to have new vinyl versions available too, of course. For some reason Behaviour is slightly cheaper than the others in the UK right now, at £16.
All three albums are reissued on vinyl and 2CD deluxe sets on 31 August 2018.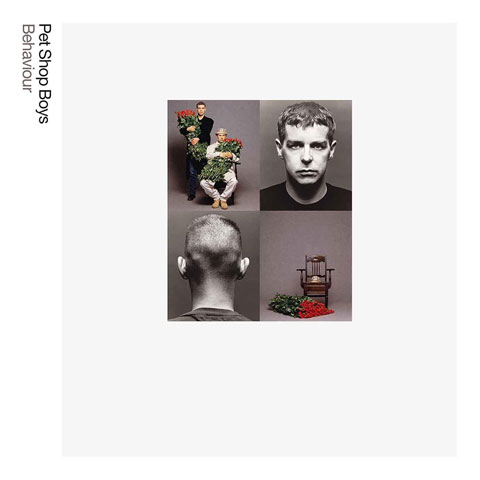 Behaviour / Further Listening 1990-1991 2CD set
CD 1
1. Being Boring (2018 Remastered Version)
2. This Must Be the Place I Waited Years to Leave (2018 Remastered Version)
3. To Face the Truth (2018 Remastered Version)
4. How Can You Expect to Be Taken Seriously? (2018 Remastered Version)
5. Only the Wind (2018 Remastered Version)
6. My October Symphony (2018 Remastered Version)
7. So Hard (2018 Remastered Version)
8. Nervously (2018 Remastered Version)
9. The End of the World (2018 Remastered Version)
10. Jealousy (2018 Remastered Version)
CD 2
1. It Must Be Obvious (2018 Remastered Version)
2. So Hard (Extended Dance Mix) [2018 Remastered Version]
3. Miserablism (2018 Remastered Version)
4. Being Boring (Extended Mix) [2018 Remastered Version]
5. Bet She's Not Your Girlfriend (2018 Remastered Version)
6. We All Feel Better in the Dark (Extended Mix) [2018 Remastered Version]
7. Where the Streets Have No Name (I Can't Take My Eyes Off You) [Extended Mix] [2018 Remastered Version]
8. Jealousy (Extended Version) [2018 Remastered Version]
9. Generic Jingle (2018 Remastered Version)
10. DJ Culture (Extended Mix) [2018 Remastered Version]
11. Was It Worth It? (12" Mix) [2018 Remastered Version]
12. Music For Boys (Ambient Mix) [2018 Remastered Version]
13. DJ Culture (7" Mix) [2018 Remastered Version]
Very / Further Listening 1992-1994 2CD set
CD 1
1. Can You Forgive Her? (2018 Remastered Version)
2. I Wouldn't Normally Do This Kind of Thing (2018 Remastered Version)
3. Liberation (2018 Remastered Version)
4. A Different Point of View (2018 Remastered Version)
5. Dreaming of the Queen (2018 Remastered Version)
6. Yesterday When I Was Mad (2018 Remastered Version)
7. The Theatre (2018 Remastered Version)
8. One and One Make Five (2018 Remastered Version)
9. To Speak Is a Sin (2018 Remastered Version)
10. Young Offender (2018 Remastered Version)
11. One In a Million (2018 Remastered Version)
12. Go West (2018 Remastered Version)
CD 2
1. Go West (1992 12" Mix) [2018 Remastered Version]
2. Forever In Love (2018 Remastered Version)
3. Confidential (1992 Demo for Tina Turner) [2018 Remastered Version]
4. Hey, Headmaster (2018 Remastered Version)
5. Shameless (2018 Remastered Version)
6. Too Many People (2018 Remastered Version)
7. I Wouldn't Normally Do This Kind of Thing (Seven-Inch Version) [2018 Remastered Version]
8. Violence (Hacienda Version) [2018 Remastered Version]
9. Falling (Demo for Kylie) [2018 Remastered Version]
10. Decadence (2018 Remastered Version)
11. If Love Were All (Bitter Sweet) [2018 Remastered Version]
12. Absolutely Fabulous (Single Version) [2018 Remastered Version] – Absolutely Fabulous
13. Euroboy (2018 Remastered Version)
14. Some Speculation (2018 Remastered Version)
15. Yesterday When I Was Mad (Single Version) [2018 Remastered Version]
16. Girls And Boys (Live In Rio) [2018 Remastered Version]
Bilingual / Further Listening 1995-1997 2CD set
CD 1
1. Discoteca (2018 Remastered Version)
2. Bilingual (2018 Remastered Version)
3. Metamorphosis (2018 Remastered Version)
4. Electricity (2018 Remastered Version)
5. Se A Vida e (2018 Remastered Version)
6. It Always Comes As A Surprise (2018 Remastered Version)
7. A Red Letter Day (2018 Remastered Version)
8. Up Against It (2018 Remastered Version)
9. The Survivors (2018 Remastered Version)
10. Before (2018 Remastered Version)
11. To Step Aside (2018 Remastered Version)
12. Saturday Night Forever (2018 Remastered Version)
CD 2
1. Paninaro '95 (2018 Remastered Version)
2. In the Night (1995 Version) [2018 Remastered Version]
3. The Truck Driver and His Mate (2018 Remastered Version)
4. Hit and Miss (2018 Remastered Version)
5. How I Learned to Hate Rock 'n' Roll (2018 Remastered Version)
6. Betrayed (2018 Remastered Version)
7. Delusions of Grandeur (2018 Remastered Version)
8. Discoteca (Single Version) [2018 Remastered Version]
9. The Calm Before the Storm (2018 Remastered Version)
10. Discoteca (New Version) [2018 Remastered Version]
11. The Boy Who Couldn't Keep His Clothes On (2018 Remastered Version)
12. A Red Letter Day (Expanded Single Version) [2018 Remastered Version]
13. The View from Your Balcony (2018 Remastered Version)
14. Disco Potential (2018 Remastered Version)
15. Somewhere (Extended Mix) [2018 Remastered Version]
Behaviour remastered vinyl LP
Side 1
1. Being Boring (2018 Remastered Version)
2. This Must Be the Place I Waited Years to Leave (2018 Remastered Version)
3. To Face the Truth (2018 Remastered Version)
4. How Can You Expect to Be Taken Seriously? (2018 Remastered Version)
5. Only the Wind (2018 Remastered Version)
Side 2
1. My October Symphony (2018 Remastered Version)
2. So Hard (2018 Remastered Version)
3. Nervously (2018 Remastered Version)
4. The End of the World (2018 Remastered Version)
5. Jealousy (2018 Remastered Version)
Very remastered vinyl LP
Side 1
1. Can You Forgive Her? (2018 Remastered Version)
2. I Wouldn't Normally Do This Kind of Thing (2018 Remastered Version)
3. Liberation (2018 Remastered Version)
4. A Different Point of View (2018 Remastered Version)
5. Dreaming of the Queen (2018 Remastered Version)
6. Yesterday When I Was Mad (2018 Remastered Version)
Side 2
1. The Theatre (2018 Remastered Version)
2. One and One Make Five (2018 Remastered Version)
3. To Speak Is a Sin (2018 Remastered Version)
4. Young Offender (2018 Remastered Version)
5. One In a Million (2018 Remastered Version)
6. Go West (2018 Remastered Version)
Bilingual remastered vinyl LP
Side 1
1. Discoteca (2018 Remastered Version)
2. Bilingual (2018 Remastered Version)
3. Metamorphosis (2018 Remastered Version)
4. Electricity (2018 Remastered Version)
5. Se A Vida e (2018 Remastered Version)
6. It Always Comes As A Surprise (2018 Remastered Version)
Side  2
1. A Red Letter Day (2018 Remastered Version)
2. Up Against It (2018 Remastered Version)
3. The Survivors (2018 Remastered Version)
4. Before (2018 Remastered Version)
5. To Step Aside (2018 Remastered Version)
6. Saturday Night Forever (2018 Remastered Version)