 News
Pet Shop Boys / Discovery: Live in Rio
First time on DVD and CD for 1994 concert film!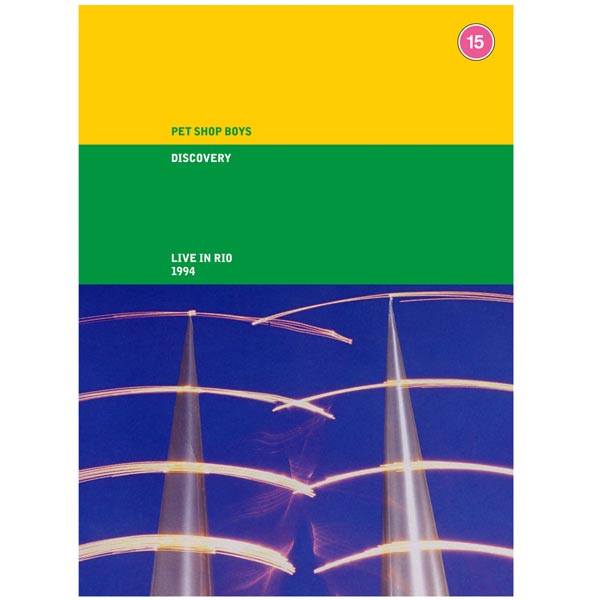 The Pet Shop Boys' concert film, Discovery: Live in Rio 1994, will be released as a 2CD+DVD set in April.

The concert film marked the Pet Shop Boys first visit to Brazil at the end of 1994, and was issued on VHS and laserdisc in 1995.
The set list includes classic hits including 'West End girls', 'Suburbia', 'Being Boring', 'Go West', 'Rent' and 'Always on my mind', as well some interesting covers, including a rendition of Blur's 'Girls and Boys' (which the PSBs remixed at the time of release).
The show was filmed by Brazilian director Roberto Berliner with a local TV crew in December 1994 in front of an enthusiastic Rio audience. It was shot on SD video, so to "keep the integrity of the original" the decision was made to restore and present the concert in its native SD format on DVD, rather than upscaling to HD for Blu-ray.
A new booklet features candid on-tour photographs, an interview by Chris Heath conducted during tour rehearsals and an exclusive on-tour diary by Neil Tennant. This release marks the debut of this set on CD as well as DVD. There is no vinyl edition.
Discovery: Live in Rio 1994 will be issued on 30 April 2021.
Compare prices and pre-order
Pet Shop Boys
discovery live in Rio 1994
CD1
1 Tonight Is Forever
2 I Wouldn't Normally Do This Kind Of Thing
3 Always On My Mind
4 Domino Dancing
5 To Speak Is A Sin
6 One In A Million / Mr Vain
7 Paninaro
8 Rent
9 Suburbia
10 Kings Cross
11 So Hard
CD2
1 Left To My Own Devices / Rhythm Of The Night
2 Absolutely Fabulous
3 Liberation
4 West End Girls
5 Can You Forgive Her?
6 Girls And Boys
7 It's A Sin / I Will Survive
8 Go West
9 Go West (Reprise)
10 Being Boring
DVD
1 Tonight Is Forever
2 I Wouldn't Normally Do This Kind Of Thing
3 Always On My Mind
4 Domino Dancing
5 To Speak Is A Sin
6 One In A Million / Mr Vain
7 Paninaro
8 Rent
9 Suburbia
10 Kings Cross
11 So Hard
12 Left To My Own Devices / Rhythm Of The Night
13 Absolutely Fabulous
14 Liberation
15 West End Girls
16 Can You Forgive Her
17 Girls And Boys
18 It's A Sin / I Will Survive
19 Go West
20 Go West (Reprise)
21 Being Boring