 News
Phil Collins / Serious Hits… Live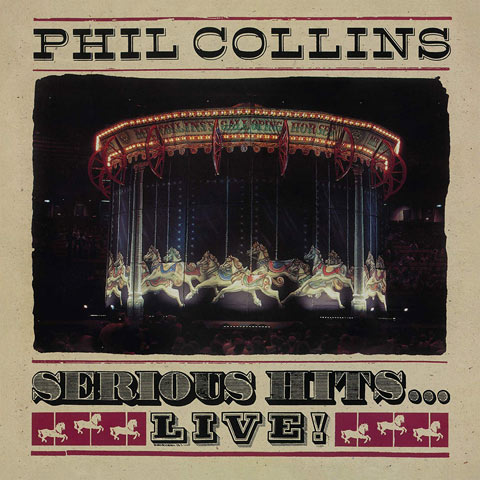 'Serious Hits…Live' and 'A Hot Night in Paris' reissued & remastered
Phil Collins' 'Take a Look at Me Now' reissue campaign continues with the reissue of 1990 live album Serious Hits…Live.

The album was a massive a success, since Collins was still at the height of his fame having enjoyed an incredible seven US number one singles (include a George Michael matching run of four in a row) by the end of the 1980s, three UK number ones and a number of chart-topping albums.
Even at the time, I remember thinking it was a mistake for the record label not to issue a studio hits compilation at this point – which would surely have sold zillions –  but for whatever reason they didn't and in fact it would be another eight years before they belated got around to it (with 1998's …Hits) by which point Collins' was known as the man who divorced his wife by fax (not actually true, apparently) and his singles were getting to number 77 stateside, not number one.
Nevertheless, back in 1990 there was a voracious appetite for all things Collins and people took what they were offered –  Serious Hits… Live! sold over four million copies. The album was recorded at various stadium and arena shows throughout his seven-month Seriously, Live! World Tour. It includes performances of many of his huge hits including 'In The Air Tonight,' 'You Can't Hurry Love,' 'Against All Odds (Take A Look At Me Now),' 'Easy Lover' (with Philip Bailey) and 'Another Day In Paradise.'
As well as Serious Hits… Live!, Rhino is also reissuing 1999's A Hot Night In Paris, which is very much the other end of the spectrum, with the drummer and songwriter hoping you like his new direction, with jazzy instrumental performances of select songs from his solo discography as well as his work with Genesis (and a few covers thrown in).
Both albums are reissued on CD and vinyl, with A Hot Night In Paris making its debut on the latter format. These are released on 1 February 2019.
Serious Hits…Live!
1.   "Something Happened On The Way To Heaven"
2.   "Against All Odds (Take A Look At Me Now)"
3.   "Who Said I Would"
4.   "One More Night"
5.   "Don't Lose My Number"
6.   "Do You Remember?"
7.   "Another Day In Paradise"
8.   "Separate Lives"
9.   "In The Air Tonight"
10. "You Can't Hurry Love"
11. "Two Hearts"
12. "Sussudio"
13. "A Groovy Kind of Love"
14. "Easy Lover"
15. "Take Me Home"
A Hot Night in Paris
1.   "Sussudio"
2.   "That's All"
3.   "Invisible Touch"
4.   "Chips & Salsa"
5.   "Hold On My Heart"
6.   "I Don't Care Anymore"
7.   "Milestones"
8.   "Against All Odds"
9.   "Pick Up The Pieces"
10. "The Los Endos Suite"