 News
New editions of Chris Heath's Pet Shop Boys books available in March
Rough Trade offering both editions signed by Neil and Chris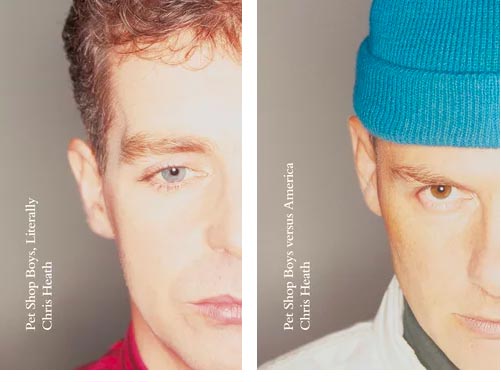 Chris Heath's two classic Pet Shop Boys books, Literally (1989) and Pet Shop Boys versus America (1991), are being reprinted in new hardback editions, with a limited number of copies signed by Neil and Chris.

In 1989, journalist Heath followed the Pet Shop Boys around Hong Kong, Japan and the UK (with photographer Lawrence Watson) as they embarked on their first-ever tour. The resulting book, Literally, is a fantastic portrait of the duo and a fascinating and often hilarious read.

Two years later they repeated the experience, but this time the band toured North America for the first time. Chris Heath was joined by photographer Pennie Smith and the resulting book Pet Shop Boys versus America is every bit as satisfying as Literally.

Both volumes are published by Penguin imprint William Heinemann. The second book is described as an "updated edition featuring new material from The Pet Shop Boys and Chris Heath."

Literally and Pet Shop Boys versus America are published on 19 March 2020. Signed copies available via Rough Trade.


Compare prices and pre-order
Heath, Chris
Pet Shop Boys, Literally
Compare prices and pre-order
Heath, Chris
Pet Shop Boys versus America