 News
Primal Scream set to release a new singles compilation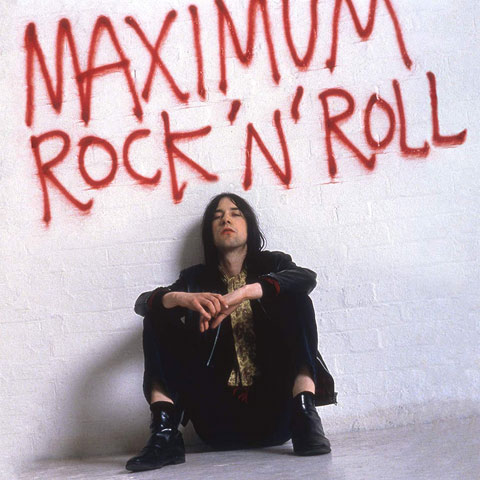 Maximum Rock 'N' Roll features 31 of the band's hits
Primal Scream are to release new singles collection called Maximum Rock & Roll.

The set features most of the band's singles from across their career, and will be available as a two-CD set and across two double vinyl sets.
It's the first compilation from the band since 2003's Dirty Hits, and features 31 of the band's singles from across their career and 11 albums, although they seem to have forgotten debut 'All Fall Down' and opted to start the collection off with 'Crystal Crescent''s seminal B-Side 'Velocity Girl' instead (and while we're nitpicking, there's no sign of Kevin Shields' mix of 'If They Move Kill 'Em' either.)

Bobby looking a fresh faced on the cover of 'volume two' of the vinyl edition
With no previously unreleased or even new content featured – apparently new songs were mooted but didn't pass muster – it's very much a celebration of the band's career so far. Hopefully this is biding time for a 20th anniversary repackage of 2000's XTRMNTR next year.
Maximum Rock 'N' Roll: The Singles is released 24 May 2019
Compare prices and pre-order
Primal Scream
maximum rock n roll - 2CD set
Compare prices and pre-order
Primal Scream
maximum rock n roll - 2LP vinyl vol 1
Compare prices and pre-order
Primal Scream
maximum rock n roll - 2LP vinyl vol 2
Maximum Rock 'N' Roll: The Singles (Double CD)
Disc One:
Velocity Girl
Gentle Tuesday
Imperial
Ivy Ivy Ivy
Loaded
Come Together
Higher Than the Sun (The Orb Mix)
Don't Fight It, Feel It (7″ Edit)
Movin' on Up
Rocks
Jailbird
(I'm Gonna) Cry Myself Blind
Kowalski
Star
Burning Wheel
Swastika Eyes
Kill All Hippies (Brendan Lynch Edit)
Disc Two
Accelerator
Miss Lucifer
Autobahn 66
Some Velvet Morning – Primal Scream feat. Kate Moss
Country Girl
Dolls (Sweet Rock and Roll)
Sometimes I Feel So Lonely
Can't Go Back
Uptown (Weatherall mix)
2013
It's Alright, It's OK
Goodbye Johnny
Where the Light Gets In – Primal Scream feat. Sky Ferreira
100% or Nothing
Maximum Rock 'N' Roll: The Singles Vol 1. (Double vinyl)
Side A
Velocity Girl
Gentle Tuesday
Imperial
Ivy Ivy Ivy
Loaded
Side B
Come Together
Higher Than the Sun
Don't Fight It, Feel It
Movin' On Up
Side C
Rocks
Jailbird
(I'm Gonna) Cry Myself Blind
Kowalski
Side D
Star
Burning Wheel
Swastika Eyes (Brendan Lynch Edit)
Kill All Hippies
Maximum Rock 'N' Roll: The Singles Vol 2. (Double vinyl)
Side A
Accelerator
Miss Lucifer
Autobahn 66
Some Velvet Morning (with Kate Moss)
Side B
Country Girl
Dolls (Sweet Rock and Roll)
Sometimes I Feel So Lonely
Side C
Can't Go Back
Uptown (Weatherall mix)
2013
It's Alright, It's OK
Side D
Goodbye Johnny
Where The Lights Get In (with Sky Ferreira)
100% Or Nothing