 News
Prince / Sign 'O' The Times / 1987 concert film reissued as 4-disc deluxe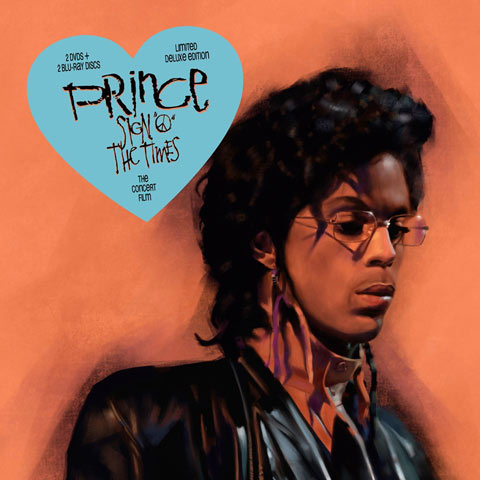 Dolby Atmos mix • 2 x blu-ray + 2 x DVD • New documentaries/interviews
This September, Germany's Turbine Media Group is releasing a limited four-disc deluxe edition of Prince's Sign 'O' The Times concert film from 1987.

The package will include two blu-ray discs and two DVDs with the blu-ray featuring a Dolby Atmos surround mix, an Auro-3D 11.1 mix and the original stereo mix.
It also boasts a newly commissioned 85-minute interview documentary called 'Prince – The Peach & Black Times' which will feature Dr. Fink (keyboards), Susan Rogers (sound engineer), Steve Purcell (editor), Leroy Bennett (stage and lighting design), Gert de Bruijn & Michiel Hoogeboezom (sound engineers), Dave Rusan (Rusan Guitarworks) and Edgar Kruize (author of 'Prince: The Dutch Experience').
Additionally this set comes with an exclusive audio commentary by The Peach and Black Podcast, a booklet with new writing by Prince expert Edgar Kruize and a foreword by Dr. Funkenberry. The bonus Blu-ray and DVD with over two hours of extended interviews.
This deluxe set comes in large format (12-inch) packaging and includes a heart shaped sticker, a large-size booklet, an A1 theatrical poster and five black and white photos. Newly commissioned artwork is by Martin Homent, Prince's art director for his last two albums (Hitnrun Phase One + Two).
Fans around the world should note that this product is locked to region 2 (DVD) or B for blu-ray. This a licensing restriction.
This Sign 'O' The Times deluxe edition will be issued on 13 September 2019. At the moment it's only available via Amazon in Germany, but that might change. Technical details and track listing below.
Compare prices and pre-order
Easton, Sheena
sign o the times concert film - 4-disc deluxe
Features:
-2 Blu-ray Discs + 2 DVDs
-Blu-ray Disc with audio in Dolby Atmos and Auro-3D 11.1 + Original Stereo Mix
-Newly commissioned artwork by Martin Homent Art who already was responsible for the cover art of the Prince albums "Hitnrun Phase One + Two
Blu-ray disc
Video: 1080p24 Full HD (1.78:1)
Audio: DTS-HD Master Audio 2.0 Stereo, Dolby Atmos (Dolby Digital 5.1 compatible), Auro-3D 11.1 (DTS-HD Master Audio 5.1 and 7.1 compatible)
Subtitles: feature film: German (dialogues), English (lyrics), bonus material: German (optional)
DVD
Video: 16:9 anamorphic (PAL)
Audio: Dolby Digital 2.0 Stereo, Dolby Digital 5.1
Subtitles: Feature film: German (dialogues), English (lyrics) Bonus material: German (optional)
Setlist
1. Intro
2. Sign "O" the Times
3. Play in the Sunshine
4. Little Red Corvette
5. Housequake
6. Slow Love
7. I Could Never Take the Place of Your Man
8. Hot Thing
9. Now's the Time
10. U Got the Look (music video)
11. If I Was Your Girlfriend
12. Forever in My Life / It
13. It's Gonna Be a Beautiful Night
14. The Cross
15. Sign "O" the Times (instrumental)