 News
Prince / Trio of mid-nineties albums reissued on CD and vinyl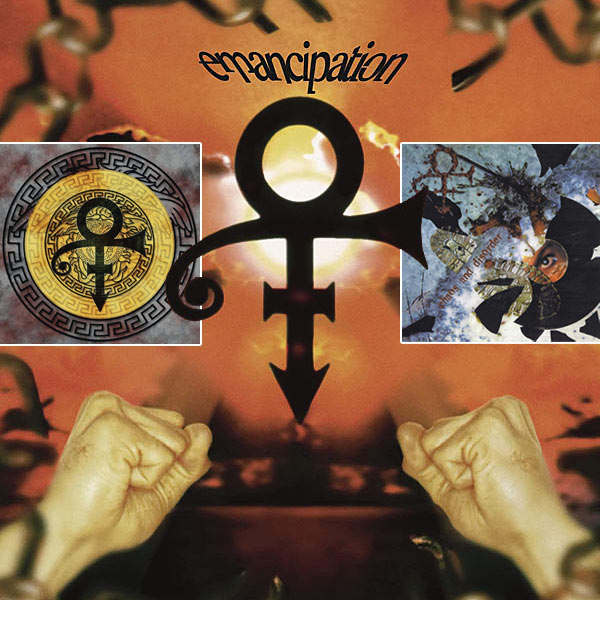 Emancipation, Chaos and Disorder and The Versace Experience reissued
In September, Sony Legacy will reissue three mid-nineties Prince albums on CD and vinyl, including 1996's triple album Emancipation.

The other two albums are The VERSACE Experience (which wasn't really an 'album', as such, and certainly wasn't commercially released) and 1996's Chaos And Disorder which Prince grumpily approved in contractual fulfilment mode.
The VERSACE Experience was released ahead of 1995's The Gold Experience album (curiously not part of this reissue campaign). I say 'released' – it was actually given away as a gift to attendees of the designer's collection at Fashion Week in Paris. It featured remixed versions tracks like 'Pussy Control,'Gold' and 'Eye Hate U' along with rare and unreleased selections. This cassette was replicated for Record Store Day this year. It's now called 'The VERSACE Experience (PRELUDE 2 GOLD)'.
Chaos and Disorder was originally issued in July 1996 about 10 months after The Gold Experience. Prince didn't promote it and it delivered a minor hit in 'Dinner With Delores'.
Just four months after that came a project that Prince really was behind – the triple album Emancipation. As the title suggests, this was Prince celebrating his freedom from the 'constraints' of his Warner Bros. contract. The concept was three hour-long CDs of music. It's extremely varied in terms of style and quality but there's undoubtedly some great stuff here, including 'Jam Of The Year,' 'Somebody's Somebody,' 'Right Back Here In My Arms,' 'Joint 2 Joint,' 'In This Bed Eye Scream' and the Kate Bush collaboration 'My Computer'. Emancipation is also notable for generous sprinkling of covers, such as 'One Of Us' (Joan Osborne), 'I Can't Make You Love Me' (Bonnie Rait) and 'Betcha By Golly Wow' (The Stylistics).
None of the three albums have ever been issued on vinyl before, although since it's now a 6LP set, it is debatable whether 12 sides of vinyl is the best way to experience Emancipation, which we known Prince definitely conceived as three one-hour pieces. All three records also get reissued on CD, with the VERSACE album new to the format. The Prince Estate are not saying anything about 'remastering' so we don't know any details about which tapes were used to create these new commercial releases.
In terms of packaging, the Emancipation triple-CD is no longer the good old 'fatbox' but an eight-panel 'softpak', with three pockets for the discs and one pocket for the booklet. Chaos and Disorder and VERSACE are single disc 'softpaks' (similar to 3121).
All the vinyl is 150g and purple-coloured. Emancipation has the six vinyl records in their own jackets with printed inners in an outer slipcase.
The VERSACE Experience (PRELUDE 2 GOLD), Chaos and Disorder and Emancipation will all be reissued on 13 September 2019. UK pre-order links will come through automatically, when they are available.
Emancipation 6LP vinyl
Side 1
1. Jam of the Year
2. Right Back Here In My Arms
3. Somebody's Somebody
Side 2
1. Get Yo Groove On
2. Courtin' Time
3. Betcha By Golly Wow!
Side 3
1. We Gets Up
2. White Mansion
3. Damned If Eye Do
Side 4
1. I Can't Make U Love Me
2. Mr. Happy
3. In This Bed Eye Scream
Side 5
1. Sex In the Summer
2. One Kiss at a Time
3. Soul Sanctuary
Side 6
1. Emale
2. Curious Child
3. Dreamin' About U
Side 7
1. Joint 2 Joint
2. The Holy River
3. Let's Have a Baby
Side 8
1. Saviour
2. The Plan
3. Friend, Lover, Sister, Mother/Wife
Side 9
1. Slave
2. New World
3. The Human Body
Side 10
1. Face Down
2. La, La, La Means I Love You
3. Style
Side 11
1. Sleep Around
2. Da, Da, Da
3. My Computer
Side 12
1. One of Us
2. The Love We Make
3. Emancipation
Emancipation 3CD edition
CD 1
1. Jam of the Year
2. Right Back Here In My Arms
3. Somebody's Somebody
4. Get Yo Groove On
5. Courtin' Time
6. Betcha By Golly Wow!
7. We Gets Up
8. White Mansion
9. Damned If Eye Do
10. I Can't Make U Love Me
11. Mr. Happy
12. In This Bed Eye Scream
CD 2
1. Sex In the Summer
2. One Kiss at a Time
3. Soul Sanctuary
4. Emale
5. Curious Child
6. Dreamin' About U
7. Joint 2 Joint
8. The Holy River
9. Let's Have a Baby
10. Saviour
11. The Plan
12. Friend, Lover, Sister, Mother/Wife
CD 3
1. Slave
2. New World
3. The Human Body
4. Face Down
5. La, La, La Means I Love You
6. Style
7. Sleep Around
8. Da, Da, Da
9. My Computer
10. One of Us
11. The Love We Make
12. Emancipation
VERSACE Experience Prelude 2 Gold – CD edition
1. Pussy Control (Club Mix)
2. Shhh
3. Get Wild In The House – The New Power Generation
4. Eye Hate U
5. 319
6. Shy
7. Billy Jack Bitch
8. Sonny T. – Prince and Madhouse
9. Rootie Kazootie – Prince and Madhouse
10. Chatounette Controle
11. Pussy Control (Control Tempo)
12. Kamasutra Overture #5 – The New Power Generation Orchestra
13. Free the Music – The New Power Generation
14. Segue
15. Gold
VERSACE Experience Prelude 2 Gold – vinyl LP
Side 1
1. Pussy Control (Club Mix)
2. Shhh
3. Get Wild In The House – The New Power Generation
4. Eye Hate U
5. 319
6. Shy
Side 2
1. Billy Jack Bitch
2. Sonny T. – Prince and Madhouse
3. Rootie Kazootie – Prince and Madhouse
4. Chatounette Controle
5. Pussy Control (Control Tempo)
6. Kamasutra Overture #5 – The New Power Generation Orchestra
7. Free the Music – The New Power Generation
8. Segue
9. Gold
Chaos and Disorder CD edition
1. Chaos and Disorder
2. I Like It There
3. Dinner with Delores
4. The Same December
5. Right the Wrong
6. Zannalee
7. I Rock, Therefore I Am
8. Into the Light
9. I Will
10. Dig U Better Dead
11. Had
Chaos and Disorder LP edition
Side 1
1. Chaos and Disorder
2. I Like It There
3. Dinner with Delores
4. The Same December
5. Right the Wrong
6. Zannalee
Side 2
1. I Rock, Therefore I Am
2. Into the Light
3. I Will
4. Dig U Better Dead
5. Had U