 News
Produced by Tony Visconti
Various Artists 4CD or 6LP compilation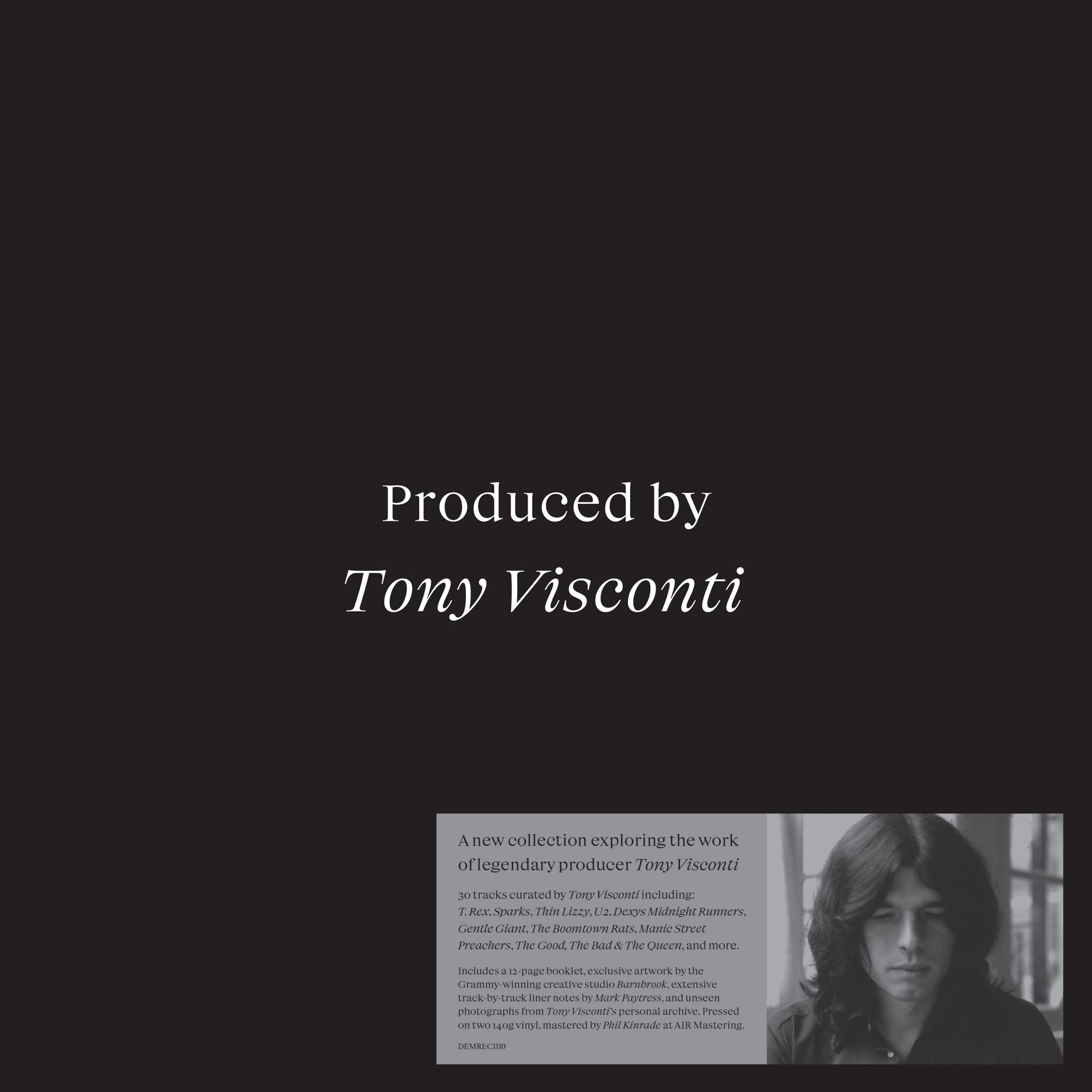 4CD and 6LP box sets with signed copies available
Produced by Tony Visconti is a new multi-disc box set available on CD and vinyl that spans the producer's six decades and features famous material from David Bowie, T.Rex, U2, Joe Cocker and many more, alongside lesser-known gems from the likes of The Good, The Bad & The Queen, Thin Lizzy, The Radiators, Zaine Griff, Gentle Giant, Manic Street Preachers and more from Tony's fifty years of production credits.
In total, there's 77 tracks on the 4CD box set edition, curated by Visconti himself. The 6LP vinyl variant delivers 60 tracks and there's also a 2LP vinyl highlights which offers 14 songs.
Of the set, Tony says, "This boxset covers five and a half decades of my efforts in the art of making iconic recordings. Some of it is familiar and some will have a eureka moment, 'I didn't know Visconti produced that one!'"

The 4CD set is housed in a deluxe 80-page casebound book and the 6LP set is housed in a deluxe slipcase with a 60-page (12″ x 12″) booklet, with previously unseen photographs, an introduction by Tony, extensive notes by Mark Paytress (including track-by-track commentaries by Tony), and tributes from a selection of featured artists. The artwork has been handled by Studio Barnbrook.
The 4CD and 6LP packages are available in limited quantity signed by Tony Visconti. For clarity ALL the 6LP vinyl editions come with a signed print, while the 4CD version is only signed via Tony Visconti's Official Shop. There's also standard (unsigned) 4CD and 2LP options.
The audio for the sets has been mastered by Phil Kinrade at AIR Mastering and personally approved by Tony. Full track listings are below. In case you are wondering, David Bowie is missing from the vinyl editions thanks to licensing restrictions (yep, someone made up that rule).
Produced by Tony Visconti will be released by Demon Music on 20 October 2023.
Compare prices and pre-order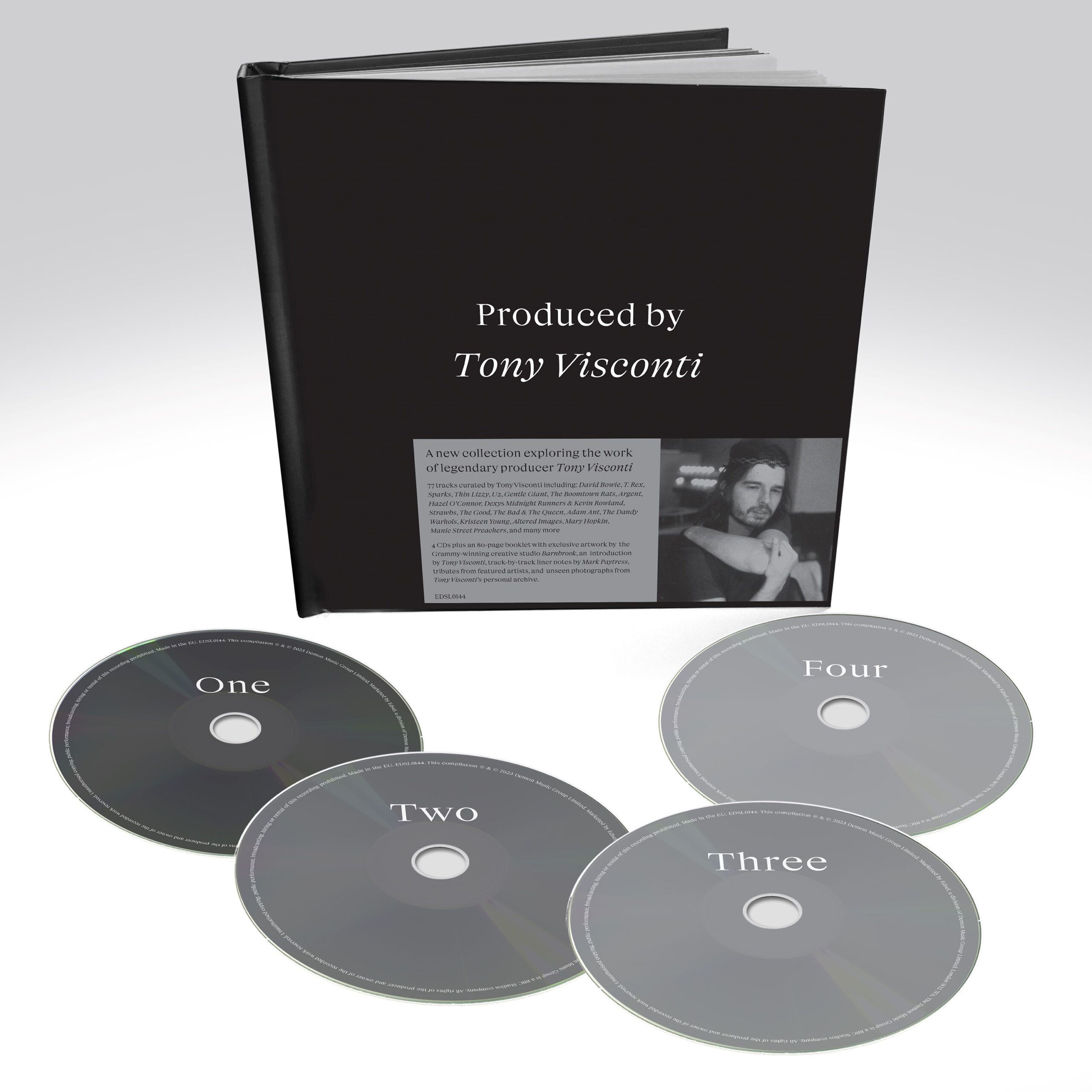 Various Artists
Produced by Tony Visconti - 4CD set
Compare prices and pre-order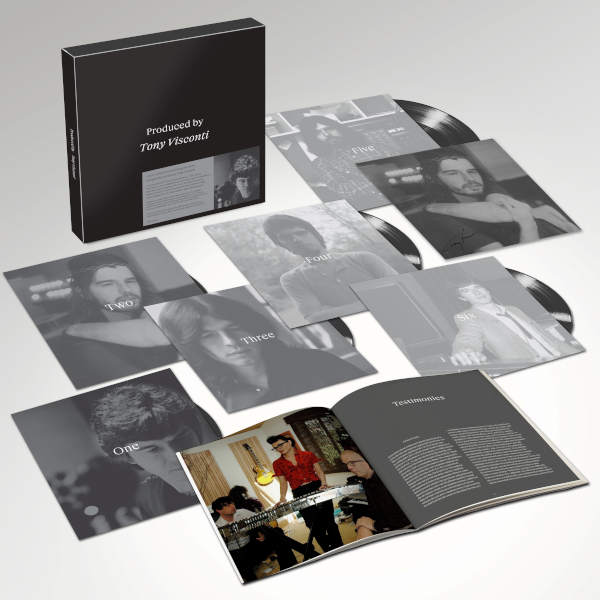 Various Artists
Produced by Tony Visconti - 6LP signed vinyl box
Compare prices and pre-order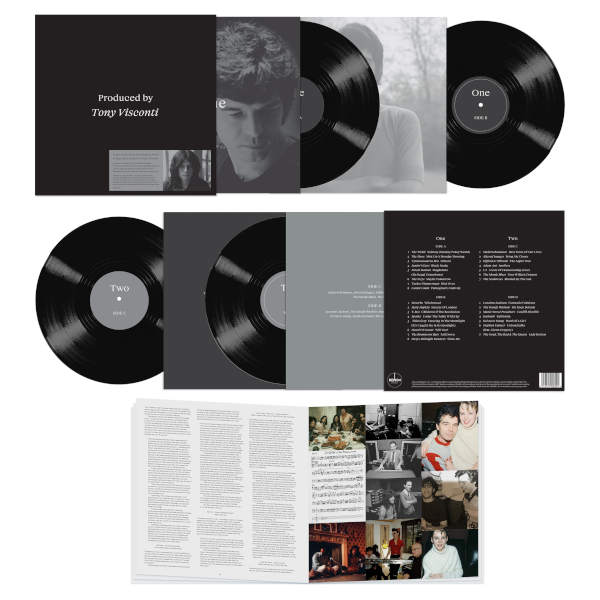 Various Artists
Produced by Tony Visconti - 2LP vinyl
Tracklisting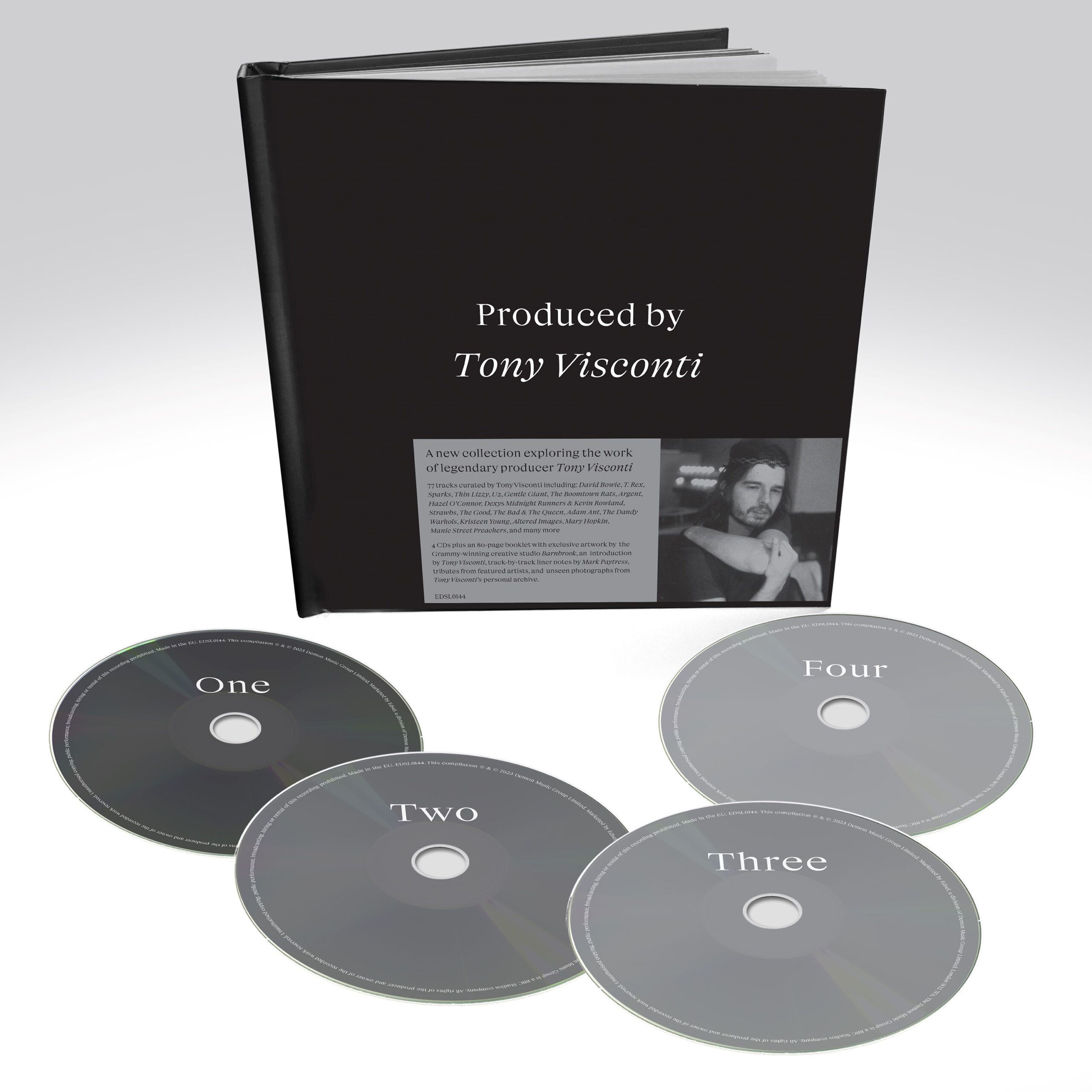 Produced by Tony Visconti Various Artists
/
CD 1

Marc Bolan & T. Rex -Teenage Dream [2012 Tony Visconti Master]
David Bowie -Young Americans [2016 Remaster]
The Dandy Warhols – Hit Rock Bottom
Carmen – Bulerias
Altered Images -Bring Me Closer
Les Rita Mitsouko – Andy
Gay Dad -To Earth With Love
The Dwellers -New Fashion Show
The Tickle -Subway (Smokey Pokey World)
Strawbs -Forever
The Move -Mist On A Monday Morning
Procol Harum – Magdalene, My Regal Zonophone
Biddu – Daughter Of Love
Joe Cocker – With A Little Help From My Friends
The Surprise Sisters -La Booga Rooga
The Photos -Life In A Day
The Alarm -Sold Me Down The River
Tony Visconti And The Hype – Clorissa
Perry Farrell & Kind Heaven Orchestra – Pirate Punk Politician
Kristeen Young – Pearl Of A Girl

CD 2

David Bowie -The Man Who Sold The World [2020 Mix]
The Seahorses – Blinded By The Sun
The Damned – Standing On The Edge Of Tomorrow
Luscious Jackson – Fantastic Fabulous
T. Rex – Children Of The Revolution [2012 Tony Visconti Master]
Sparks – Under The Table With Her
Marc Lavoine – On N'IraJamais À Venise
Gentle Giant – Nothing At All
Difford & Tilbrook – The Apple Tree
The Boomtown Rats – Fall Down
The Good, The Bad & The Queen – Lady Boston
Ralph McTell – First Song
Tom Paxton – The Last Thing On My Mind
Tucker Zimmerman – Bird Lives
Tyrannosaurus Rex – Debora
Tony Visconti And The Hype – Skinny Rose
Mary Hopkin – Wrap Me In Your Arms
The Move -Something
Badfinger – Dear Angie
Tony Visconti – I Remember Brooklyn
Modern Romance – Best Years Of Our Lives

CD 3

Stephen Emmer [feat. Glenn Gregory] – Untouchable
David Bowie – I Would Be Your Slave
U2 – A Sort Of Homecoming [Live]
Kashmir – Kalifornia
Manic Street Preachers – Cardiff Afterlife
Gentle Giant – Pantagruel's Nativity
Mary Hopkin – Streets Of London
Ralph McTell – Take It Easy
Tyrannosaurus Rex – Cat Black (The Wizard's Hat)
Annie Haslam's Renaissance – Blessing In Disguise
The Moody Blues – Your Wildest Dreams
Rick Wakeman- March Of The Gladiators
Jon Anderson – All God's Children
Zaine Griff – Ashes And Diamonds
Elaine Paige – Be On Your Own
Richard Barone – Yet Another Midnight
Kaiser Chiefs – Little Shocks
Dexys Midnight Runners & Kevin Rowland – Show Me

CD 4

David Bowie – Memory Of A Free Festival [2019 Mix]
The Iveys – Maybe Tomorrow
Junior's Eyes – Black Snake
T. Rex – Hot Love
The Polecats – Marie Celeste
Adam Ant – Apollo 9
Phillip Boa & The Voodooclub – Container Love
Thin Lizzy – Dancing In The Moonlight (It's Caught Me In Its Spotlight)
Electric Angels – Rattlesnake Kisses
Anti-Flag -The Bright Lights Of America
HaysiFantayzee – John Wayne Is Big Leggy
Hey! Elastica – Eat Your Heart Out
The Radiators – Song Of The Faithful Departed
The Moody Blues -Deep
John Hiatt – My Edge Of The Razor
Hazel O'Connor – Will You?
Strawbs -Witchwood
Argent -Time

LP 1

Side A

Biddu – Daughter Of Love
The Tickle – Subway (Smokey Pokey World)
The Move – Mist On A Monday Morning
Tyrannosaurus Rex – Debora
Junior's Eyes – Black Snake
Procol Harum – Magdalene (My Regal Zonophone)
Joe Cocker – With A Little Help From My Friends
The Iveys – Maybe Tomorrow

Side B

The Move – Something
Tyrannosaurus Rex – Cat Black (The Wizard's Hat)
Badfinger – Dear Angie
Tucker Zimmerman – Bird Lives
Tony Visconti And The Hype – Skinny Rose
Strawbs – Forever
Tony Visconti And The Hype – Clorissa

LP 2

Side A

Gentle Giant – Nothing At All
T. Rex – Hot Love
Gentle Giant – Pantagruel's Nativity
Strawbs – Witchwood

Side B

Mary Hopkin – Streets Of London
T. Rex – Children Of The Revolution
Ralph McTell – First Song
Tom Paxton – The Last Thing On My Mind
Carmen – Bulerias
Marc Bolan & T. Rex – Teenage Dream

LP 3

Side A

Ralph McTell – Take It Easy
Tony Visconti – I Remember Brooklyn
Argent – Time
Sparks – Under The Table With Her
The Surprise Sisters – La Booga Rooga
Mary Hopkin – Wrap Me In Your Arms

Side B

Thin Lizzy – Dancing In The Moonlight (It's Caught Me In Its Spotlight)
Rick Wakeman – March Of The Gladiators
The Radiators – Song Of The Faithful Departed
Hazel O'Connor – Will You?
Zaine Griff – Ashes And Diamonds
The Boomtown Rats – Fall Down

LP 4

Side A

The Photos – Life In A Day
Dexys Midnight Runners & Kevin Rowland – Show Me
The Polecats – Marie Celeste
John Hiatt – My Edge Of The Razor
Jon Anderson – All God's Children
Haysi Fantayzee – John Wayne Is Big Leggy
Modern Romance – Best Years Of Our Lives

Side B

Hey! Elastica – Eat Your Heart Out
Altered Images – Bring Me Closer
Elaine Paige – Be On Your Own
Difford & Tilbrook – The Apple Tree
Adam Ant – Apollo 9
U2 – A Sort Of Homecoming [Live]
The Moody Blues – Your Wildest Dreams

LP 5

Side A

Les Rita Mitsouko – Andy
The Moody Blues – Deep
The Alarm – Sold Me Down The River
Phillip Boa And The Voodooclub – Container Love
Electric Angels – Rattlesnake Kisses

Side B

Marc Lavoine – On N'ira Jamais À Venise
Annie Haslam's Renaissance – Blessing In Disguise
The Dwellers – New Fashion Show
The Seahorses – Blinded By The Sun
Gay Dad – To Earth With Love

LP 6

Side A

Luscious Jackson – Fantastic Fabulous
The Dandy Warhols – Hit Rock Bottom
Manic Street Preachers – Cardiff Afterlife
Kashmir – Kalifornia
Anti-Flag – The Bright Lights Of America
Richard Barone – Yet Another Midnight

Side B

Kaiser Chiefs – Little Shocks
Kristeen Young – Pearl Of A Girl
Stephen Emmer – Untouchable (feat. Glenn Gregory)
The Damned – Standing On The Edge Of Tomorrow
The Good, The Bad & The Queen – Lady Boston
Perry Farrell & Kind Heaven Orchestra – Pirate Punk Politician

LP 1

Side A

The Tickle – Subway (Smokey Pokey World)
The Move – Mist On A Monday Morning
Tyrannosaurus Rex – Debora
Junior's Eyes – Black Snake
Procol Harum – Magdalene (My Regal Zonophone)
The Iveys – Maybe Tomorrow
Tucker Zimmerman – Bird Lives
Gentle Giant – Pantagruel's Nativity

Side B

Strawbs – Witchwood
Mary Hopkin – Streets Of London
T. Rex – Children Of The Revolution
Sparks – Under The Table With Her
Thin Lizzy – Dancing In The Moonlight (It's Caught Me In Its Spotlight)
Hazel O'Connor – Will You?
The Boomtown Rats – Fall Down
Dexys Midnight Runners & Kevin Rowland – Show Me

LP 2

Side A

Modern Romance – Best Years Of Our Lives
Altered Images – Bring Me Closer
Difford & Tilbrook – The Apple Tree
Adam Ant – Apollo 9
U2 – A Sort Of Homecoming [Live]
The Moody Blues – Your Wildest Dreams
The Seahorses – Blinded By The Sun

Side B

Luscious Jackson – Fantastic Fabulous
The Dandy Warhols – Hit Rock Bottom
Manic Street Preachers – Cardiff Afterlife
Kashmir – Kalifornia
Kristeen Young – Pearl Of A Girl
Stephen Emmer – Untouchable (feat. Glenn Gregory)
The Good, The Bad & The Queen – Lady Boston