 News
Ramones / Road to Ruin super deluxe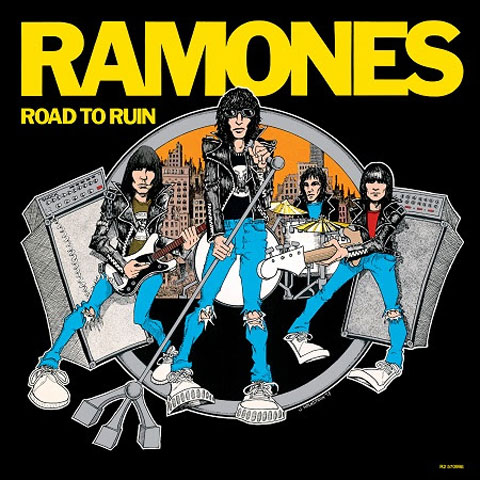 3CD+LP • New stereo mix • Unreleased outtakes & live
Rhino will issue a four-disc 40th anniversary deluxe edition of the Ramones fourth studio album Road To Ruin.

The 1978 album was the first to feature drummer Marky Ramone and includes the classic I Wanna Be Sedated.
The deluxe set comprises three CDs and a vinyl LP. The first CD features a newly remastered version of the original stereo mix and a new 2018 stereo remix, called the 'Road Revisited Mix'. The latter has been created by producer/engineer Ed Stasium and in the words of the record label "strips off the original record's commercial gloss and restores the album to its punk rock core."
The second CD offers up over twenty unreleased recordings, including rough mixes for every album track, different alternate takes of two songs, and two unreleased outtakes: I Walk Out and S.L.U.G. Another notable inclusion on this disc is the Ramones-on-45-Mega-Mix! from 1988 (issued as part of the campaign for the Ramones Mania compilation).
The final CD has a previously unreleased recording of the band's entire 1979 New Year's Eve concert, which was mixed live by Stasium, and broadcast on WNEW-FM. This was recorded in New York City at The Palladium, and the audio has been sourced from Tommy Ramone's original cassette of the console recording!
The 180g vinyl record features the new Road Revisited Mix and not the original version of Road To Ruin.
The deluxe set (the only other physical format is a single CD edition) will be limited to 7,500 copies worldwide (they're numbered) and comes packaged in the familiar 12 x 12″ hardcover book.
This Road To Ruin 40th anniversary deluxe edition will be released on 21 September 2018 (a day short of the precise 40th anniversary of the original release). No UK links yet..
Compare prices and pre-order
Ramones
Road to Ruin - 4-disc deluxe edition
Compare prices and pre-order
Ramones
Road to Ruin - single CD
CD One
Original Mix Remastered
"I Just Want To Have Something To Do"
"I Wanted Everything"
"Don't Come Close"
"I Don't Want You"
"Needles And Pins"
"I'm Against It"
"I Wanna Be Sedated"
"Go Mental"
"Questioningly"
"She's The One"
"Bad Brain"
"It's A Long Way Back"
40th Anniversary Road Revisited Mix
"I Just Want To Have Something To Do"
"I Wanted Everything"
"Don't Come Close"
"I Don't Want You"
"Needles And Pins"
"I'm Against It"
"I Wanna Be Sedated"
"Go Mental"
"Questioningly"
"She's The One"
"Bad Brain"
"It's A Long Way Back"
Disc Two: Rough Mixes & 40th Anniversary Extras
"I Walk Out" (2018 Mix) *
"S.L.U.G." (2018 Mix) *
"Don't Come Close" (Single Mix)
"Needles And Pins" (Single Mix)
"I Just Want To Have Something To Do" (Basic Rough Mix) *
"I Don't Want You" (Basic Rough Mix) *
"I'm Against It" (Basic Rough Mix) *
"It's A Long Way Back" (Basic Rough Mix) *
"I Walk Out" (Basic Rough Mix) *
"Bad Brain" (Basic Rough Mix) *
"Needles And Pins" (Basic Rough Mix) *
"I Wanna Be Sedated" Take 2 (Basic Rough Mix) *
"I Wanted Everything" (Basic Rough Mix) *
"Go Mental" (Basic Rough Mix) *
"She's The One" (Basic Rough Mix) *
"Questioningly" Take 2 (Basic Rough Mix) *
"S.L.U.G." (Basic Rough Mix) *
"Don't Come Close" (Basic Rough Mix) *
"I Wanna Be Sedated" (Backing Track) *
"I Don't Want You" (Brit Pop Mix) *
"Questioningly" (Acoustic Version) *
"Needles And Pins" (Acoustic Version) *
"Don't Come Close" (Acoustic Version) *
"I Wanna Be Sedated" ("Ramones-On-45 Mega-Mix!")
Disc Three: Live At The Palladium, New York, NY, December 31 1979
"Blitzkrieg Bop" *
"Teenage Lobotomy" *
"Rockaway Beach" *
"I Don't Want You" *
"Go Mental" *
"Gimme Gimme Shock Treatment" *
"I Wanna Be Sedated" *
"I Just Want To Have Something To Do" *
"She's The One" *
"This Ain't Havana" *
"I'm Against It" *
"Sheena Is A Punk Rocker" *
"Havana Affair" *
"Commando" *
"Needles And Pins" *
"I Wanna Be Your Boyfriend" *
"Surfin' Bird" *
"Cretin Hop" *
"All The Way" *
"Judy Is A Punk" *
"California Sun" *
"I Don't Wanna Walk Around With You" *
"Today Your Love, Tomorrow The World" *
"Pinhead" *
"Do You Wanna Dance?" *
"Suzy Is A Headbanger" *
"Let's Dance" *
"Chinese Rock" *
"Beat On The Brat" *
"We're A Happy Family" *
"Bad Brain"
"I Wanted Everything" *
* previously unreleased
LP: 40th Anniversary Road Revisited Mix
Side One
"I Just Want To Have Something To Do"
"I Wanted Everything"
"Don't Come Close"
"I Don't Want You"
"Needles And Pins"
"I'm Against It"
Side Two
"I Wanna Be Sedated"
"Go Mental"
"Questioningly"
"She's The One"
"Bad Brain"
"It's A Long Way Back"