 News
Re-Flex / The Politics of Dancing 2CD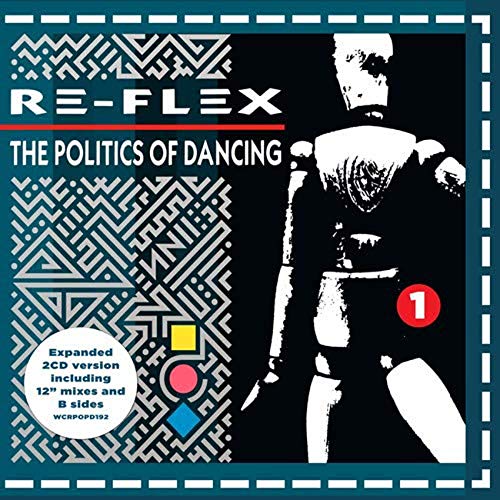 Cherry Red will release a two-CD expanded deluxe edition of The Politics of Dancing, the debut album from short-lived synth-pop outfit Re-Flex.

The 1983 album was produced by John Punter and the title track was a successful single in many territories. A planned second album Humanication was rejected by EMI and those recordings wouldn't emerge until 2010 when they featured in a box set.
This expanded 2CD version of The Politics of Dancing contains a selection of extended mixes which apparently were not included in the aforementioned box from 2010 and the label has opted not to repeat bonus offerings already issued in that set, preferring to focus on new-to-CD content.
The extended version of 'The Politics of Dancing' is the same as the 6.37 album version, which is why it isn't listed on CD 2 as a bonus track. Some bonus material is sourced from the original tapes and some tracks were mastered from vinyl.
The Politics of Dancing 2CD deluxe is issued on 30 November 2018.
Compare prices and pre-order
Re-Flex
The Politics of Dancing (2cd Expanded Edition)
DISC ONE
1. PRAYING TO THE BEAT
2. HITLINE
3. HURT
4. COULDN'T STAND A DAY
5. THE POLITICS OF DANCING
6. SOMETHING ABOUT YOU
7. POINTLESS
8. JUNGLE
9. SENSITIVE
10. KEEP IN TOUCH
BONUS TRACKS
11. CRUEL WORLD (12" EXTENDED VERSION)
12. THE POLITICS OF DANCING (7" VERSION)
13. CRUEL WORLD (7" SPANISH VERSION)
DISC TWO
1. FLEX-IT (B SIDE OF US 12" VERSION)
2. THE POLITICS OF DANCING (U.S. 7" SINGLE
VERSION)
3. FLEX-IT (U.S. 7" SINGLE)
4. HITLINE (12" EXTENDED MIX)
5. HURT (U.S. 7" VERSION)
6. HURT (U.S. 12" PROMO RUBBER DUB MIX)
7. HURT (U.S. 12" PROMO EMOTIONAL JOHN
LUONGO RE-MIX)
8. HURT (EMOTIONAL PETE SMITH RE-MIX)
9. CUT IT
10. PRAYING TO THE BEAT (12" EXTENDED
VERSION)
11. CUT IT (12" EXTENDED VERSION)
12. WHAT YOU DESERVE (7" SINGLE VERSION)