 News
Republica reissue is Ready To Go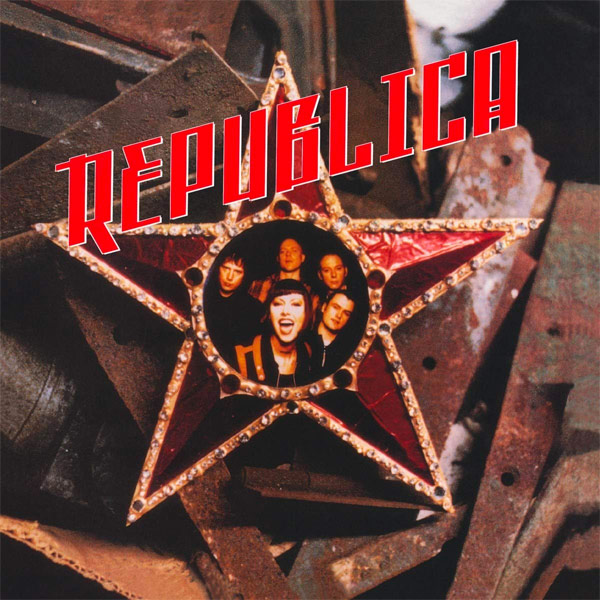 1996 debut album reissued as a 3CD deluxe
Republica, those Saffron-led post-Britpoppers, with their Loaded magazine yob techno, equally at home either down the rave up or Northampton Roadmenders, are reissuing their 1996 self-titled debut album in a new expanded deluxe edition.

Republica comes with 32 extra tracks, with period remixes and the sought-after debut single, 'Out of This World', and comes packaged in a 3CD capacity wallet, with a 20-page booklet with exclusive new sleeve notes written by Saffron herself, an illustrated discography, additional photos and lyrics.
Republica was a top four smash, and hung around the charts for a remarkable 47 weeks, featured the band's two biggest hits, the seemingly inescapable 'Ready To Go', and the equally boisterous 'Drop Dead Gorgeous', alongside other notable numbers 'Bloke', 'Bitch' and 'Get Off'.
The band formed from two of the ashes of baggy miscreants Flowered Up, and Saffron had done some guest lungsmithery on N'Joi's 'Anthem' hit from 1991. Releasing their debut single in 1994, the band had their feet in both the dance and rock arenas and the band also attracted some remixes from the likes of The Chemical Brothers and Justin Robertson (included here).
Republica is released by Cherry Red's 90/9 imprint on 28 February 2020.  The band are currently putting the finishing touches to their new album, ahead of a 2020 tour.
Compare prices and pre-order
Republica
Republica - 3CD deluxe
CD 1
Ready To Go
Bloke
Bitch
Get Off
Picture Me
Drop Dead Gorgeous
Out Of The Darkness
Wrapp
Don't You Ever
Holly
Mutha
Introlude
Ready To Go [Original Mix]
Drop Dead Gorgeous [Original Mix]
Bloke [Radio Mix]
Bitch [Radio Mix]
Holly [Radio Mix]
Out Of This World [Republica Mix]
CD 2
Out Of This World [Original Mix]
Bloke [Extended Mix]
Holly [Full Mix]
Ready To Go [Original Extended Mix]
Drop Dead Gorgeous [Pop Fiction Mix]
Bloke [Blame It On The Vodka Mix]
Ready To Go [Smash's Disco Mix]
Out Of This World [Alternative Mix]
Bloke [Jack Daniels Mix]
Holly [Republica Club Mix]
Drop Dead Gorgeous [Riprock's Runway Mix]
Out Of This World [Proper Night Out Mix]
CD 3
Out Of This World [Chemical Brothers Mix]
Bloke [Blakkat Remix]
Ready To Go [Smash's Club Extended Mix]
Drop Dead Gorgeous [Riprock's One Way Dub]
Out Of This World [Rub-A-Dub-Sub Mix]
Ready To Go [Dramaboy's Babyyan Mix]
Holly [Fabio Paras Mix]
Bitch [Way Out West Mix]
Out Of This World [Prankster Bends The Frequency Mix]
Bloke [Blakkat Instrumental Mix]
Ready To Go [Gavin & Scott Hardkiss' Remixica]
Out Of This World [Chemical Brothers Dub]