 News
Rick Astley / Whenever You Need Somebody 2CD deluxe
With SDE-exclusive Never Gonna Give You Up CD single!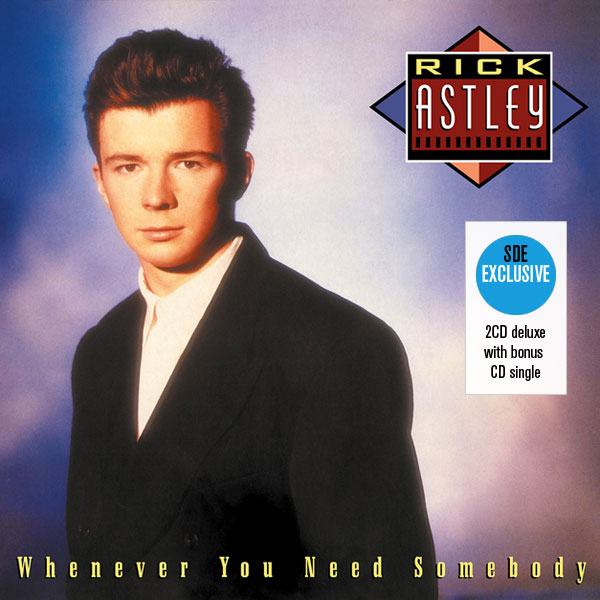 SDE exclusive sold out
For it's 35th anniversary, BMG are to reissue Rick Astley's debut album Whenever You Need Somebody as a 2CD deluxe edition. We are pleased to offer SDE readers another cool physical music exclusive for 2022 because the SDE shop is offering an exclusive edition which comes with a 7-track CD single of Rick's worldwide smash single 'Never Gonna Give You Up'!
Produced by Stock Aitken Waterman, Whenever You Need Somebody reached number one in the UK (also topping the chart in many other countries) and features the hit singles 'Never Gonna Give You Up', 'Together Forever', 'Whenever You Need Somebody' and the Nat King Cole cover 'When I Fall In Love'. All four songs reached the top 3 of the UK singles chart, but of course 'Never Gonna Give You Up' was absolutely massive, reaching number one virtually everywhere including Britain, America, Canada, Australia and across Europe. Rick was always popular in America and 'Together Forever' also topped the US singles chart.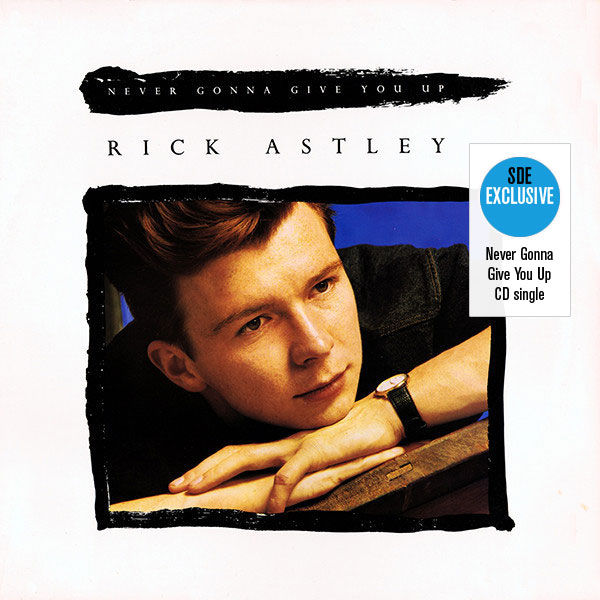 The album has been remastered at Abbey Road and this new deluxe edition has been created with the input of Astley. It offers 21 bonus tracks, including original remixes, B-sides and Rick's own 'reimagined' versions of the original singles from the album (first issued on the 2019 Best of Me compilation). The double CD also comes with an expanded booklet that includes previously unseen photographs of Rick from 1987/1988 and liner notes written by Craig McLean, featuring contributions from Rick, Mike Stock and Pete Waterman.
Order this deluxe edition via SDE and you get a FREE 7-track CD single of 'Never Gonna Give You Up' which features all seven of the original era remixes/variants. The single was never issued on CD at the time and in fact this is the first time all these mixes have been brought together on one disc and it's probably not going to happen again! Just 500 of these CD singles are being manufactured, so the first 500 people who order get this unique bonus item. We are being strict and limiting orders to one per customer. Do not order multiples please, as any such orders will be cancelled.
Whenever You Need Somebody 2CD deluxe edition will be released on 20 May 2022 (was 6 May). You can pre-order the exclusive SDE version with the CD single from the SDE shop using this link or the button below. UK tracked 48-only, after feedback that you don't like 2nd class! If you are ordering from the EU please be aware that goods may be subject to import VAT when they arrive from the UK. The prices on the SDE shop you do not include VAT for EU customers.
Compare prices and pre-order
Rick Astley
Whenever You Need Somebody - 2CD deluxe
Compare prices and pre-order
Rick Astley
Whenever You Need Somebody - single CD with signed artcard
Tracklisting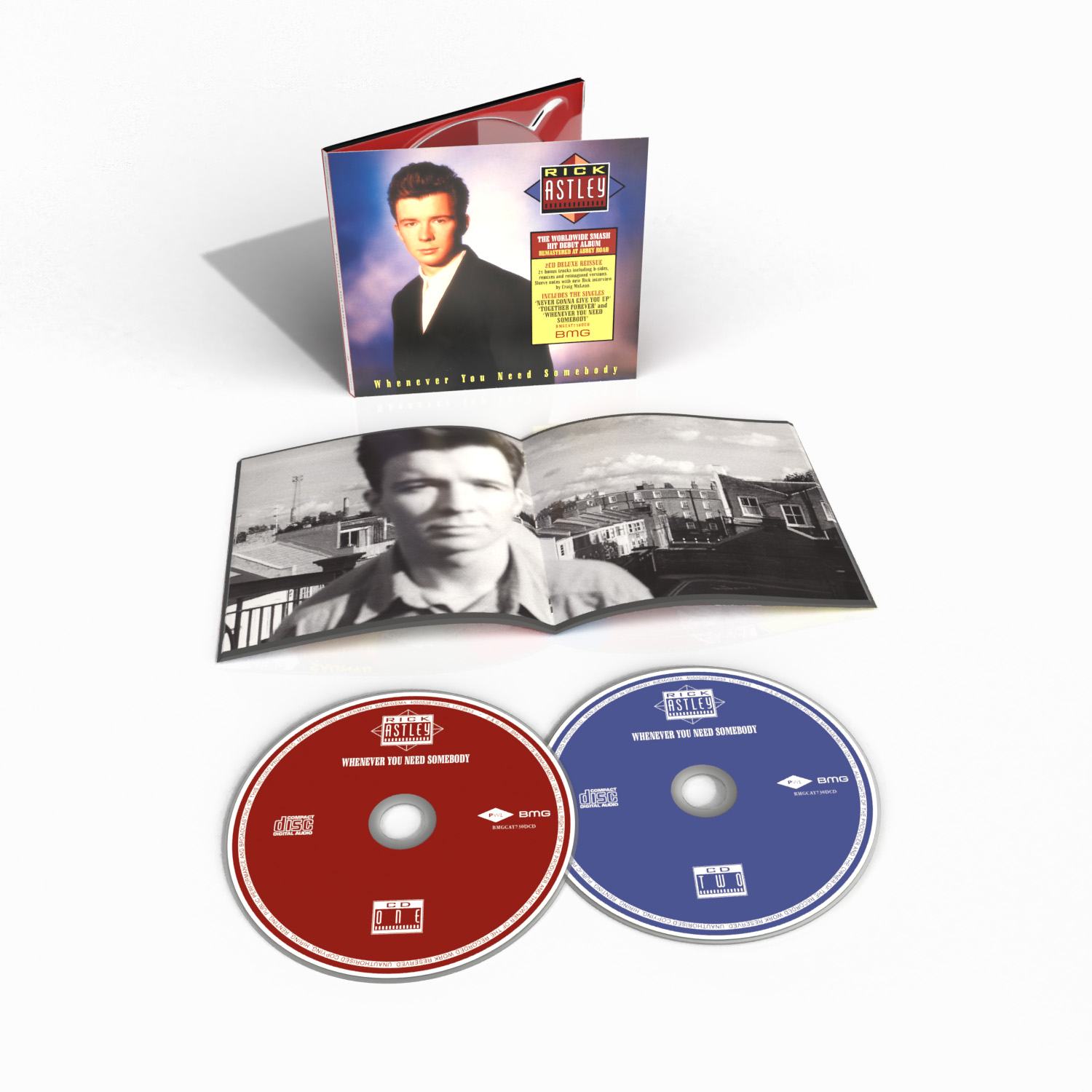 Whenever You Need Somebody Rick Astley
/
2CD deluxe
CD 1

Never Gonna Give You Up – 2022 Remaster
Whenever You Need Somebody – 2022 Remaster
Together Forever – 2022 Remaster
It Would Take A Strong Strong Man – 2022 Remaster
The Love Has Gone – 2022 Remaster
Don't Say Goodbye – 2022 Remaster
Slipping Away – 2022 Remaster
No More Looking For Love – 2022 Remaster
You Move Me – 2022 Remaster
When I Fall In Love – 2022 Remaster
My Arms Keep Missing You
I'll Never Set You Free – 7" Mix
Just Good Friends
Never Gonna Give You Up (Pianoforte)
Together Forever (Reimagined)
Whenever You Need Somebody (Reimagined)
When I Fall In Love (Reimagined)

CD 2

Never Gonna Give You Up (Phil Harding 12" Mix)
Together Forever (Lover's Leap Remix)
My Arms Keep Missing You (The "Where's The Harry" Remix)
Whenever You Need Somebody (XK 150 Mix)
My Arms Keep Missing You (Bruno's Remix)
Never Gonna Give You Up (Cake Mix)
Whenever You Need Somebody (Lonely Hearts Mix)
My Arms Keep Missing You (No L Mix)
Never Gonna Give You Up (Escape From Newton Mix)
Together Forever (House Of Love Mix)
Whenever You Need Somebody (Rick Sets It Off Mix)
Never Gonna Give You Up (Instrumental)
It Would Take A Strong Strong Man (Instrumental)
Whenever You Need Somebody (Instrumental)
Tracklisting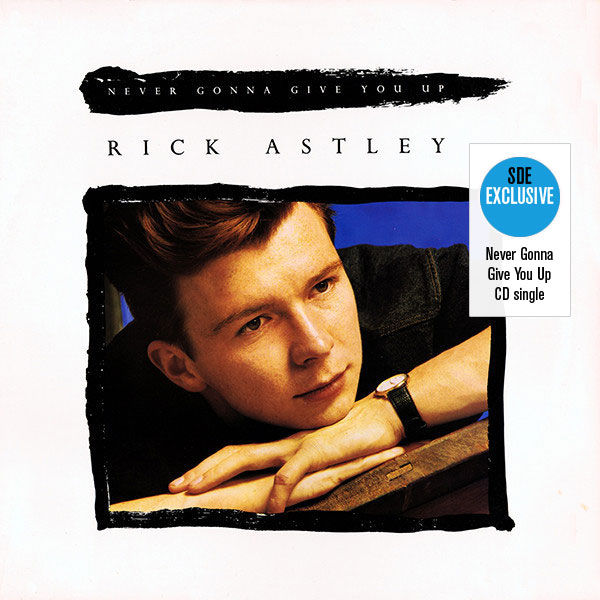 Never Gonna Give You Up Rick Astley
/
SDE-exclusive CD single
Never Gonna Give You Up
Never Gonna Give You Up – Cake Mix
Never Gonna Give You Up – Escape To New York Mix
Never Gonna Give You Up – Escape From Newton Mix
Never Gonna Give You Up – Phil Harding 12" Mix
Never Gonna Give You Up – Instrumental
Never Gonna Give You Up – 12" Instrumental