 News
Rolling Thunder Revue: A Bob Dylan Story By Martin Scorsese
Scorsese's 2019 documentary comes to home video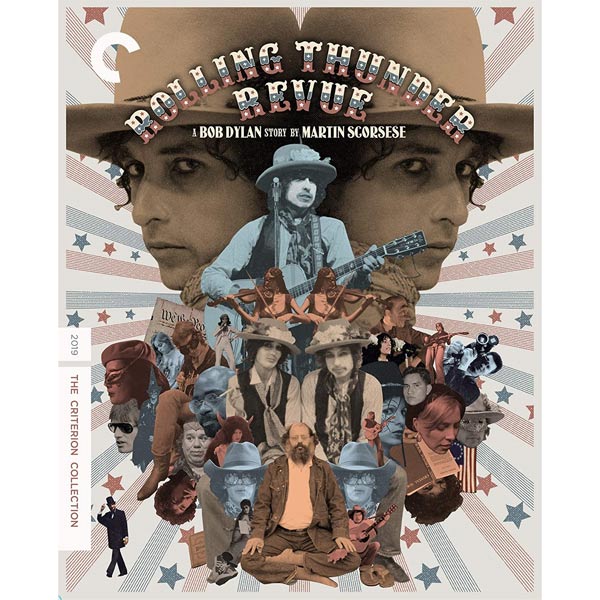 Criterion will issue a special edition blu-ray of Martin Scorsese's documentary about Bob Dylan's Rolling Thunder Revue tour of 1975.

The iconic tour saw Dylan hit the road with a band of troubadours—including luminaries such as Joan Baez, Allen Ginsberg, and Joni Mitchell— and produce a freewheeling variety show that was part traveling counterculture carnival, part spiritual pilgrimage.
In the documentary (which has been available on Netflix for a while) director Martin Scorsese blends performance, behind-the-scenes archival footage and interviews with talking heads and has some fun, getting up to "narrative mischief" leading the viewer down the garden path on a few occasions. Sharon Stone contributes to this film and we are told that she joined Dylan on this tour as a very young woman, in some vague 'helping out' capacity!
This blu-ray features a new 4K digital transfer (although note, this is not a 4K UHD disc) and a 5.1 surround DTS-HD Master Audio soundtrack. There's a DVD edition as well.
Rolling Thunder Revue: A Bob Dylan Story By Martin Scorsese is released on 19 or 25 January 2021. Note the region codes should be appropriate for the territory. So the UK link is the UK edition (region B) and USA is vice versa (region A).
Compare prices and pre-order
Bob Dylan
Rolling Thunder Revue - blu-ray
Key features
• New 4K digital transfer, approved by director Martin Scorsese, with 5.1 surround DTS-HD Master Audio soundtrack
• New interviews with Scorsese, editor David Tedeschi, and writer Larry "Ratso" Sloman
• Restored footage of never-before-seen Rolling Thunder Revue performances of "Tonight I'll Be Staying Here with You" and "Romance in Durango," and of a never-before-seen cut of "Tangled Up in Blue"
• Trailer
• English subtitles for the deaf and hard of hearing
• PLUS: An essay by novelist Dana Spiotta and writing from the Rolling Thunder Revue tour by author Sam Shepard and poets Allen Ginsberg and Anne Waldman