 News
Rory Gallagher 50th anniversary edition
4CD+DVD deluxe set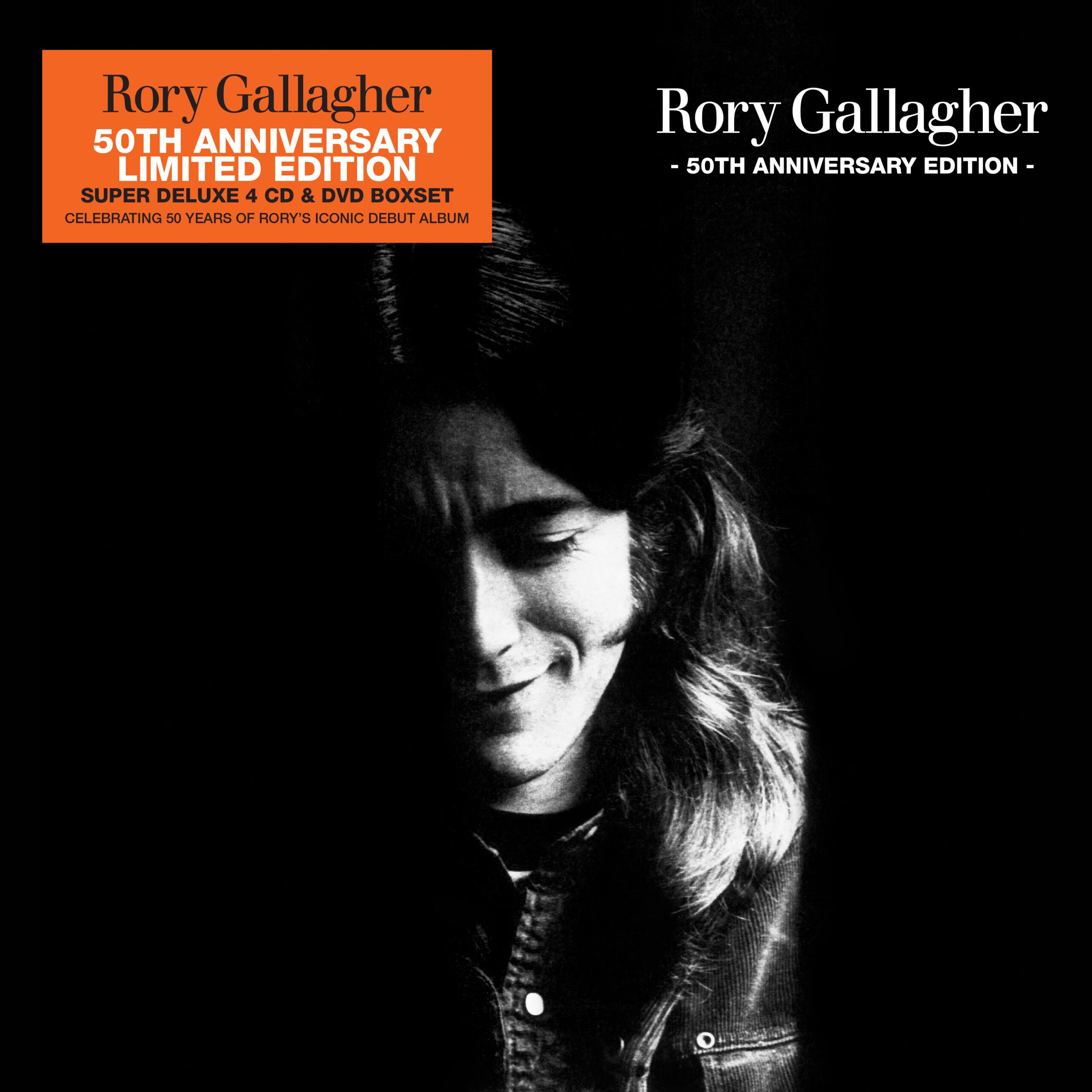 Rory Gallagher's eponymous 1971 debut solo album is being re-released for its 50th anniversary and is getting the 'full fat' reissue treatment across a number of formats, including a 4CD+DVD box set.
A new stereo mix of the album features across all formats while the box set includes 30 previously unreleased outtakes and alternate takes, a six-song 1971 BBC Radio John Peel Sunday concert, four BBC Radio session tracks, and a previously unreleased 50-minute DVD of Rory's first-ever solo concert which was filmed in Paris for the Pop Deux television show.
The box includes a 32-page hardback book with rare/unseen photos from British rock photographer Barrie Wentzell and exclusive sleeve notes written by his Rory's brother and manager Donal Gallagher, his long-time bass guitarist Gerry McAvoy (1970-1991). The book has images of memorabilia from the album recording and hand-written song lyrics by Rory.
Two-CD and 3LP vinyl editions are cut-down versions of the box, with (the same) 18 bonus tracks in addition to the album.
The 50th anniversary edition of Rory Gallagher is released on 3 September 2021.
Compare prices and pre-order
Rory Gallagher
Rory Gallagher 50th anniversary - 4CD+DVD box set
Compare prices and pre-order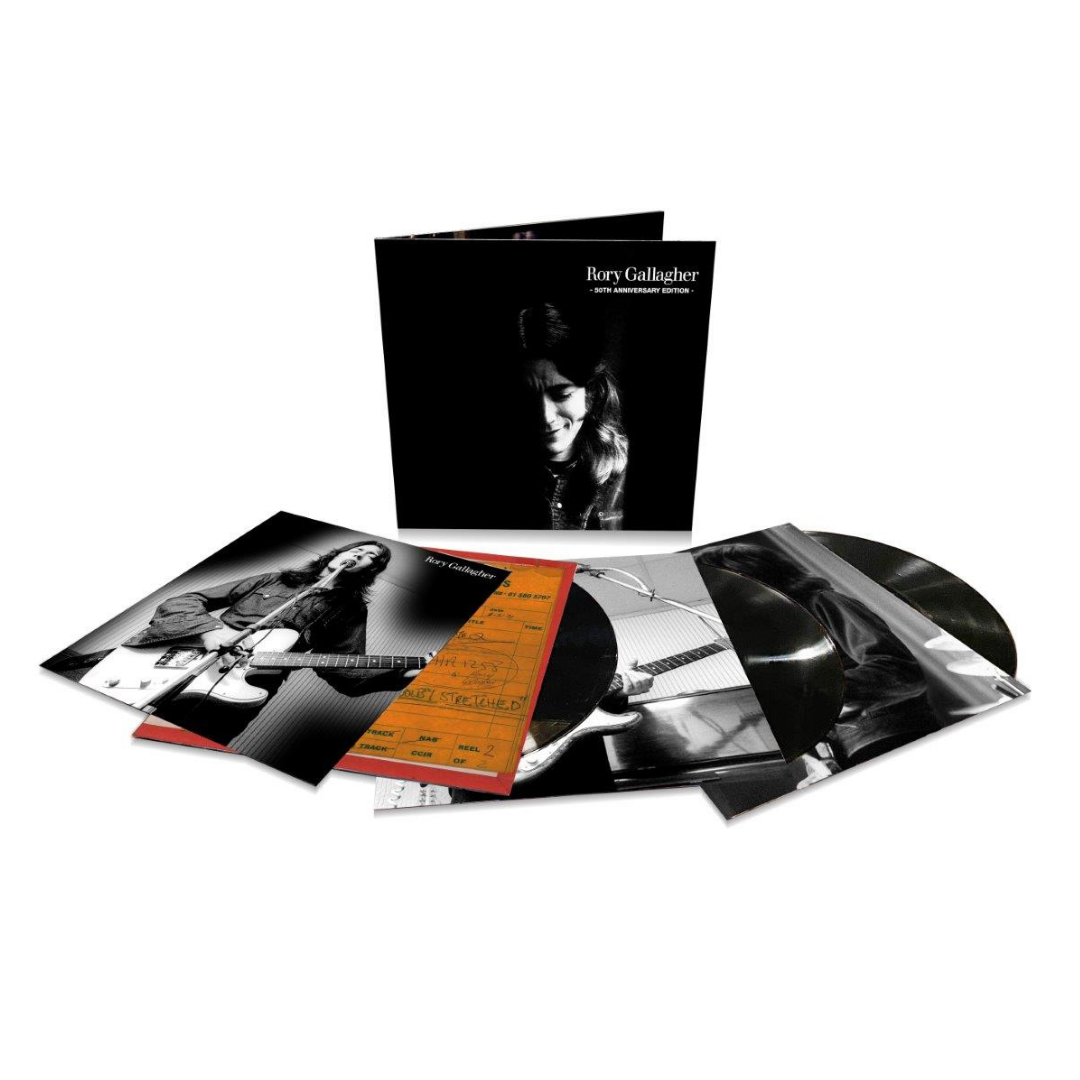 Rory Gallagher
Rory Gallagher 50th anniversary - 3LP vinyl
Compare prices and pre-order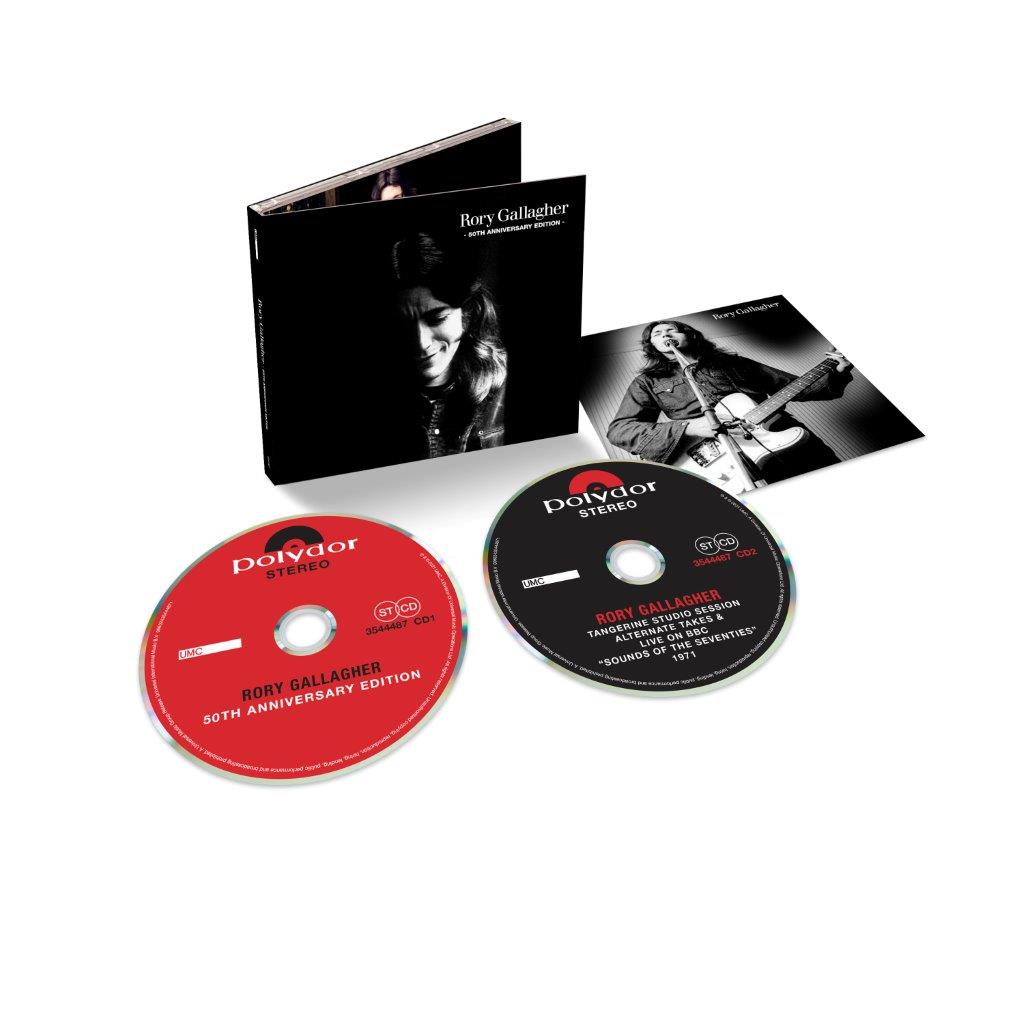 Rory Gallagher
Rory Gallagher 50th anniversary 2CD set
Tracklisting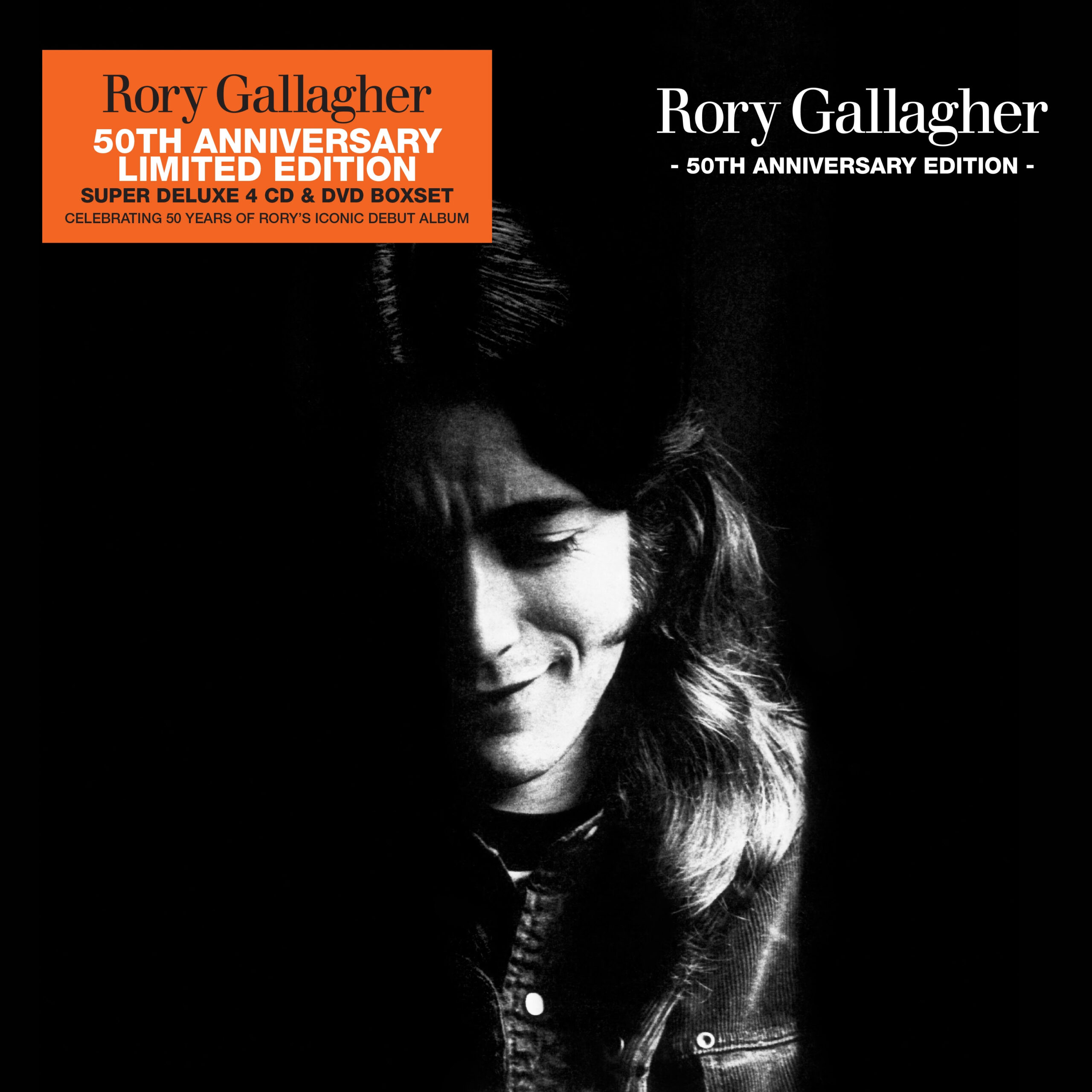 Rory Gallagher 50th anniversary edition Rory Gallagher
/
4CD+DVD set
CD 1

Laundromat – 50th Anniversary Edition
Just The Smile – 50th Anniversary Edition
I Fall Apart – 50th Anniversary Edition
Wave Myself Goodbye – 50th Anniversary Edition
Hands Up – 50th Anniversary Edition
Sinner Boy – 50th Anniversary Edition
For The Last Time – 50th Anniversary Edition
It's You – 50th Anniversary Edition
I'm Not Surprised – 50th Anniversary Edition
Can't Believe It's True – 50th Anniversary Edition

CD 2

Gypsy Woman – Tangerine Studio Session
It Takes Time – Tangerine Studio Session
I Fall Apart – Tangerine Studio Session
Wave Myself Goodbye – Tangerine Studio Session
At The Bottom – Alternate Take 1
At The Bottom – Alternate Take 2
At The Bottom – Alternate Take 3
At The Bottom – Alternate Take 4
Advision Jam
Laundromat – Alternate Take 1
Just The Smile – Alternate Take 1
Just The Smile – Alternate Take 2
I Fall Apart – Alternate Take 1
Wave Myself Goodbye – Alternate Take 1
Wave Myself Goodbye – Alternate Take 2

CD 3

Hands Up – Alternate Take 1
Hands Up – Alternate Take 2
Hands Up – Alternate Take 3
Hands Up – Alternate Take 4
Hands Up – Alternate Take 5
Hands Up – Alternate Take 6
Sinner Boy – Alternate Take 1
Sinner Boy – Alternate Take 2
Sinner Boy – Alternate Take 3
For The Last Time – Alternate Take 1
For The Last Time – Alternate Take 2
For The Last Time – Alternate Take 3
It's You – Alternate Take 1
It's You – Alternate Take 2
I'm Not Surprised – Alternate Take 1
I'm Not Surprised – Alternate Take 2
Can't Believe It's True – Alternate Take 1

CD 4

For The Last Time – Live On BBC "Sounds Of The Seventies" / 1971*
Laundromat – Live On BBC "Sounds Of The Seventies" / 1971*
It Takes Time – Live On BBC "Sounds Of The Seventies" / 1971*
I Fall Apart – Live On BBC "Sounds Of The Seventies" / 1971*
Hands Up – Live On BBC "John Peel Sunday Concert" / 1971
For The Last Time – Live On BBC "John Peel Sunday Concert" / 1971
In Your Town – Live On BBC "John Peel Sunday Concert" / 1971
Just The Smile – Live On BBC "John Peel Sunday Concert" / 1971
Laundromat – Live On BBC "John Peel Sunday Concert" / 1971
It Takes Time – Live On BBC "John Peel Sunday Concert" / 1971

* Off air recording

DVD

Interview
Hands Up
Wave Myself Goodbye
It Takes Time
Sinner Boy
For the Last Time
The Same Thing
I Fall Apart
Tracklisting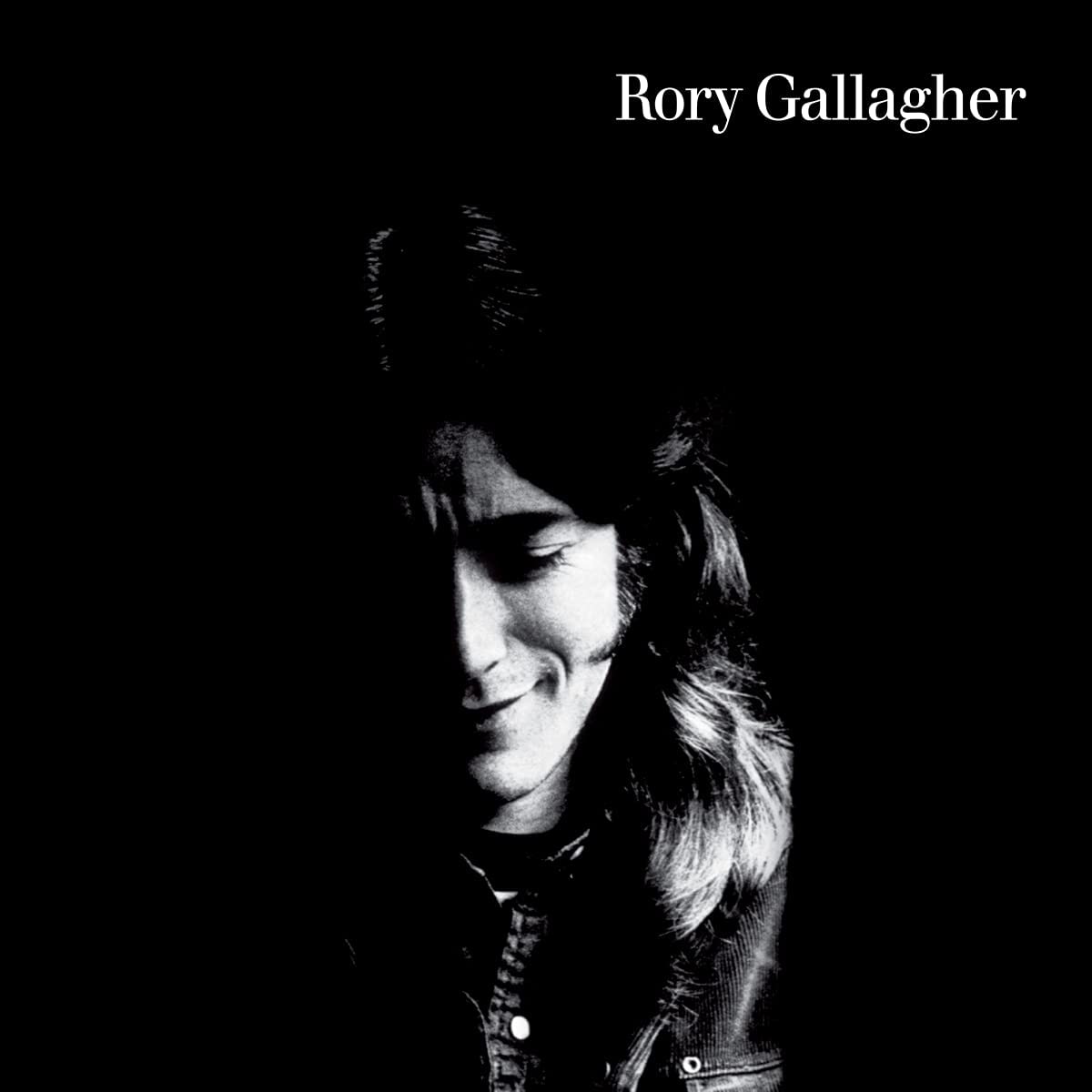 Rory Gallagher 50th anniversary edition Rory Gallagher
/
2CD edition
CD 1

Laundromat – 50th Anniversary Edition
Just The Smile – 50th Anniversary Edition
I Fall Apart – 50th Anniversary Edition
Wave Myself Goodbye – 50th Anniversary Edition
Hands Up – 50th Anniversary Edition
Sinner Boy – 50th Anniversary Edition
For The Last Time – 50th Anniversary Edition
It's You – 50th Anniversary Edition
I'm Not Surprised – 50th Anniversary Edition
Can't Believe It's True – 50th Anniversary Edition

CD 2

Gypsy Woman – Tangerine Studio Session
It Takes Time – Tangerine Studio Session
I Fall Apart – Tangerine Studio Session
At The Bottom – Alternate Take 3
At The Bottom – Alternate Take 4
Advision Jam
Laundromat – Alternate Take 1
Just The Smile – Alternate Take 1
Wave Myself Goodbye – Alternate Take 2
Hands Up – Alternate Take 2
Sinner Boy – Alternate Take 3
For The Last Time – Alternate Take 1
It's You – Alternate Take 2
I'm Not Surprised – Alternate Take 1
For The Last Time – Live On BBC "Sounds Of The Seventies" / 1971*
Laundromat – Live On BBC "Sounds Of The Seventies" / 1971*
It Takes Time – Live On BBC "Sounds Of The Seventies" / 1971*
I Fall Apart – Live On BBC "Sounds Of The Seventies" / 1971*

Off air recording
Tracklisting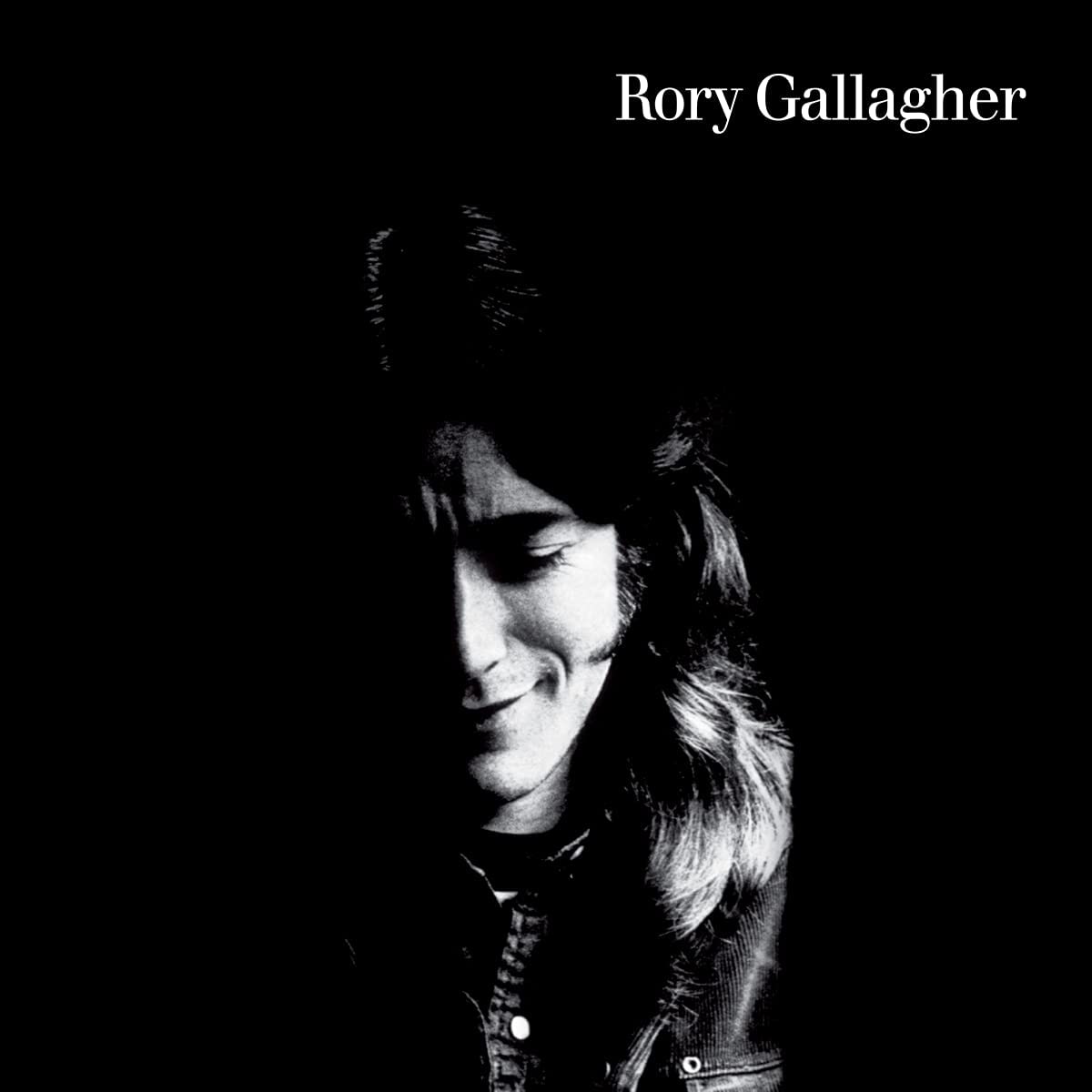 Rory Gallagher 50th anniversary edition Rory Gallagher
/
3LP vinyl
Side A

Laundromat – 50th Anniversary Edition
Just The Smile – 50th Anniversary Edition
I Fall Apart – 50th Anniversary Edition
Wave Myself Goodbye – 50th Anniversary Edition
Hands Up – 50th Anniversary Edition

Side B

Sinner Boy – 50th Anniversary Edition
For The Last Time – 50th Anniversary Edition
It's You – 50th Anniversary Edition
I'm Not Surprised – 50th Anniversary Edition
Can't Believe It's True – 50th Anniversary Edition

Side C

Gypsy Woman – Tangerine Studio Session
It Takes Time – Tangerine Studio Session
I Fall Apart – Tangerine Studio Session
At The Bottom – Alternate Take 3
At The Bottom – Alternate Take 4
Advision Jam

Side D

Laundromat – Alternate Take 1
Just The Smile – Alternate Take 1
Wave Myself Goodbye – Alternate Take 2
Hands Up – Alternate Take 2

Side E

Sinner Boy – Alternate Take 3
For The Last Time – Alternate Take 1
It's You – Alternate Take 2
I'm Not Surprised – Alternate Take 1

Side F

For The Last Time – Live On BBC "Sounds Of The Seventies" / 1971*
Laundromat – Live On BBC "Sounds Of The Seventies" / 1971*
It Takes Time – Live On BBC "Sounds Of The Seventies" / 1971*
I Fall Apart – Live On BBC "Sounds Of The Seventies" / 1971*

* Off air recording