 News
Rory Gallagher / Deuce reissue
50th anniversary reissue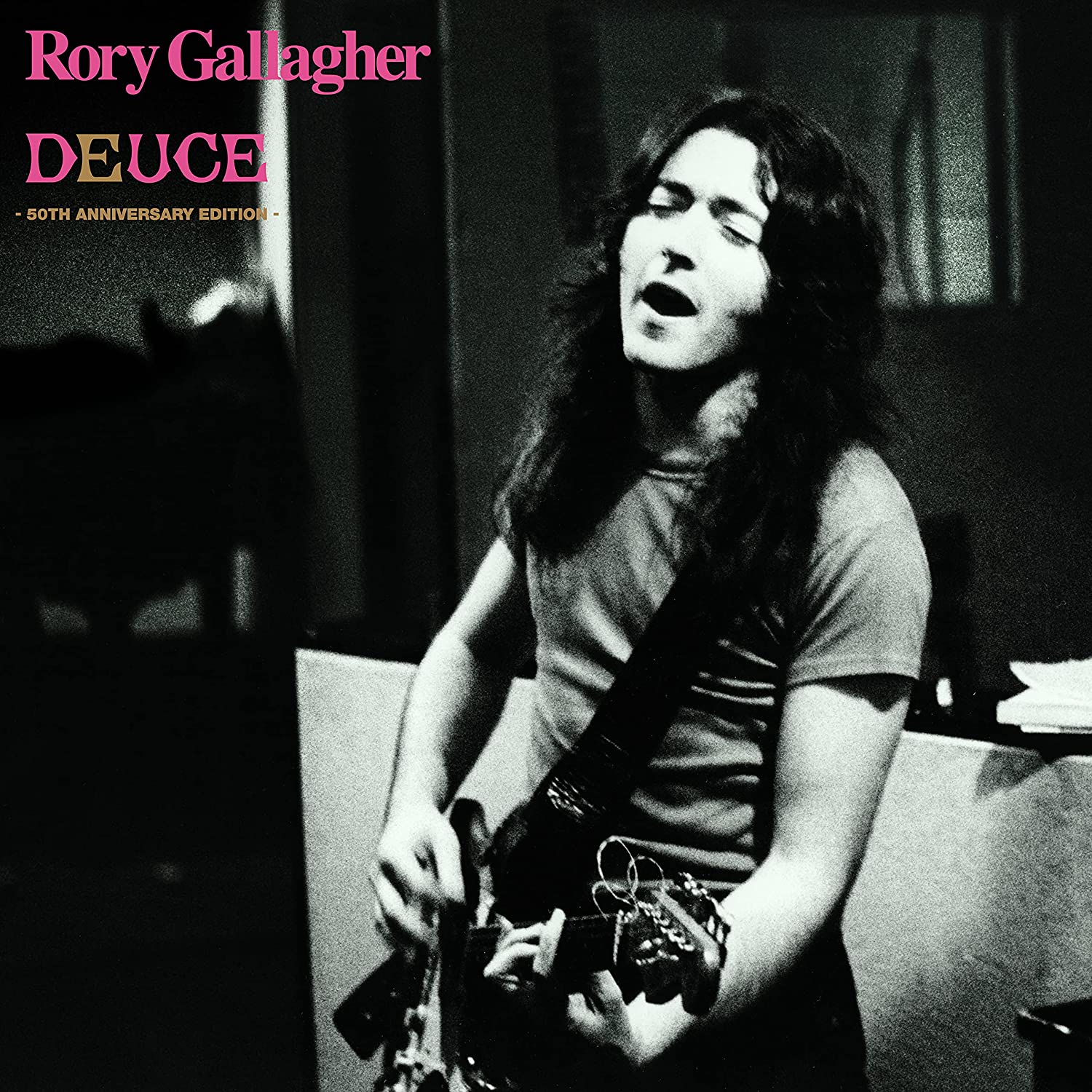 Rory Gallagher's second album Deuce will be reissued as a 50th anniversary edition across a number of formats, next month.
All formats offer a new stereo mix of the 1971 album and the 4CD deluxe edition offers 28 previously unreleased alternate takes, a six-song 1972 BBC Radio 'In Concert', and seven Radio Bremen radio session tracks. This set comes with a 64-page hardcover book which features a foreword by Johnny Marr and the usual essays, unseen images etc. The book and discs folio slot into an outer slipcase (see below).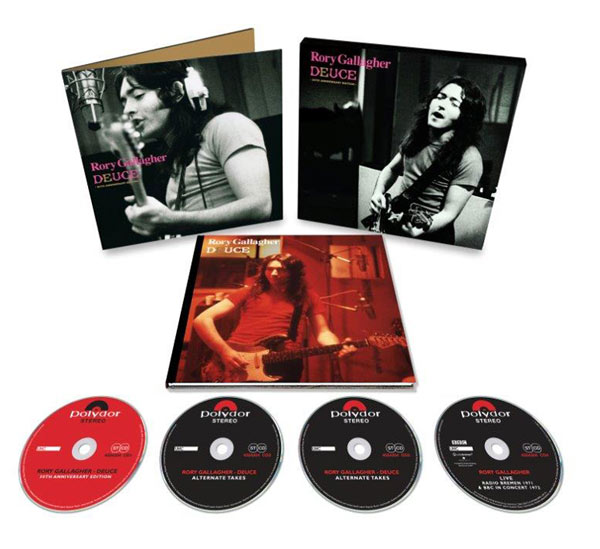 There's also a 2CD set which offers the new stereo mix and a 'highlights' second CD which offers selected alternate takes and some of the Radio Bremen tracks. Vinyl fans aren't left out and a 3LP deluxe edition mirrors the content offered on the double CD edition.
Deuce will be reissued for its 50th anniversary on 30 September 2022, via Polydor/UMC.
Compare prices and pre-order
Rory Gallagher
Deuce 50th 4CD deluxe
Compare prices and pre-order
Rory Gallagher
Deuce - 3LP vinyl
Compare prices and pre-order
Rory Gallagher
Deuce - 2CD edition
Tracklisting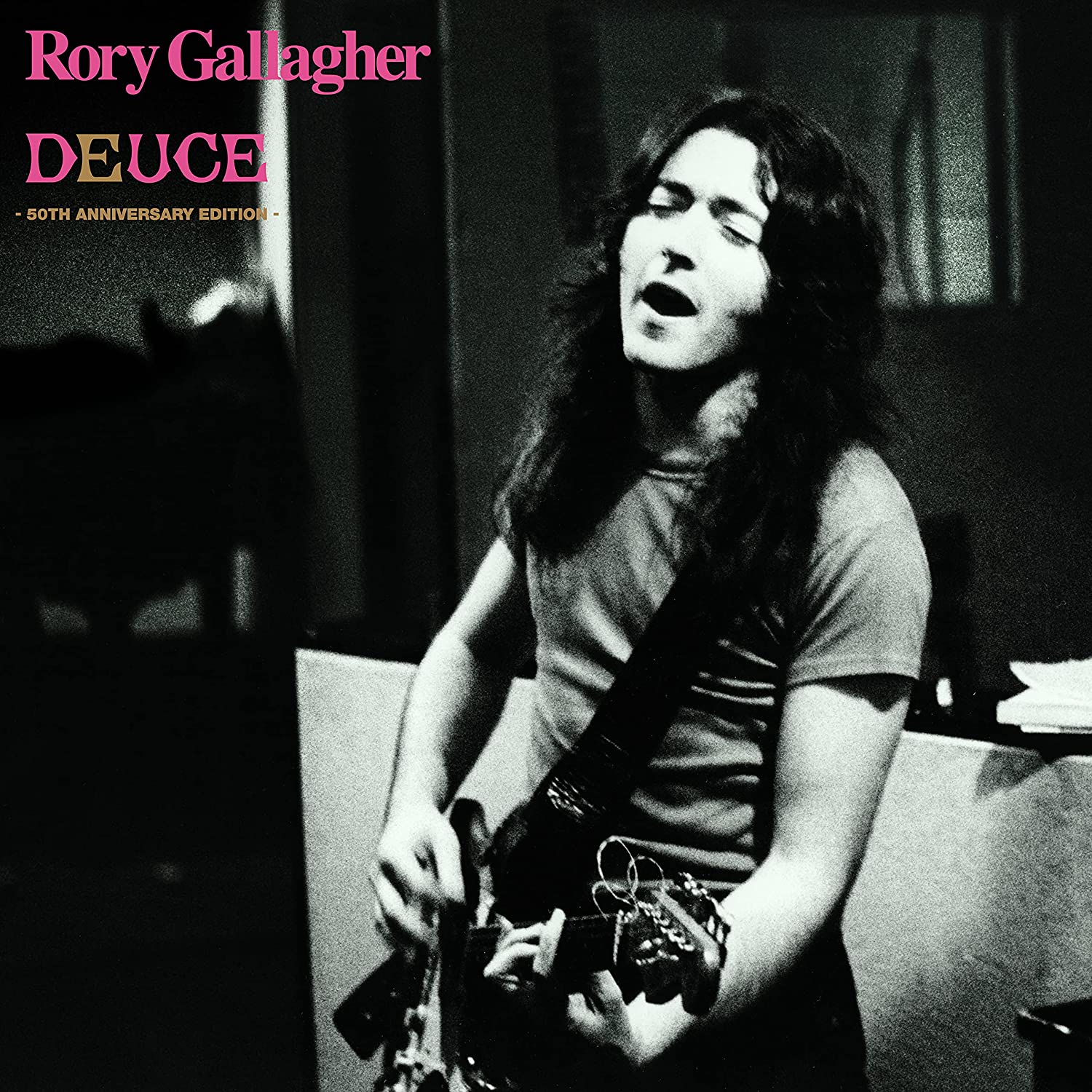 Deuce Rory Gallagher
/
50th anniversary reissue
CD 1

Used to Be – 50th Anniversary stereo mix
I'm Not Awake Yet – 50th Anniversary stereo mix
Don't Know Where I'm Going – 50th Anniversary stereo mix
Maybe I Will – 50th Anniversary stereo mix
Whole Lot of People – 50th Anniversary stereo mix
In Your Town – 50th Anniversary stereo mix
Should've Learnt My Lesson – 50th Anniversary stereo mix
There's a Light – 50th Anniversary stereo mix
Out of My Mind – 50th Anniversary stereo mix
Crest of a Wave – 50th Anniversary stereo mix

CD 2

Used to Be – Alternate Take 1
Used to Be – Alternate Take 2
I'm Not Awake Yet – Alternate Take 1
Don't Know Where I'm Going – Alternate Take 1
Maybe I Will – Alternate Take 1
Maybe I Will – Alternate Take 2
Maybe I Will – Alternate Take 3
Maybe I Will – Alternate Take 4
Maybe I Will – Alternate Take 5
Whole Lot of People – Electric Alternate Take 1
Whole Lot of People – 6 String Acoustic Alternate Take 1
Whole Lot Of People – Deuce Album Session / Alternative Acoustic Take / 1971 *
Whole Lot of People – 12 String Acoustic Alternate Take 1
In Your Town – Alternate Take 1
In Your Town – Alternate Take 2
In Your Town – Alternate Take 3

CD 3

In Your Town – Alternate Take 4
Should've Learnt My Lesson – Deuce Album Session / Alternative Acoustic Take / 1971*
Should've Learnt My Lesson – Deuce Album Session Outtake / 1971*
Should've Learnt My Lesson – Alternate Take 2
Should've Learnt My Lesson – Alternate Take 3
There's A Light – Alternate Take 1
There's A Light – Alternate Take 2
There's A Light – Alternate Take 3
Out of My Mind – Alternate Take 1
Out of My Mind – Alternate Take 2
Out of My Mind – Alternate Take 3
Crest of a Wave – Alternate Take 1
Crest of a Wave – Alternate Take 2
Don't Know Where I'm Going – Home Demo
Maybe I Will – Home Demo
Should've Learnt My Lesson – Home Demo

CD 4

Should've Learnt My Lesson – Radio Bremen 21/12/1971
Crest of a Wave – Radio Bremen 21/12/1971
I Could've Had Religion – Radio Bremen 21/12/1971
For The Last Time – Radio Bremen 21/12/1971
Messin' With The Kid – Radio Bremen 21/12/1971
Don't Know Where I'm Going – Radio Bremen 21/12/1971
Pistol Slapper Blues – Radio Bremen 21/12/1971
Used To Be – BBC In Concert – Live at The Paris Theatre, 13 January 1972
Should've Learnt My Lesson – BBC In Concert – Live at The Paris Theatre, 13 January 1972
Out Of My Mind – BBC In Concert – Live at The Paris Theatre, 13 January 1972
I Could've Had Religion – BBC In Concert – Live at The Paris Theatre, 13 January 1972
Crest Of A Wave – BBC In Concert – Live at The Paris Theatre, 13 January 1972
Messin' With The Kid – BBC In Concert – Live at The Paris Theatre, 13 January 1972

CD 1

Used to Be – 50th Anniversary stereo mix
I'm Not Awake Yet – 50th Anniversary stereo mix
Don't Know Where I'm Going – 50th Anniversary stereo mix
Maybe I Will – 50th Anniversary stereo mix
Whole Lot of People – 50th Anniversary stereo mix
In Your Town – 50th Anniversary stereo mix
Should've Learnt My Lesson – 50th Anniversary stereo mix
There's a Light – 50th Anniversary stereo mix
Out of My Mind – 50th Anniversary stereo mix
Crest of a Wave – 50th Anniversary stereo mix

CD 2

Used to Be – Alternate Take 1
I'm Not Awake Yet – Alternate Take 1
Maybe I Will – Alternate Take 1
Whole Lot of People – 12 String Acoustic Alternate Take 1
In Your Town – Alternate Take 3
Should've Learnt My Lesson – Alternate Take 3
There's A Light – Alternate Take 1
Out of My Mind – Alternate Take 3
Crest of a Wave – Alternate Take 2
Should've Learnt My Lesson – Radio Bremen 21/12/1971
Crest of a Wave – Radio Bremen 21/12/1971
I Could've Had Religion – Radio Bremen 21/12/1971
For The Last Time – Radio Bremen 21/12/1971
Messin' With The Kid – Radio Bremen 21/12/1971
Don't Know Where I'm Going – Radio Bremen 21/12/1971
Pistol Slapper Blues – Radio Bremen 21/12/1971

LP 1

Side A

Used to Be – 50th Anniversary stereo mix
I'm Not Awake Yet – 50th Anniversary stereo mix
Don't Know Where I'm Going – 50th Anniversary stereo mix
Maybe I Will – 50th Anniversary stereo mix
Whole Lot of People – 50th Anniversary stereo mix

Side B

In Your Town – 50th Anniversary stereo mix
Should've Learnt My Lesson – 50th Anniversary stereo mix
There's a Light – 50th Anniversary stereo mix
Out of My Mind – 50th Anniversary stereo mix
Crest of a Wave – 50th Anniversary stereo mix

LP 2

Side C

Used to Be – Alternate Take 1
I'm Not Awake Yet – Alternate Take 1
Maybe I Will – Alternate Take 1
Whole Lot of People – 12 string acoustic Alternate Take 1

Side D

In Your Town – Alternate Take 3
Should've Learnt My Lesson – Alternate Take 3
There's A Light – Alternate Take 1
Out of My Mind – Alternate Take 3

LP 3

Side E

Crest of a Wave – Alternate Take 2
Crest of a Wave – Radio Bremen 21/12/1971
Don't Know Where I'm Going – Radio Bremen 21/12/1971
I Could've Had Religion – Radio Bremen 21/12/1971

Side F

Should've Learnt My Lesson – Radio Bremen 21/12/1971
For The Last Time – Radio Bremen 21/12/1971
Messin' With The Kid – Radio Bremen 21/12/1971
Pistol Slapper Blues – Radio Bremen 21/12/1971