 News
Roxy Music / exclusive SIGNED items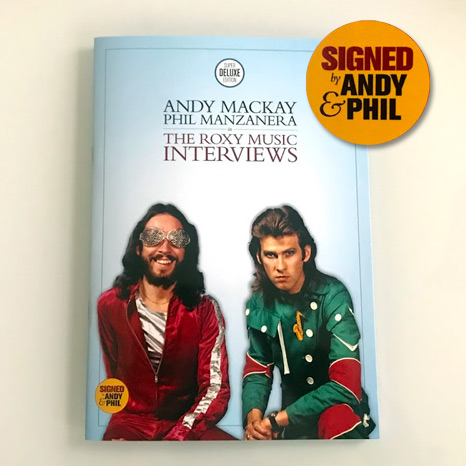 We try to bring you interesting and quirky things and I'm delighted to say that with the recent news that Roxy Music are to be inducted into the Rock & Roll Hall of Fame (hooray!), SDE can bring you some exclusive SIGNED Roxy-related items available from the SDE shop.
These include a special second 'artist signed edition' of the much-praised SDE 'Roxy Music Interviews' booklet which contains 9000 words of in-depth interview as Roxy legends Andy MacKay and Phil Manzanera talk in detail about the beginnings of Roxy Music and recording the first album…

Andy and Phil enjoyed the interviews so much that they both agreed to personally SIGN a limited run of this 'keepsake' interview booklet. This is truly unique item, something to treasure and it's strictly limited to 450 hand-numbered copies.
Additionally, the shop also has brand new SIGNED copies of Phil Manzanera's fine 2CD+DVD anthology called The Music 1972-2008. The package boasts 25 audio tracks including Roxy Music originals, a Brian Eno track that Manzanera co-wrote, solo material and more. The DVD (PAL, all region) features around an hour of video content including live performance and a 23-minute documentary made with Phil featuring plenty of rare archive footage, including unseen Roxy material. Phil has agreed to sign a small quantity specially for SDE readers.
The booklets are available now for immediate shipping, while the signed anthologies will ship later this month. Head over to the SDE shop to order or just use the buttons below.
Phil Manzanera: The Music 1972-2008
CD1:
1. Amazona 4.13 (Ferry/Manzanera) Roxy Music Stranded
2. Needle In A Camel's Eye 3:06 (Eno /manzanera) Brian Eno Here come the warm jets
3. Out Of The Blue 4:46 (Ferry/Manzanera) Roxy Music Country Life
4. Prairie Rose 5:12 (Ferry/Manzanera) Roxy Music Country Life
5. Frontera 4:04 (I&W MacCormick/Manzanera) Phil Manzanera Diamond Head
6. Diamond Head 4:28 (Manzanera) Phil Manzanera Diamond Head
7. Miss Shapiro 4:18 (Eno/Manzanera ) 801 801 Live
8. East Of Asteroid 4:56 (MacCormick/Manzanera ) 801 801 Live
9. Manifesto 5:29 (Ferry/Manzanera) Roxy Music Manifesto
10. Over You 3:27(Ferry/Manzanera) Roxy Music Flesh & Blood
11. Running Wild 5:01(Ferry/Manzanera) Roxy Music Flesh & Blood
12. Criollo 6:06 (Manzanera) Phil Manzanera Primitive Guitars
13. Take A Chance With Me 4:42 (Ferry/Manzanera) Roxy Music Avalon
14. Big Dome 6:16 (Manzanera) Phil Manzanera Primitive Guitars
CD2:
15. La Vida Moderna 5.25 (Manzanera /Bunbury) Phil Manzanera Vozero
16. Mystic Moon 4:05 (Manzanera) Phil Manzanera Vozero
17. HYMN 4.28 (Manzanera/Singers) Phil Manzanera Vozero
18. Green Spikey Cactus 5:.36 (Manzanera) Phil Manzanera 6PM
19. Broken Dreams 5:10 (Manzanera) Phil Manzanera 6PM
20. 6PM 3.34 (Manzanera) Phil Manzanera 6PM
21. LOVE DEVOTION 5.39 (Manzanera) Phil Manzanera 6PM
22. WISH YOU WELL 5.36 (Manzanera) Phil Manzanera 6PM
23. Technicolor UFO 4:12 (Manzanera) Phil Manzanera **50 Minutes Later
24. Desaparecido 4:03 (Manzanera /Singers) Phil Manzanera **50 Minutes Later
25. Enotonik Bible Black 10.30 (Manzanera) Phil Manzanera **50 Minutes Later
("Mainstream" Version)
Disc 3 – DVD (PAL, all region)
1. Revolution To Roxy – Phil Manzanera, A Musical Journey. A film by Charlie Targett-Adams, 2008
Videos and Live Performances:
2 .Guitar Legends Seville 1991
3. Diamond Head Sweden 1975
4. 6pm EPK
5. Guantanamera 1992
6. Fender 50th Wembley 6pm 2006
7. Manzanera Moncada Mama Hue 1991
8. A Million Reasons Why video 1989