 News
Saint Etienne return to Tiger Bay with a super deluxe 25th anniversary box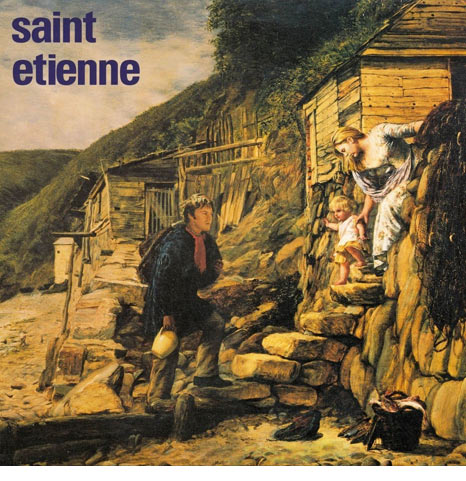 Trio's acclaimed third album issued for 25th anniversary • 3LP+CD package • Box is a 1500 limited edition • Exclusive SIGNED copies via the SDE shop
Saint Etienne have announced details of a 25th anniversary edition box set of their 1994 album Tiger Bay.

Their third album, Tiger Bay first came out in March 1994, and included the top toe-taps 'Hug My Soul', 'Like A Motorway' and 'Pale Movie', and was an attempt by the band to fuse folk music with electronic sounds. Self-produced by the band and engineered by long-time collaborator Ian Catt, the album also featured input from Underworld's Rick Smith, orchestral arrangements by renowned composer David Whitaker (Serge Gainsbourg, Marianne Faithfull, Air) and vocal contributions from Shara Nelson and Stephen Duffy amongst others.
The new box set will be presented in a 12″ x 12″ lift-off lid box, consistent with the 2016 Foxbase Alpha super deluxe, and includes a 2LP vinyl version of the original album in gatefold sleeve cut at 45rpm, a 12-track vinyl compilation of rarities and demos entitled Tiger Bay – Remains of The Day, plus Tiger Bay – Tapestry, a 13-track CD album of 'stripped-back' versions and unreleased arrangements, taken from original master tapes and complied by Pete Wiggs.

Click image to enlarge
Additionally, this anniversary box includes a 28-page booklet featuring unseen photographs and an essay about the making of the album, a 12" x 24" reproduction of the original album poster, a Hug My Soul sticker and a reproduction of the original press release and biography from 1994. This also comes with a digital download card for all the music.
All items included in the box are exclusive and won't be available anywhere else and I'm delighted to announce that Saint Etienne have agreed to exclusively SIGN all Tiger Bay boxes ordered via the SDE shop. Only 1500 of these boxes are being produced in total and signed editions aren't available anywhere else.
This Tiger Bay 25th anniversary box set will be released via Heavenly Recordings on 17 May 2019. Secure your signed box by pre-ordering from SDE using this link or the button below.
Tiger Bay 25th anniversary box set
Original album – Heavenly HVNLP8SE – Two-disc vinyl album cut at 45rpm
1. Urban Clearway
2.   Former Lover
3.   Hug My Soul
4.   Like A Motorway
5.   On The Shore
6.   Marble Lions
7.   Pale Movie
8.   Cool Kids Of Death
9.   Western Wind
10. Tankerville
11. The Boy Scouts Of America
Tiger Bay – Remains Of The Day – Heavenly HVNLP8RD – 33rpm Vinyl Album

1.   Urban Clearway (demo)
2.   Black Horse Latitude
3.   I Buy American Records
4.   Hate Your Drug
5.   You Know I'll Miss You When You're Gone
6.   Hug My Soul (demo)
7.   The Wedding of Stacey Dorning
8.   Sushi Rider
9.   Deborah's French Feast
10. Pale Movie (demo)•
11. La Poupee Qui Fait Non (No No No)
12. Highgate Road Incident
Tiger Bay – Tapestry – Heavenly HVNLP8CDBD – CD
1.   Urban Clearway – Arrival Strings
2.   Like A Motorway – Bass
3.   Former Lover – Intro Chat
4.   Western Wind – Stephen Duffy Vocal
5.   Boy Scouts Of America – Lynch Frost Bed
6 Cool Kids Of Death – Sven Verse
7. Hug My Soul – Vibes & Strings
8.   Tankerville – Orchestra
9.   Like A Motorway – Fragments
10 Pale Movie – Guitar Solo
11. Boy Scouts Of America – Orchestra
12. Marble Lions – Sarah Plus Orchestra
13. Tiger Bay – Coda