 News
Scott Walker / The Collection 1967-1970 / CD and LP box sets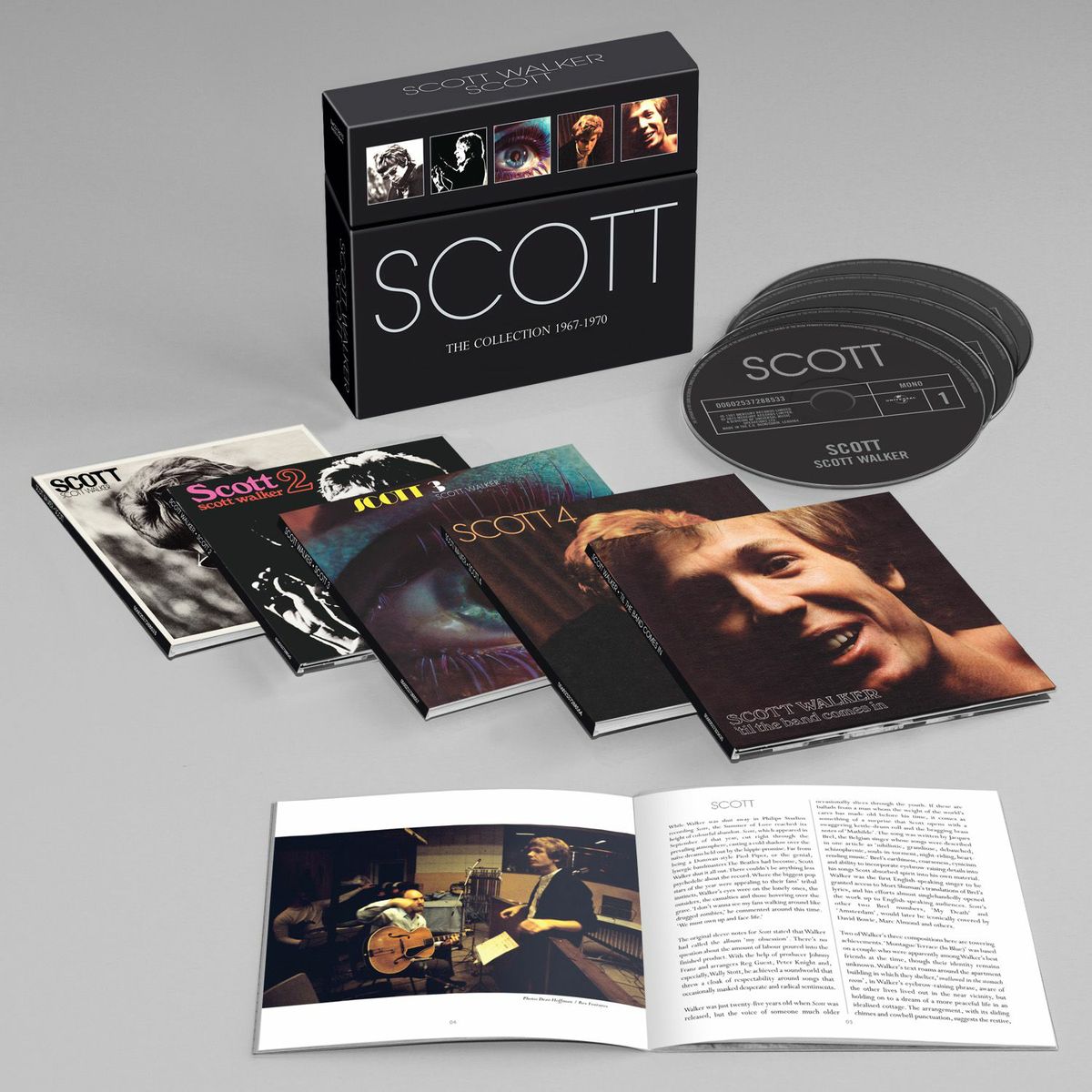 Scott Walker's first five solo albums are to be issued together for the first time on vinyl and CD on 29 April 2013. Cut and mastered from the original tapes and presented with their original artwork, the five albums brought together here are: Scott, Scott 2, Scott 3, Scott 4 and 'Til The Band Comes In. These were all originally issued between 1967 and 1970.
The five-CD set comes in a hardback, lift-off lid, box-set, each CD recreating the original album artwork and with new, extensive sleeve notes on each album plus rare photos. The 16-page booklet is written by Rob Young who edited last year's No Regrets: Writings on Scott Walker.
The Deluxe LP box set features the original album artwork and includes an 11 inch print replicated from Scott 2, plus a 48 page booklet containing Rob Young's essay. All five LPs come in 180gm heavyweight vinyl, with Scott 3 and Scott4 reproduced in the original gatefold jackets.
---
CD Box Set
Vinyl Box Set
---
Scott Walker – The Collection track listing:

Scott (1967)
1. "Mathilde"
2. "Montague Terrace (In Blue)"
3. "Angelica" 4:02
4. "The Lady Came from Baltimore"
5. "When Joanna Loved Me"
6. "My Death"
7. "The Big Hurt"
8. "Such a Small Love"
9. "You're Gonna Hear From Me"
10. "Through a Long and Sleepless Night"
11. "Always Coming Back to You"
12. "Amsterdam"
Scott 2 (1968)
Side one
1. "Jackie"
2. "Best of Both Worlds"
3. "Black Sheep Boy"
4. "The Amorous Humphrey Plugg"
5. "Next"
6. "The Girls from the Streets"
7. "Plastic Palace People"
8. "Wait Until Dark"
9. "The Girls and the Dogs"
10. "Windows of the World"
11. "The Bridge"
12. "Come Next Spring"
Scott 3 (1969)
1. "It's Raining Today"
2. "Copenhagen"
3. "Rosemary"
4. "Big Louise"
5. "We Came Through"
6. "Butterfly"
7. "Two Ragged Soldiers"
8. "30 Century Man"
9. "Winter Night"
10. "Two Weeks Since You've Gone"
11. "Sons Of"
12. "Funeral Tango"
13. "If You Go Away"
Scott 4 (Nov 1969)
1. "The Seventh Seal"
2. "On Your Own Again"
3. "The World's Strongest Man"
4. "Angels of Ashes"
5. "Boy Child"
6. "Hero of the War"
7. "The Old Man's Back Again (Dedicated to the Neo-Stalinist Regime)"
8. "Duchess"
9. "Get Behind Me"
10. "Rhymes of Goodbye"
Till The Band Comes In (1970)
1. "Prologue"
2. "Little Things (That Keep Us Together)"
3. "Joe"
4. "Thanks for Chicago Mr. James"
5. "Long About Now" (Sung by Esther Ofarim)
6. "Time Operator"
7. "Jean the Machine"
8. "Cowbells Shakin'"
9. "'Til the Band Comes In"
10. "The War Is Over (Sleepers)"
11. "Stormy"
12. "The Hills of Yesterday"
13. "Reuben James"
14. "What Are You Doing the Rest of Your Life
15. "It's Over"