 News
SDE-exclusive: McCartney: 10 Years of Archive Reissues – A4 booklet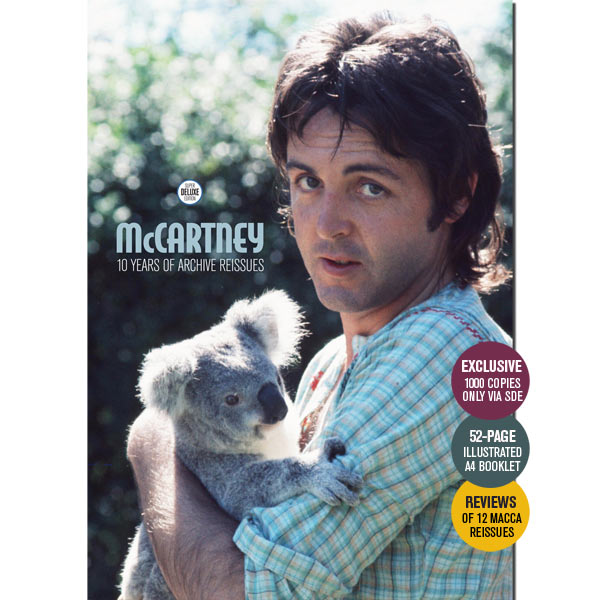 Limited numbered edition • SDE exclusive • Signed by editor Paul Sinclair
SDE brings together almost a decade of Paul McCartney reissue reviews and analysis in a new limited edition 'keepsake' booklet McCartney: 10 Years of Archive Reissues.

Number seven in the SDE's ongoing series is the biggest A4 booklet we have ever produced – it will contain a hefty 52 pages of content and will feature in-depth illustrated reviews of the McCartney reissues via a combination of archive content from the SuperDeluxeEdition.com website (some of it updated) alongside new reviews and fresh insight.
For example, the booklet will include the 'Raider of the Lost Archive' feature from 2011, 'All The Best' a look at the best McCartney tracks on each solo/Wings album as well as full in-depth reviews of the following deluxe reissues:
McCartney
RAM
Wildlife
Red Rose Speedway
Band On The Run
Venus and Mars
Wings at the Speed of Sound
Wings Over America
McCartney II
Tug of War
Pipes of Peace
Flowers in the Dirt
This booklet features a stunning cover photo (which McCartney aficionados will guess which B-side it refers to!) and is professionally designed, saddle-stitched and litho-printed publication. Only 1000 of these numbered editions are being produced and I will be personally signing each copy.
Available to pre-order ONLY via the SDE shop. Use this link or the buttons below. McCartney: 10 Years of Archive Reissues will ship on 4 and 5 of August 2020.