 News
SDE presents Kate Bush: Before The Dawn 'keepsake' A4 booklet
Kate Bush booklet exclusive to SDE • Beautiful artwork • Limited run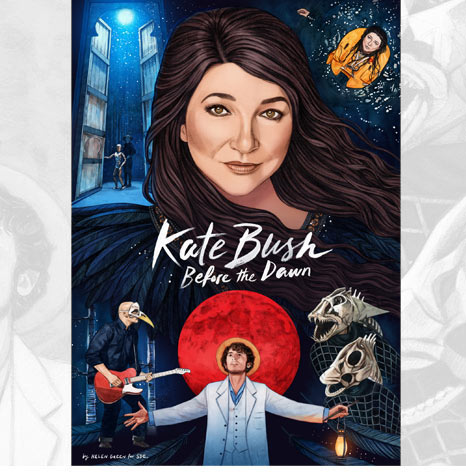 Today is Kate Bush's birthday and to mark the occasion I'm delighted to announce that volume 5 of SDE's occasional 'keepsake' booklet publications (past subjects have included Paul McCartney and Roxy Music) is devoted to Kate's legendary 2014 concert residency Before The Dawn.

I was lucky enough to see Before The Dawn three times, including the very last concert of the run on 1 October of that year, and in this exclusive SDE publication I will be taking you on a personal journey, reflecting all aspects of Before The Dawn; the surprise announcement, the press frenzy, the build up, the anticipation, the expectation, and finally the concerts themselves; what it was like to actually be there and see Kate perform many of her best songs live, for the very first time.

Additionally, the booklet will include my full interview with Before The Dawn guitarist David Rhodes (best known for his work with Peter Gabriel), conducted only a few weeks after the record-breaking series of concerts were completed. David goes into fascinating detail about how he got the job, the rehearsal period, songs that almost made it onto the set list and what it was like to play with Kate on stage every night during that late summer of 2014!
A detail from Helen Green's front cover (watermark not on the actual cover!)

Finally, this Before The Dawn booklet boasts a specially commissioned front cover. The supremely talented British artist Helen Green – probably best known for her fabulous David Bowie artwork – has woven the various aspects of the show together with a stunning visual that features a central portrait of Kate framed by elements that include her son Bertie (in front of a blood-red moon), David Rhodes on guitar and Kate herself in the water.

In this booklet I share the experience of a lifetime – what it was like after 30 years of being a fan to finally get to see Kate in the flesh, playing live on stage.

This saddle-stitched (or staple-bound) booklet is a professionally printed and designed A4 document that will contain at least 20 pages of content. It comes with an outer card cover. Each booklet will come in a protective cellophane sleeve and will be posted in a board-backed envelope to ensure it doesn't get bent in the post.

This will be a limited run, for sale exclusively via the SDE shop. All pre-orders received by 8 August 2019 will be hand-numbered and will be personally signed by myself (SDE Editor Paul Sinclair). These will ship on 14 September 2019. Pre-order via this link or using the button below.
<![CDATA[
/**/
]]>
---
About Paul Sinclair



Paul is founder and editor of music site SuperDeluxeEdition.com which he has run since 2011. As well as continuing to run SDE, he has written sleeve notes and/or compiled or curated many many music reissues including Tears For Fears, Paul Young, Sam Brown, Thompson Twins, It's Immaterial and more. He lives in London.