 News
Semisonic / Feeling Strangely Fine / expanded 2LP vinyl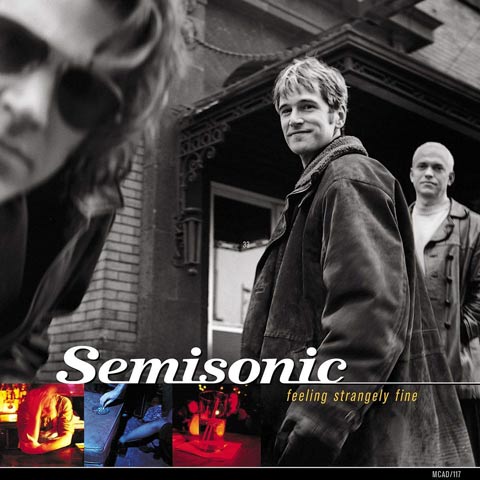 First time on vinyl • Double album with bonus tracks • 20th anniversary
Semisonic's second album, Feeling Strangely Fine, is being reissued on vinyl for the first time for it's 20th anniversary. Even better, this is a double vinyl package with bonus tracks.

The 1998 album features two brilliant singles in Closing Time and Secret Smile although Singing In My Sleep is also pretty good and was a minor hit in the UK.
The late nineties was very much the era of the CD so the album wasn't issued on vinyl in any territory. The good news is that rather than just bung out the standard 12-track long-player, the label have added four bonus tracks that were part of the album recording sessions and issued as B-sides at the time ('Long Way From Home', 'I'm A Liar', 'Beautiful Regret', and 'Making A Plan'). In fact, since there were no vinyl singles either (just CDs and tapes) all sixteen tracks here are making their vinyl debut! (Note that Universal are also reissuing it on CD too).
After some delays, the expanded 2LP anniversary vinyl edition of Feeling Strangely Fine will be released on 30 November 2018. You can pre-order a copy from the SDE shop using this link or the button below.
Compare prices and pre-order
Semisonic
Feeling Strangely Fine - expanded 2LP vinyl
Compare prices and pre-order
Semisonic
Feeling Strangely Fine - expanded CD edition
1 Closing Time
2 Singing In My Sleep
3 Made To Last
4 Never You Mind
5 Secret Smile 4:39
6 DND
7 Completely Pleased
8 This Will Be My Year
9 All Worked Out
10 California
11 She Spreads Her Wings
12 Gone To The Movies
Bonus tracks
13 Long Way From Home (1998 B-Side)
14 I'm A Liar (1998 B-Side)
15 Beautiful Regret (early composition)
16 Makin' A Plan (1998 B-Side)