 News
Sigue Sigue Sputnik / Flaunt It 4CD set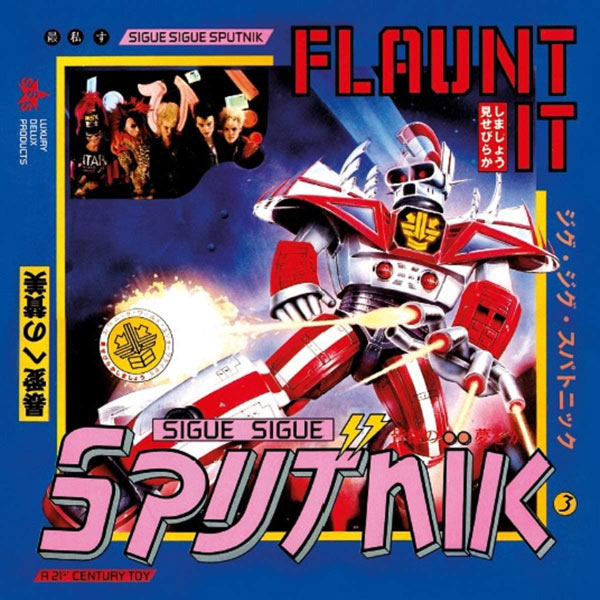 Remastered 4CD set with plenty of bonus material
Sigue Sigue Sputnik's 1986 debut Flaunt It will be released as a four-CD deluxe set in October.

The much-hyped album was produced by Giorgio Moroder and features the hits 'Love Missile F1-11' and '21st Century Boy'.
The forthcoming four-CD reissue offers remastered audio ("from the original tapes"). The first disc is the album, CD 2 offers remixes (mostly 'Love Missile F1-11') while the third CD is a selection of nine 'remixes, rarities & B-sides'. The final disc includes a complete, previously unreleased, live show recorded at Abbey Road Studios, although it's not clear exactly when this show was taped.
Arguably, the content is spread thinly over the four CDs, but at just over £20 there's not too much cause for complaint.
Flaunt It will be reissued on 9 October 2020.
Compare prices and pre-order
Sigue Sigue Sputnik
Flaunt It - 4CD set
CD 1
FLAUNT IT
1. LOVE MISSILE F1-11
(RE-RECORDING PART II)
2. ATARI BABY
3. SEX-BOMB-BOOGIE
4. ROCKIT MISS U.S.A.
5. ADVERTISEMENT:
THE SPUTNIK CORPORATION
6. 21ST CENTURY BOY
7. MASSIVE RETALIATION
8. ADVERTISEMENT: THE SIGUE SIGUE SPUTNIK COMPUTER GAME
9. TEENAGE THUNDER
10. SHE'S MY MAN
11. ADVERTISEMENT: EMI RECORDS
BONUS TRACK
12. FROM THE GUTTER TO THE STARS
CD 2

REMIXES
1. TRAILER MIX
2. LOVE MISSILE F1-11 (7" SINGLE MIX)
3. LOVE MISSILE F1-11 (THE BANGKOK REMIX)
4. LOVE MISSILE F1-11 (DANCE MIX)
5. LOVE MISSILE F1-11 (EXTENDED ULTRA VIOLENCE VERSION)
6. LOVE MISSILE F1-11 (VIDEO MIX)
7. LOVE MISSILE F1-11 (JAPANESE REMIX)
8. LOVE MISSILE F 1-11 (WESTBAM REMIX SHORT VERSION)
9. MASSIVE RETALIATION (THE SUPER MASSIVE UK REMIX)
10. MASSIVE RETALIATION (SHUT UP DUB REMIX)
11. SEX BOMB BOOGIE (MAGIC FLUTE) 12. SEX BOMB DANCE
CD 3
REMIXES, RARITIES AND B-SIDES
1. HACK ATTACK
2. BUY EMI
3. DANCERAMA (1986 VERSION)
4. SUICIDE (LIVE IN LONDON SEPT' '86)
5. 21ST CENTURY BOY (EXTENDED T.V. MIX)
6. 21ST CENTURY BOY (GERMAN REMIX)
7. 21ST CENTURY BOY (DANCE MIX)
8. BUY EMI (£4,000,000 MIX)
9. SHE'S MY MAN (REMIX)
CD 4
LIVE AT ABBEY ROAD
1. SEX BOMB BOOGIE
2. 21ST CENTURY BOY
3. TWIST & SHOUT
4. SHE'S MY MAN
5. SHOOT IT UP
6. JAYNE MANSFIELD
7. ROCKIT MISS U.S.A.
(PREVIOUSLY UNRELEASED)