 News
Simon and Garfunkel / Bridge Over Troubled Water limited gold vinyl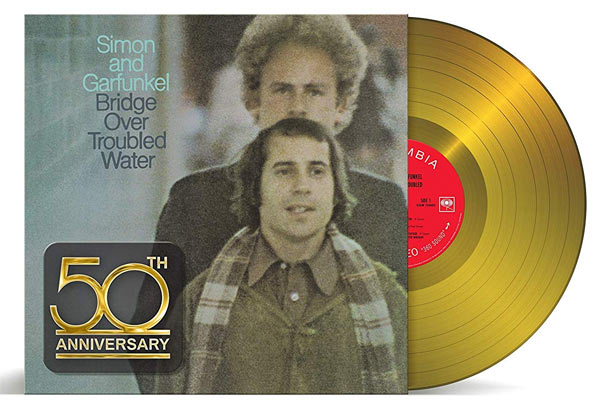 Sony are issuing Simon and Garfunkel's 1970 album Bridge Over Troubled Water as a limited gold-coloured vinyl pressing next month.

It was the duo's fifth and final album and as well as the classic title track, it features 'Cecilia', 'The Boxer' and 'The Only Living Boy In New York'.
The album will be pressed on limited edition gold-coloured vinyl for its 50th anniversary. Gold is a tricky colour to get right and the mocked up image the label have created which is shown above, is probably a rather optimistic reading of how this will look! Update: see actual product below.
There doesn't appear to be any other activity around this anniversary, which is a little disappointing. A CD+DVD was issued back in 2011 for the 40th anniversary.
Bridge Over Troubled Water will be reissued on 14 February 2020.
Compare prices and pre-order
Simon & Garfunkel
Bridge Over Troubled Water – 50th Anniversary Edition [VINYL]
Side 1
1. Bridge over Troubled Water
2. El Condor Pasa (If I Could)
3. Cecilia
4. Keep the Customer Satisfied
5. So Long, Frank Lloyd Wright
Side 2
1. The Boxer
2. Baby Driver
3. The Only Living Boy in New York
4. Why Don't You Write Me
5. Bye Bye Love
6. Song for the Asking