 News
Simple Minds confirm that a 'Street Fighting Years' box set is on the way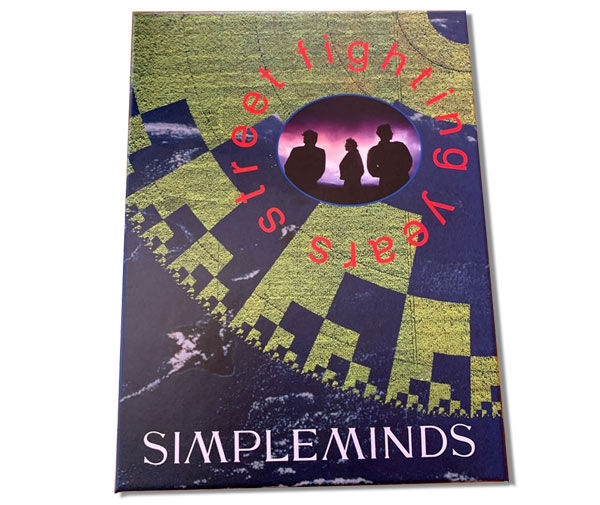 Simple Minds have officially confirmed that a Street Fighting Years box set is on the way "early next year."

Writing on Simple Minds official Facebook page, Jim Kerr says he has been interviewed "for Simple Minds remastered 'Street Fighting Years'" and even posts a photo of the box set (replicated above), which suggests they've already been manufactured. He confirms that it will be "released early next year".
The 1989 album was produced by Trevor Horn and Stephen Lipson and delivered the band's first and only UK number one single 'Belfast Child' (which was the lead track on the 'Ballad of the Streets EP). Three further singles were all top 20 UK hits.
The size and shape of the box suggests it will be consistent with previous Simple Minds super deluxe editions and fans can therefore expect a four or five disc package.
This hasn't been officially announced by the record label, and isn't available to pre-order anywhere, but rest assured that SDE will publish more details on this as they emerge.
The band's latest release is 40: The Best of 1979-2019 which is out now and available on 3CD, 2LP vinyl and a single CD edition.
Compare prices and pre-order
Simple Minds
40 The Best of 1979-2019 - 3CD set
Compare prices and pre-order
Simple Minds
40 The Best of 1979-2019 - 2LP vinyl
Compare prices and pre-order
Simple Minds
40 The Best of 1979-2019 - single CD edition
40: The Best Of 1979-2019 3CD set
Disc: 1
1. Waterfront – Edit
2. Love Song – Edit
3. I Travel – Edit
4. Glittering Prize – Edit
5. Sense of Discovery – Edit
6. The American – Edit
7. Up on The Catwalk – Edit
8. She's A River – Edit
9. Someone Somewhere (In Summertime) – Edit
10. See the Lights – 7″ Version
11. Jeweller to the Stars – Single Mix
12. War Babies – Bascombe Mix Single Version
13. Belfast Child – Edit                                                                                                                        
Disc: 2
1. Home – Edit
2. Magic – Radio Edit
3. Promised You A Miracle – Edit
4. This Is Your Land – DJ Version
5. Honest Town – Radio Edit
6. Glittering Prize (Acoustic)  Album Version
7. Waterfront – (Acoustic) Album Version
8. See the Lights (Acoustic) – Album Version
9. Let There Be Love – 7″ Mix
10. New Gold Dream (81,82,83,84) – Edit
11. All the Things She Said – Edit
12. Once Upon A Time – Album Version
13. Don't You (Forget About Me) – Album Version
Disc: 3
1. Chelsea Girl – Edit
2. Cry – Album Version
3. Hypnotised – TLA Edit
4. Stars Will Lead the Way – Single Version
5. For One Night Only – New Track
6. Theme for Great Cities – Album Version
7. Life in A Day – Album Version
8. Changeling – Edit
9. Celebrate – Edit
10. Blindfolded – Album Version
11. Sanctify Yourself – Edit
12. Mandela Day – Edit
13. Speed Your Love to Me – Edit
14. Alive and Kicking – Edit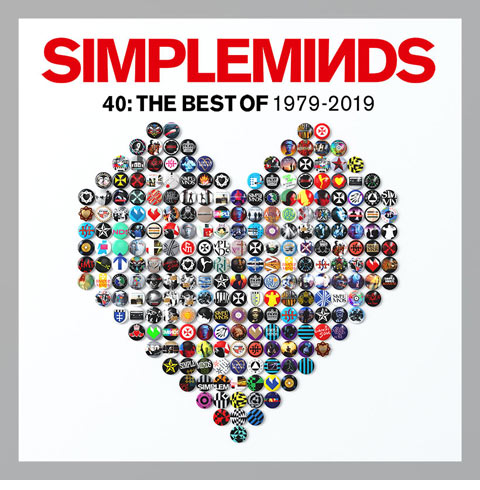 40: The Best Of 1979-2019 2LP vinyl
LP 1
1. Chelsea Girl – Edit [Side A]
2. I Travel – Edit [Side A]
3. Love Song – Edit [Side A]
4. Promised You A Miracle – Edit [Side A]
5. Glittering Prize – Edit [Side A]
6. Someone Somewhere in Summertime – Edit [Side B]
7. Waterfront – Edit [Side B]
8. Don't You (Forget About Me) – Album Version [Side B]
9. Alive and Kicking – Edit [Side B]
10. Sanctify Yourself – Edit [Side B]
LP 2
1. Belfast Child – Edit [Side C]
2. Mandela Day – Edit [Side C]
3. See the Lights – 7″ Version [Side C]
4. Hypnotised – TLA Edit [Side C]
5. Stars Will Lead the Way – Single Version [Side D]
6. Honest Town – Radio Edit [Side D]
7. Sense of Discovery – Edit [Side D]
8. For One Night Only – New Track [Side D]
40: The Best Of 1979-2019 single CD edition
Waterfront
Love Song
I Travel
Glittering Prize
Sense of Discovery
Someone Somewhere in Summertime
See the Lights
Belfast Child
Promised You A Miracle
Honest Town
Don't You (Forget About Me)
Chelsea Girl
Hypnotised
Stars Will Lead the Way
For One Night Only – New Track
Sanctify Yourself
Mandela Day
Alive and Kicking