 News
Simple Minds / Street Fighting Years four-CD super deluxe edition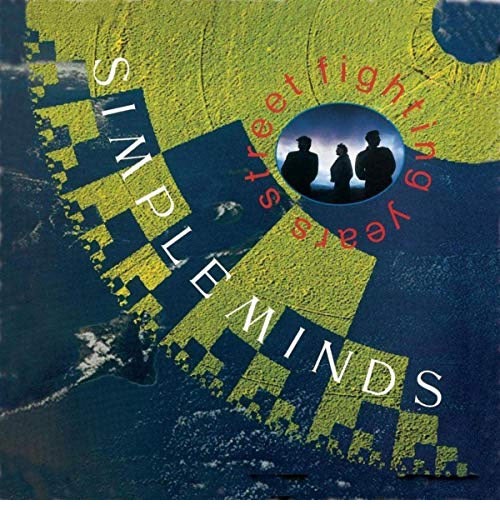 Universal Music will reissue Simple Minds' 1989 album Street Fighting Years in March across various formats, including a four-CD super deluxe edition box set.

Produced by Trevor Horn and Stephen Lipson (fresh from their work on Paul McCartney's Flowers in the Dirt) the record ended up sounding very different from the previous album (1985's Once Upon A Time).
The band were initially expecting the producing duo to deliver what Charlie Burchill describes as  "their thing" (meaning synths, sequencers etc.) but Horn and Lipson didn't think that was the right approach, with Trevor saying (in the excellent Daryl Easlea sleeve note interviews) that "I don't think the Frankie thing would have suited them. I wouldn't impose something on someone". Jim Kerr says "We thought Trevor and Steve would be the answer to everything. We thought we'd hitch our wagon to them. It turned out that they likewise thought they had taken their whole thing to a max and thought it would be great to work with a band who could just knock it out."
They ended up exploring atmospheric soundscapes and incorporating slide guitars, accordions and in general exuding a more celtic/folk rock vibe (the album was recorded in the Highlands of Scotland). Street Fighting Years delivered the band's first and only UK number one single 'Belfast Child' (which was the lead track on the 'Ballad of the Streets EP). Three further singles were all top 20 UK hits.
The four-CD box is packaged like the previous Simple Minds super deluxe sets and comes with a hardcover book with photos and interviews with the band and Trevor Horn and a Simple Minds poster. It offers a remastered version of the original album on the first disc (by Andrew Walter), a selection of 15 edits, B-sides and remixes on disc two and then two CDs featuring a previously unissued live concert from L'Arena in Verona, Italy (recorded on 15 September 1989). Sadly, there are no demos and or a surround sound mix of the album as part of this offering.
There's also a two-CD deluxe with the first two discs from the box and a 2LP vinyl edition (the original was a single LP) which is notable for including When Spirits Rise, which was a CD and cassette bonus track back in the day.
Street Fighting Years will be released on 6 March 2020 via Universal Music.
Compare prices and pre-order
Simple Minds
Street Fighting Years - 4CD box set
Compare prices and pre-order
Simple Minds
Street Fighting Years - 2LP vinyl
Compare prices and pre-order
Simple Minds
Street Fighting Years - 2CD deluxe
Street Fighting Years – 4CD box set
CD 1 – Street Fighting Years remastered
Street Fighting Years
Soul Crying Out
Wall Of Love
This Is Your Land
Take A Step Back
Kick It In
Let It All Come Down
Mandela Day
Belfast Child
Biko
When Spirits Rise
CD 2 – Edits, B-Sides and Remixes
Belfast Child (edit)
Mandela Day (edit)
This Is Your Land (edit)
Saturday Girl
Year Of The Dragon
This Is Your Land (DJ Version)
Kick It In (edit)
Waterfront ('89 remix)
Big Sleep (live)
Kick It In (Unauthorised Mix)
Sign O' The Times (edit)
Let It All Come Down (edit)
Sign O' The Times
Jerusalem
Sign O' The Times (C.J. Mackintosh Remix)
CD 3 – Verona part 1
Theme For Great Cities '90
When Spirits Rise
Street Fighting Years (live)
Mandela Day (live)
This Is Your Land (live)
Soul Crying Out (live)
Waterfront (live)
Ghost Dancing (live)
Book Of Brilliant Things (live)
Don't You (Forget About Me) (live)
CD 4 – Verona part 2
Gaelic Melody (live)
Kick It In (live)
Let It All Come Down (live)
Belfast Child (live)
Sun City (live)
Biko (live)
Sanctify Yourself (live)
East At Easter (live)
Alive And Kicking (live)
Street Fighting Years – 2LP vinyl
SIDE ONE
1.  Street Fighting Years
2.  Soul Crying Out
3.  Wall of Love
SIDE TWO
1.  This Is Your Land
2.  Take A Step Back
3.  Kick It In
SIDE THREE
1.  Let It All Come Down
2.  Mandela Day
3.  Belfast Child
SIDE FOUR
1.  Biko
2.  When Spirits Rise
Street Fighting Years – 2CD deluxe
CD 1 – Street Fighting Years remastered
Street Fighting Years
Soul Crying Out
Wall Of Love
This Is Your Land
Take A Step Back
Kick It In
Let It All Come Down
Mandela Day
Belfast Child
Biko
When Spirits Rise
CD 2 – Edits, B-Sides and Remixes
Belfast Child (edit)
Mandela Day (edit)
This Is Your Land (edit)
Saturday Girl
Year Of The Dragon
This Is Your Land (DJ Version)
Kick It In (edit)
Waterfront ('89 remix)
Big Sleep (live)
Kick It In (Unauthorised Mix)
Sign O' The Times (edit)
Let It All Come Down (edit)
Sign O' The Times
Jerusalem
Sign O' The Times (C.J. Mackintosh Remix)