 News
Snow Patrol / Final Straw 20th anniversary reissue
2CD and 2LP coloured vinyl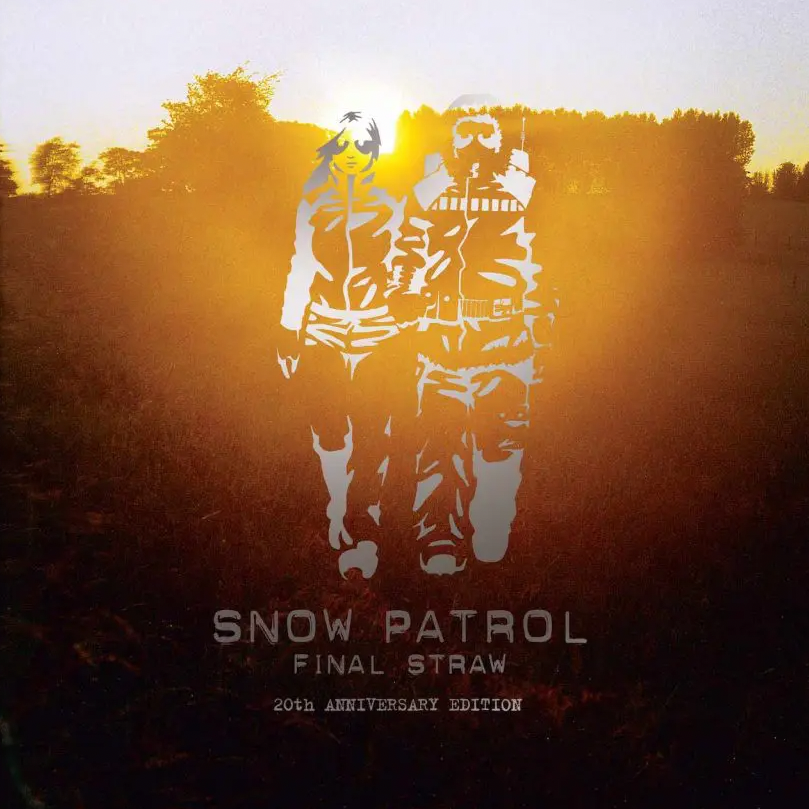 Formats add unreleased demos, B-sides, unheard session track + live cuts
Snow Patrol will reissue their third album, Final Straw, for its 20th anniversary.
The 2003 album was the band's "last throw of the dice" as they strived for a commercial breakthrough and as it turned out, it really delivered! Final Straw spawned four top 30 singles in the UK, including the top 5 'Run' and has been certified 6 x Platinum in the UK.
The 20th anniversary reissue is available in two formats, both expanded. A 2CD deluxe edition includes B-sides, demos and a previously unreleased track 'Tired' appended to the album on CD 1. The second disc offers six previously unreleased demos and the 11 Final Straw tracks performed for their DVD concert film, Live at Somerset House, in 2004.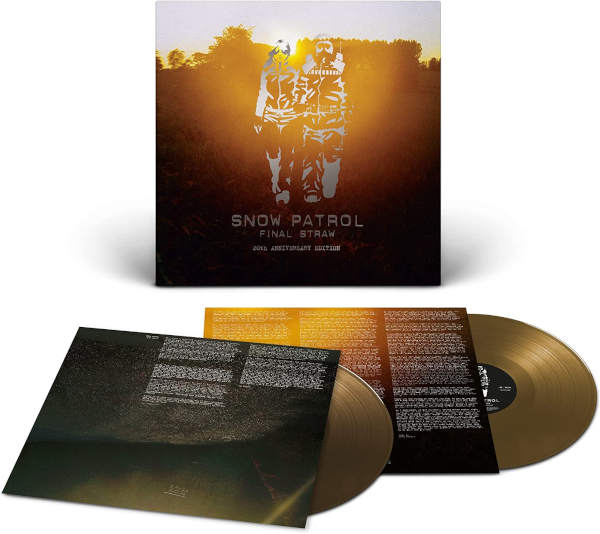 A 2LP vinyl edition pressed on gold coloured vinyl includes the B-sides, all the demos and the unreleased track on the second LP, but omits the live cuts. This gatefold vinyl record comes in a "metallic effect" sleeve, which means what would normally be white on the front cover become silver (Shakespears Sister did something similar for the Hormonally Yours reissue of 2022).
Mike Nielsen's 5.1 mix, from the 2004 SACD, is consigned to history, although it wouldn't surprise me to see a Dolby Atmos upgrade on streaming when this is released.
Talking of which, they are splitting the release of the formats. The 2CD set of Final Straw comes out on 7 April, while the vinyl is released on 4 August 2023, both via Polydor/UMR.
Update 30/3.23: CD moves to 4 August as well now!
Compare prices and pre-order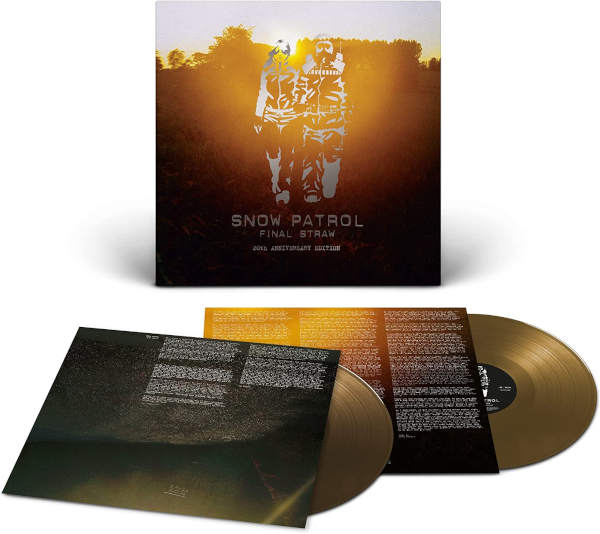 Snow Patrol
Final Straw 2LP gold vinyl
Compare prices and pre-order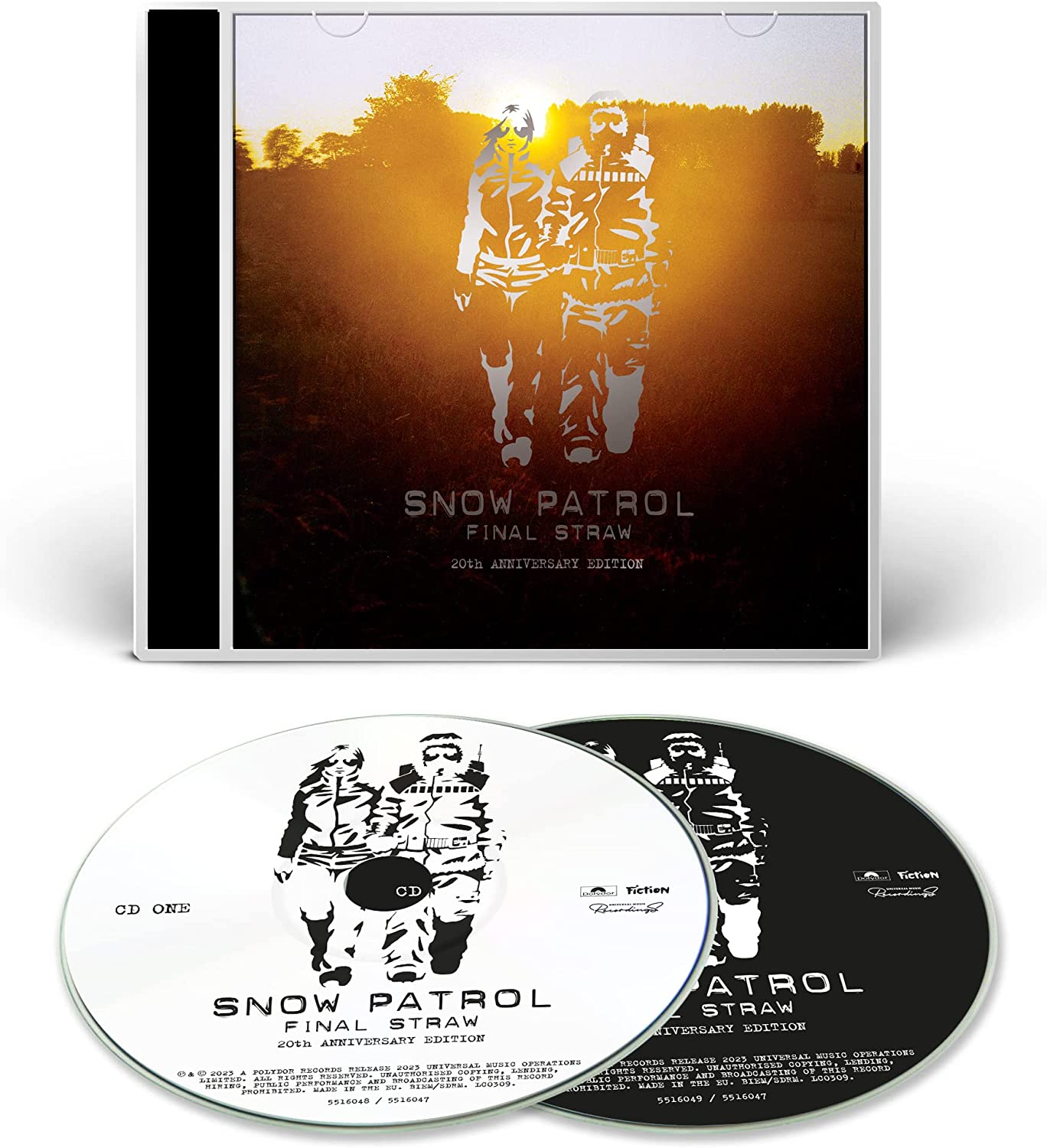 Snow Patrol
Final Straw - 2CD edition
Tracklisting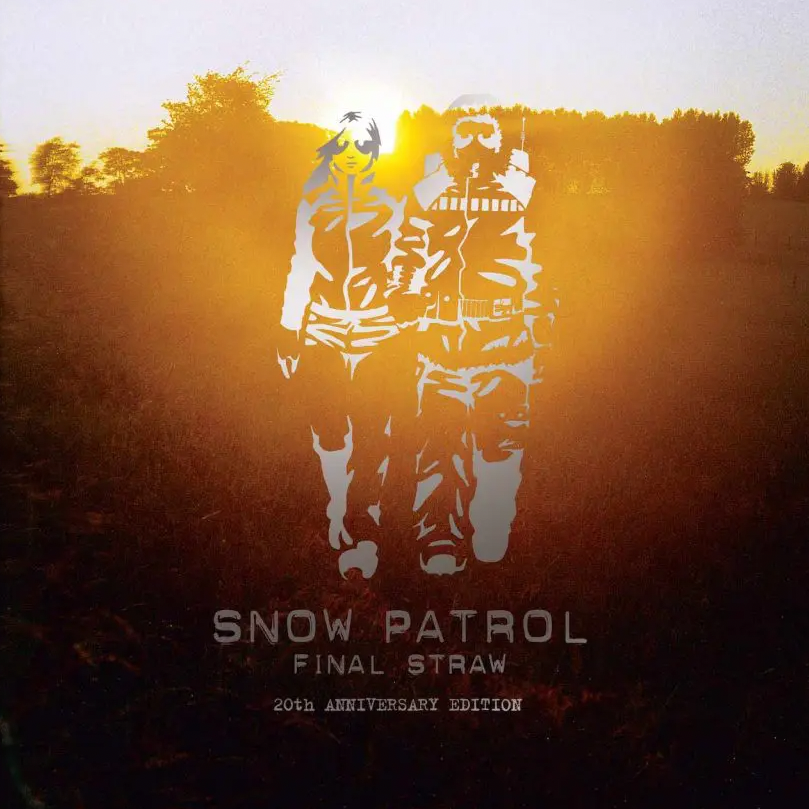 Final Straw Snow Patrol
/
20th anniversary edition
CD 1

HOW TO BE DEAD
WOW
GLEAMING AUCTION
WHATEVER'S LEFT
SPITTING GAMES
CHOCOLATE
RUN
GRAZED KNEES
WAYS & MEANS
TINY LITTLE FRACTURES
SOMEWHERE A CLOCK IS TICKING
SAME
STEAL (SPITTING GAMES B-SIDE)
STRONGER THAN BEFORE (DEMO)
BY HEART (DEMO)
WE CAN RUN AWAY NOW THEY'RE ALL DEAD AND GONE
TIRED *PREVIOUSLY COMMERCIALLY UNRELEASED
POST PUNK PROGRESSION (RUN B-SIDE)

CD 2

CHOCOLATE (DEMO)*
RUN (DEMO)*
GLEAMING AUCTION (DEMO)*
SOMEWHERE A CLOCK IS TICKING (DEMO)*
GRAZED KNEES (DEMO)*
SPITTING GAMES (DEMO)*
WOW (LIVE AT SOMERSET HOUSE)
GLEAMING AUCTION (LIVE AT SOMERSET HOUSE)
SPITTING GAMES (LIVE AT SOMERSET HOUSE)
HOW TO BE DEAD (LIVE AT SOMERSET HOUSE)
CHOCOLATE (LIVE AT SOMERSET HOUSE)
SAME (LIVE AT SOMERSET HOUSE)
SOMEWHERE A CLOCK IS TICKING (LIVE AT SOMERSET HOUSE)
WAYS & MEANS (LIVE AT SOMERSET HOUSE)
RUN (LIVE AT SOMERSET HOUSE)
POST PUNK PROGRESSION (LIVE AT SOMERSET HOUSE)
TINY LITTLE FRACTURES (LIVE AT SOMERSET HOUSE)

*PREVIOUSLY UNRELEASED

LP 1

Side A

HOW TO BE DEAD
WOW
GLEAMING AUCTION
WHATEVER'S LEFT
SPITTING GAMES
CHOCOLATE

Side B

RUN
GRAZED KNEES
WAYS & MEANS
TINY LITTLE FRACTURES
SOMEWHERE A CLOCK IS TICKING
SAME

LP 2

Side C

1. STEAL (SPITTING GAMES B-SIDE)
STRONGER THAN BEFORE (DEMO)
BY HEART (DEMO)
WE CAN RUN AWAY NOW THEY'RE ALL DEAD AND GONE
TIRED *PREVIOUSLY COMMERCIALLY UNRELEASED
POST PUNK PROGRESSION (RUN B-SIDE)
CHOCOLATE (DEMO)*

D

RUN (DEMO)*
GLEAMING AUCTION (DEMO)*
SOMEWHERE A CLOCK IS TICKING (DEMO)*
GRAZED KNEES (DEMO)*
SPITTING GAMES (DEMO)*

*PREVIOUSLY UNRELEASED