 News
Soft Cell's Non-Stop Erotic Cabaret is the next SDE-exclusive blu-ray
Non-Stop Immersive Cabaret. #15 in the SDE Surround Series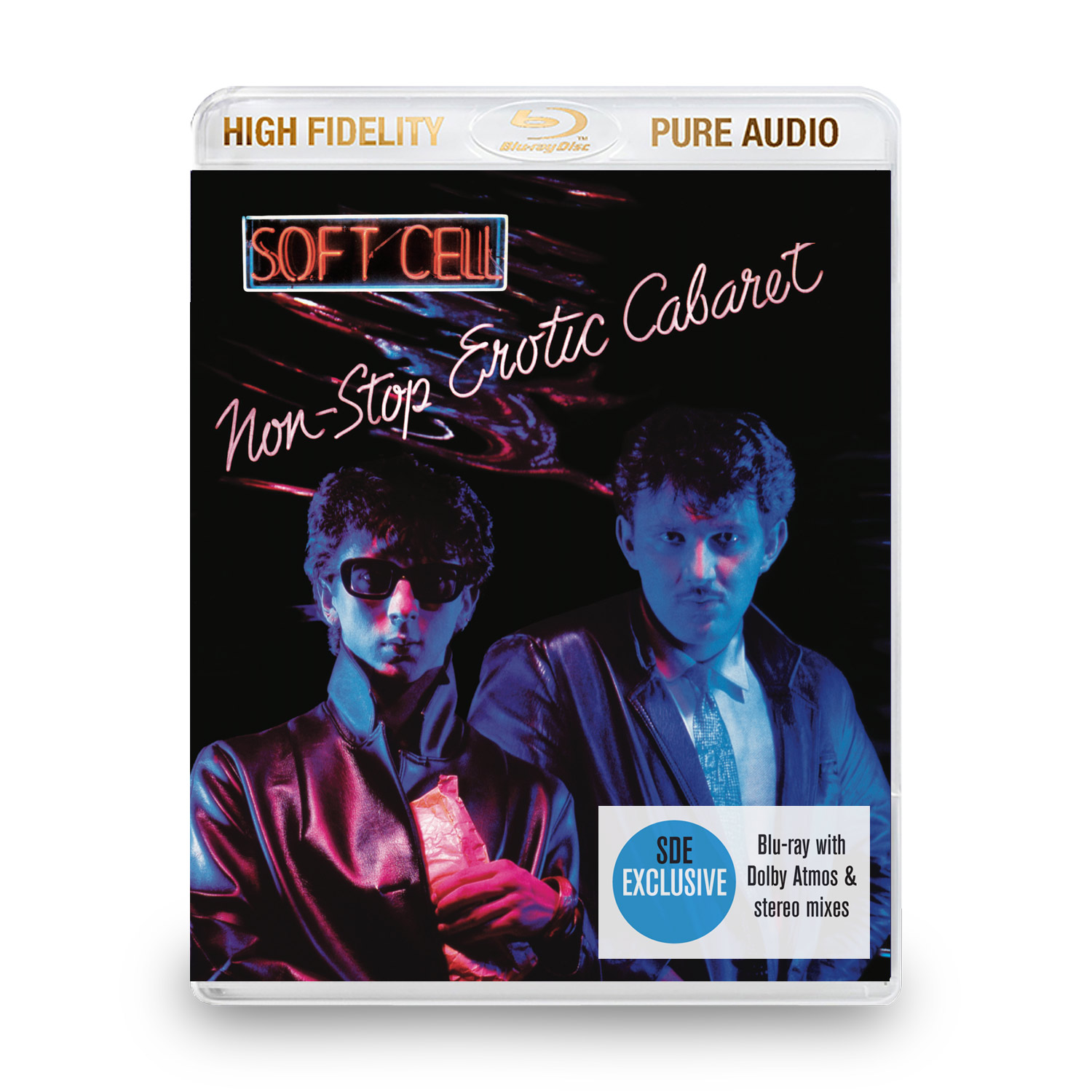 Dolby Atmos Mix + bonus tracks • Instrumentals in Atmos • Original Stereo Mix Remastered • HD Videos • Only available via theSDEshop.com
Soft Cell's 1981 album Non-Stop Erotic Cabaret is one of the most influential and iconic albums that emerged from the 1980s. I'm thrilled to announce that, in collaboration with EMI/UMR and the band, that a brand new Dolby Atmos Mix of the album and bonus tracks will be available via an SDE-exclusive blu-ray.
A critical and commercial success, Marc Almond and Dave Ball's debut paved the way for countless synth-based music duos, fashioning something dark and distinctive with a hint of pop that helped kick-start a new decade.
The album features three massive UK hit singles including the chart-topping 'Tainted Love', the best-selling UK single of 1981 which enjoyed phenomenal success in America and helped open up the U.S. for alternative and electronic artists such as The Cure and Depeche Mode.
Initially released in November 1981, the 10-track song cycle, in the words of Marc Almond, "Tells a story of a bored ordinary bloke seething with his life wanting more and looking for excitement and adventure in a red neon lit Soho world of red-light cabarets, prostitutes and sex dwarves, looking back at his youth and wondering what happened."
This SDE-exclusive blu-ray audio edition offers you a Non-Stop Immersive Cabaret, featuring a brand new 2023 Dolby Atmos Mix of Non-Stop Erotic Cabaret created at Abbey Road Studios under the supervision of the band. Additionally, three non-album singles 'Memorabilia', 'Torch' and 'What!' are also included in Dolby Atmos. So this blu-ray includes all five of Soft Cell's UK top 10 hits, in Atmos.
Furthermore, instrumentals of the album and the three bonus tracks are also included in Dolby Atmos and the same 13 tracks also feature in the original 1981 stereo mix, remastered. If that's not enough, four original Tim Pope promo videos for 'Bedsitter', 'Say Hello Wave Goodbye', 'Torch' and 'What!', available physically in HD for the very first time.
Blu-ray content summary:
Dolby Atmos Mix of Album + bonus singles (Memorabilia, Torch, What!)
Dolby Atmos Instrumentals of album + bonus singles
Remastered Original Stereo Mix of album + bonus singles
Four HD videos: Bedsitter, Say Hello Wave Goodbye, Torch, What!
This Soft Cell blu-ray audio is No 15 in the ongoing SDE Surround Series and will be packaged the same as previous editions and ships with a free, collectible SDE Surround Series slipcase with the number 15 on the spine. Here's the now traditional reminder as to why this blu-ray is highly recommended:
It's the only way to enjoy the Dolby Atmos mix of the album via a physical product
You don't need to sign-up to a streaming service such as Tidal or Apple Music to hear the spatial audio mix
The Atmos Mix on the Blu-ray is not compressed due to streaming bandwidth restrictions
You own the product, you are not renting it from a digital service provider
The Blu-ray audio is an excellent format for music and you don't want to see it die off
Supporting SDE with these initiatives is leading to similar collaborations with labels/artists and we are keen to bring your more in the near future!
The SDE-exclusive Blu-ray Audio of Non-Stop Erotic Cabaret is a limited edition item. It will be pressed based on demand and due to the short lead time to manufacture, it will be available to pre-order for 10 days only. Availability after that cannot be guaranteed, so secure your copy today by pre-ordering at the SDE shop, either directly via this link or using the special SDE shop buy button ('add to cart') below. A selected number of still available similar products are listed below for your convenience (Trevor Horn has newly added 5.1 instrumentals!)
We ship worldwide, you can now pay in your local currency and there's no longer any extra charges to the EU (if your order is worth less than €150).
Non-Stop Erotic Cabaret will be reissued on 1 December 2023 via EMI/UMR. Other vinyl and box set formats are available via the Soft Cell shop.
Tracklisting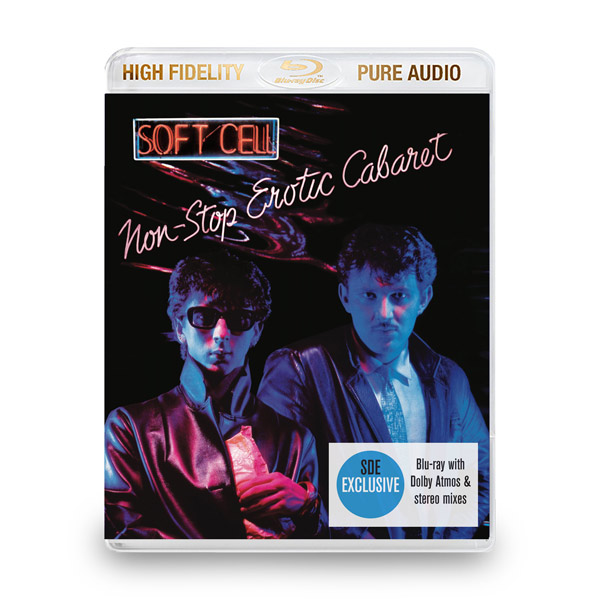 Non-Stop Erotic Cabaret Soft Cell
/
SDE-exclusive blu-ray
Non-Stop Erotic Cabaret + Bonus singles. 2023 Dolby Atmos Mix, 2023 Dolby Atmos Instrumentals, Original 1981 Stereo Mix

Frustration
Tainted Love
Seedy Films
Youth
Sex Dwarf
Entertain Me
Chips on my Shoulder
Bedsitter
Secret Life
Say Hello, Wave Goodbye

Bonus tracks

Memorabilia
Torch
What!

HD Promo Videos

Bedsitter
Say Hello, Wave Goodbye
Torch
What!
The SDE Surround Series so far is:
#1 Tears For Fears: The Tipping Point
#2 xPropaganda: The Heart Is Strange
#3 Gilbert O'Sullivan: Driven
#4 Shakespears Sister: Hormonally Yours
#5 Brian Eno: FOREVERANDEVERNOMORE
#6 Orbital: Optical Delusion
#6.5 Various Arists: Concert For George
#7 Ten Years After: A Space In Time
#8 Bob Dylan: Time Out Of Mind (2022 Remix)
#9 Tears For Fears: The Hurting
#10 Mike Oldfield: Tubular Bells
#11 Suede
#12 ABC: The Lexicon of Love
#13 Duran Duran: Danse Macabre
#14 Trevor Horn: Echoes – Ancient & Modern