 News
Soundgarden / Live from the Artists Den
Seven-disc super deluxe • 4LP vinyl • 2CD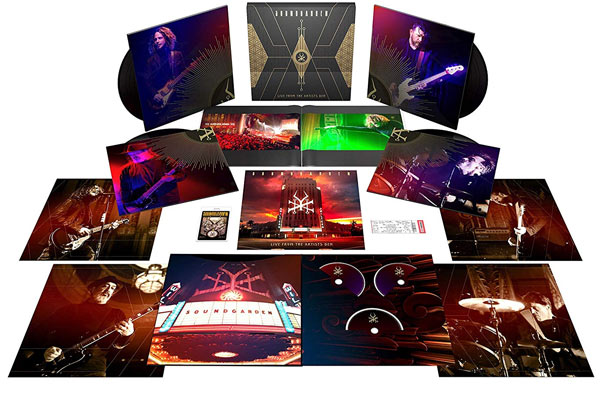 Soundgarden are to release their 'legendary' Artists Den show this July. The Live from the Artists Den was taped in February 2013, just after the band had finished their King Animal tour, which turned out to be their band's final studio release.

Shot at the Wiltern in Los Angeles, the show features 29 songs across two-and-a-half-hours, and showcasing tracks from each phase of the band's career from their debut single 'Hunted Down' through high points such as Badmotorfinger and the commercial breakthrough of Superunknown and understandably a fair whack from King Animal too.



The accompanying concert film featured 21 songs never released live on screen before, 17 of which have never been released on record, including 'Blind Dogs' which is the first-time the band ever performed the song live.

Now about to be issued on a variety of formats, as Soundgarden: Live from the Artists Den, the limited-edition super deluxe edition box will feature the complete 29-song concert film in 5.1 surround sound and stereo on Blu-ray, along with more than 30 minutes of bonus interviews with the band. The same set will also feature four 180-gram audiophile black LPs, 2CDs, a 40-page photo book, four band member lithographs, replica artist all-access pass and a replica ticket stub.

The 4LP black vinyl will be available separately and 5.1 fans who don't want the big box will be pleased to hear that the blu-ray is also available on its own. There's also a two-CD set.

Make the most of these sort of band releases though, since Chris Cornell died in 2017, the rest of the band respectfully decided to knock it on the head rather than get a new vocalist involved. Although Live at the Artists Den follows last November's Chris Cornell compilation, which was classily stickered as 'his first collection' so it looks like this won't be the last of the posthumous releases.

Soundgarden: Live from the Artists Den is released 26 July 2019.


LP1 – Side A
Incessant Mace

My Wave

Been Away Too Long
LP1 – Side B
Worse Dreams

Jesus Christ Pose

Flower

Taree
LP2 – Side A
Spoonman

By Crooked Steps

Blind Dogs

Rowing
LP2 – Side B
Non-State Actor

Drawing Flies

Hunted Down

Black Saturday

Bones of Birds
LP3 – Side A
Blow Up The Outside World

Fell On Black Days

Burden In My Hand
LP3 – Side B
A Thousand Days Before

Blood On The Valley Floor

Rusty Cage

New Damage
LP4 – Side A
4th Of July

Outshined

Black Hole Sun
LP4 – Side B
Ty Cobb

Slaves & Bulldozers

FeedBacchanal
2CD
Disc 1
Incessant Mace

My Wave

Been Away Too Long

Worse Dreams

Jesus Christ Pose

Flower

Taree

Spoonman

By Crooked Steps

Blind Dogs

Rowing

Non-State Actor

Drawing Flies

Hunted Down

Black Saturday

Bones of Birds

Blow Up The Outside World
Disc 2
Fell On Black Days

Burden In My Hand

A Thousand Days Before

Blood On The Valley Floor

Rusty Cage

New Damage

4th Of July

Outshined

Black Hole Sun

Ty Cobb

Slaves & Bulldozers

FeedBacchanal
Blu-Ray
Disc 1
Incessant Mace

My Wave

Been Away Too Long

Worse Dreams

Jesus Christ Pose

Flower

Taree

Spoonman

By Crooked Steps

Blind Dogs

Rowing

Non-State Actor

Drawing Flies

Hunted Down

Black Saturday

Bones of Birds

Blow Up The Outside World

Fell On Black Days

Burden In My Hand

A Thousand Days Before

Blood On The Valley Floor

Rusty Cage

New Damage

4th Of July

Outshined

Black Hole Sun

Ty Cobb

Slaves & Bulldozers

FeedBacchanal

BONUS INTERVIEW – Chris Cornell

BONUS INTERVIEW – Kim Thayil

BONUS INTERVIEW – Matt Cameron

BONUS INTERVIEW – Ben Shepherd