 News
Split Enz / Coloured vinyl reissues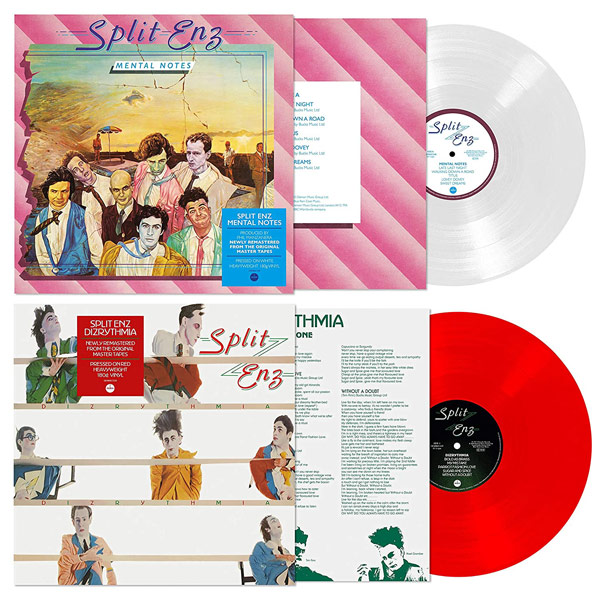 Newly remastered from the original tapes • 180g Coloured vinyl
New Zealand new wave band Split Enz' second and third albums, Mental Notes and Dizrythmia, have been newly remastered and will be reissued as coloured vinyl pressings in May.

The band were formed in 1973 by Tim Finn and Phil Judd, and included various other members over the years, such as Neil Finn and keyboard player Eddie Raynor.
Slightly confusingly, 1976's Mental Notes featured re-recordings of four songs from their debut of the same name (which is why it's called Second Thoughts down under). It was recorded in London as the band were joined in the studio by Roxy Music's Phil Manzanera.
Mental Notes remastered white vinyl comes in a gatefold presentation
The follow-up, Dizrythmia was issued in the following year (1977). The third album was the point where Neil Finn joined his brother in the band (and Phil Judd and Mike Chunn left) and the record is notable for being co-produced by Beatles engineer Geoff Emerick.
Both Mental Notes and Dizrythmia have been newly remastered from the original tapes and are receiving their first vinyl release in three decades. Mental Notes is a gatefold package with the inside gatefold featuring the alternative artwork when it was issued (as Second Thoughts) in Australia and New Zealand.
Both coloured vinyl pressings are released on 22 May 2020 by Demon Records and I'm pleased to say we are making these available via the SDE shop.
Compare prices and pre-order
Split Enz
Mental Notes (180g White Vinyl)
Compare prices and pre-order
Split Enz
Dizrythmia (180g Red Vinyl)
Mental Notes white vinyl gatefold
Side A

1 Late Last Night
2 Walking Down A Road
3 Titus
4 Lovey Dovey
5 Sweet Dreams
Side B

1 Stranger Than Fiction
2 Time For A Change
3 Matinee Idyll
4 The Woman Who Loves You
5 Mental Notes
Dizrythmia 180g red vinyl
Side A
1 Bold As Brass
2 My Mistake
3 Parrot Fashion Love
4 Sugar And Spice
5 Without A Doubt
Side B
1 Crosswords
2 Charley
3 Nice To Know
4 Jamboree