 News
Step Back In Time with Kylie. Again.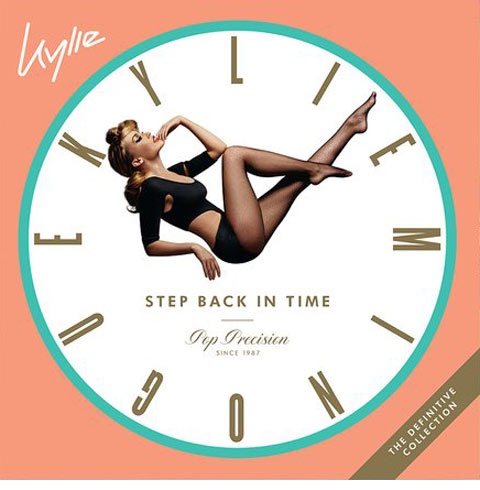 The Definitive Collection arrives in June
Kylie Minogue has announced details of a new hits round-up.
Step Back in Time: The Definitive Collection is ostensibly released to tie-in with her 30th anniversary as a pop force and her slots at Glastonbury, Brighton Pride and various other festivals this summer.

Step Back in Time: The Definitive Collection is Kylie's fifth greatest hits, following 2012's The Best of, and while there's not much new to woo anyone who doesn't have this stuff already on this latest collection, it will be the first to round up some of her later hits on vinyl, making that quite a desirable affair.
With 51 Top 40 singles, including seven number ones, the collection is a proper trolley dash around all the obvious biggies, but also features fan-favourites such as 'Your Disco Needs You' but omits stuff like 'Chocolate', 'The Word is Out' and I understand a petition is being put into action for its omission of the Manics-written 'Some Kind of Bliss'.
There's also a bonus of new track 'New York City' which is listed as a 'hidden' track, and it's the first time 'Timebomb' has featured on a worldwide released album. The collection also follows the pattern of 2004's Ultimate Kylie with predominantly Parlophone stuff on one disc and the PWL gear on another.

This double vinyl picture disc is exclusive to Kylie's official store. Click image to pre-order.
The album will be available as a 42-track 2CD set, a deluxe of which offers enhanced packaging with a 32-page book hardcover book and there's a trio of vinyl variants – black, limited mint green and picture disc (the latter exclusive to Kylie's webstore) – each contain 20 tracks and come with a digital download code for all 42 tracks.
There is also a double-cassette edition (oh yes) which is available in five different colours. Like the picture disc, these are exclusive to Kylie's store, which also offers various bundles. SDE must give a nod to the design team who have done a fantastic job on the cover.
Step Back in Time: The Definitive Collection is released 28 June 2019.
Step Back In Time 2CD edition
CD1
1. CAN'T GET YOU OUT OF MY HEAD
2. SPINNING AROUND
3. LOVE AT FIRST SIGHT
4. DANCING
5. IN YOUR EYES
6. SLOW
7. ALL THE LOVERS
8. I BELIEVE IN YOU
9. IN MY ARMS
10. ON A NIGHT LIKE THIS
11. YOUR DISCO NEEDS YOU
12. PLEASE STAY
13. 2 HEARTS
14. BREATHE
15. RED BLOODED WOMAN
16. THE ONE
17. COME INTO MY WORLD
18. WOW
19. GET OUTTA MY WAY
20. TIMEBOMB
21. KIDS (WITH ROBBIE WILLIAMS)
22. STOP ME FROM FALLING
CD2
1. STEP BACK IN TIME
2. BETTER THE DEVIL YOU KNOW
3. HAND ON YOUR HEART
4. WOULDN'T CHANGE A THING
5. SHOCKED
6. ESPECIALLY FOR YOU (WITH JASON DONOVAN)
7. I SHOULD BE SO LUCKY
8. CELEBRATION
9. THE LOCO-MOTION
10. GIVE ME JUST A LITTLE MORE TIME
11. NEVER TOO LATE
12. GOT TO BE CERTAIN
13. TEARS ON MY PILLOW
14. JE NE SAIS PAS POURQUOI
15. WHAT KIND OF FOOL (HEARD ALL THAT BEFORE)
16. WHAT DO I HAVE TO DO?
17. CONFIDE IN ME
18. PUT YOURSELF IN MY PLACE
19. WHERE THE WILD ROSES GROW (WITH NICK CAVE & THE BAD SEEDS)
20. NEW YORK CITY (HIDDEN TRACK)
Step Back in Time  2LP edition (includes download for 42-track version)
LP1
SIDE A
1. CAN'T GET YOU OUT OF MY HEAD
2. SPINNING AROUND
3. LOVE AT FIRST SIGHT
4. IN YOUR EYES
5. SLOW
SIDE B
1. ALL THE LOVERS
2. I BELIEVE IN YOU
3. IN MY ARMS
4. ON A NIGHT LIKE THIS
5. WOW
LP2
SIDE A
1. STEP BACK IN TIME
2. BETTER THE DEVIL YOU KNOW
3. SHOCKED
4. I SHOULD BE SO LUCKY
5. ESPECIALLY FOR YOU (WITH JASON DONOVAN)
SIDE B
1. CONFIDE IN ME
2. PUT YOURSELF IN MY PLACE
3. 2 HEARTS
4. KIDS (WITH ROBBIE WILLIAMS)
5. DANCING
Step Back in Time  double cassette edition
CASSETTE 1
SIDE A
1. CAN'T GET YOU OUT OF MY HEAD
2. SPINNING AROUND
3. LOVE AT FIRST SIGHT
4. DANCING
5. IN YOUR EYES
6. SLOW
7. ALL THE LOVERS
8. I BELIEVE IN YOU
9. IN MY ARMS
10. ON A NIGHT LIKE THIS
11. YOUR DISCO NEEDS YOU
12. PLEASE STAY
SIDE B
1. 2 HEARTS
2. BREATHE
3. RED BLOODED WOMAN
4. THE ONE
5. COME INTO MY WORLD
6. WOW
7. GET OUTTA MY WAY
8. TIMEBOMB
9. KIDS (WITH ROBBIE WILLIAMS)
10. STOP ME FROM FALLING
CASSETTE 2
SIDE A
1. STEP BACK IN TIME
2. BETTER THE DEVIL YOU KNOW
3. HAND ON YOUR HEART
4. WOULDN'T CHANGE A THING
5. SHOCKED
6. ESPECIALLY FOR YOU (WITH JASON DONOVAN)
7. I SHOULD BE SO LUCKY
8. CELEBRATION
9. THE LOCO-MOTION
10. GIVE ME JUST A LITTLE MORE TIME
SIDE B
1. NEVER TOO LATE
2. GOT TO BE CERTAIN
3. TEARS ON MY PILLOW
4. JE NE SAIS PAS POURQUOI
5. WHAT KIND OF FOOL (HEARD ALL THAT BEFORE)
6. WHAT DO I HAVE TO DO?
7. CONFIDE IN ME
8. PUT YOURSELF IN MY PLACE
9. WHERE THE WILD ROSES GROW (WITH NICK CAVE)