 News
Stereolab / 3LP and 2CD reissues
Remastered • 3LP and 2CD • Bonus tracks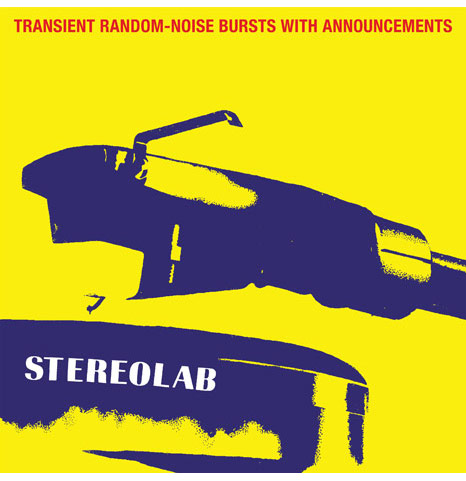 A Stereolab reissue campaign has been announced and kicks off in May with expanded versions of 1993's Transient Random Noise-Bursts With Announcements and its 1994 follow-up Mars Audiac Quintet.

Each album has been re-mastered from the original half-inch tapes by Bo Kondren at Calyx Mastering and overseen by Tim Gane. Bonus material will includes alternate takes, 4-track demos and unreleased mixes. All the bonus material is available on both CD and vinyl.
3LP vinyl packages are available and come with a download card, a poster/insert and a lottery-style scratch card, where winners receive a special 12-inch EP!


Two CD expanded sets are also available and more Stereolab reissues will follow in August and November this year. In the meantime, head over to the SDE shop which is stocking the 3LP vinyl packages, the CD sets and a CD bundle.

Transient Random Noise-Bursts With Announcements and Mars Audiac Quintet are reissued on 3 May 2019.
<![CDATA[
/**/
]]>

Transient Random Noise-Bursts With Announcements expanded 3LP vinyl
A1. Tone Burst
A2. Our Trinitone Blast
A3. Pack Yr Romantic Mind
B1. I'm Going Out Of My Way
B2. Golden Ball
B3. Pause
C1. Jenny Ondioline
D1. Analogue Rock
D2. Crest
D3. Lock-Groove Lullaby
E1. Fragments
E2. Jenny Ondioline [7″/EP Version – Alternative Mix]
E3. Drum – Backwards Bass – Organ [Jenny Ondioline Breakdown Full Version]
E4. Analogue Rock [Original Mix]
E5. Pause [Original Mix]
E6. French Disco [Early Version Mix]
F1. Jenny Ondioline Part 2 [Breakdown Mix]
F2. Fruition – Demo
F3. I'm Going Out Of My Way – Demo
F4. French Disco – Demo
F5. Lock Groove Lullaby – Demo
F6. Jenny Ondioline – Demo
F7. Pause – Demo
Transient Random Noise-Bursts With Announcements expanded 2CD
CD 1
01. Tone Burst
02. Our Trinitone Blast
03. Pack Yr Romantic Mind
04. I'm Going Out Of My Way
05. Golden Ball
06. Pause
07. Jenny Ondioline
08. Analogue Rock
09. Crest
10. Lock-Groove Lullaby
CD 2
01. Fragments
02. Jenny Ondioline [7″/EP Version – Alternative Mix]
03. Drum – Backwards Bass – Organ [Jenny Ondioline Breakdown Full Version]
04. Analogue Rock [Original Mix]
05. Pause [Original Mix]
06. French Disco [Early Version Mix]
07. Jenny Ondioline Part 2 [Breakdown Mix]
08. Fruition – Demo
09. I'm Going Out Of My Way – Demo
10. French Disco – Demo
11. Lock Groove Lullaby – Demo
12. Jenny Ondioline – Demo
13. Pause – Demo
Mars Audiac Quintet expanded 3LP vinyl
A1. Three-Dee Melodie
A2. Wow And Flutter
A3. Transona Five
A4. Des Etoiles Electroniques
B1. Ping Pong
B2. Anamorphose
B3. Three Longers Later
C1. Nihilist Assault Group
C2. International Colouring Contest
C3. The Stars Our Destination
C4. Transporte Sans Bouger
D1. L'Enfer Des Formes
D2. Outer Accelerator
D3. New Orthophony
D4. Fiery Yellow
E1. Ulan Bator
E2. Klang Tone
E3. Melochord Seventy-Five [Original Pulse Version]
E4. Outer Accelerator – [Original Mix]
F1. Nihilist assault Group – Part 6
F2. Wow and Flutter [7″/EP Version – Alternative Mix]
F3. Des Etoile Electroniques – Demo
F4. Ping Pong- Demo
F5. The Stars Our Destination – Demo
F6. Three Longers Later – Demo
F7. Transona Five – Demo
F8. Transporté Sans Bouger – Demo
Mars Audiac Quintet expanded 2CD
CD 1
01. Three-Dee Melodie
02. Wow And Flutter
03. Transona Five
04. Des Etoiles Electroniques
05. Ping Pong
06. Anamorphose
07. Three Longers Later
08. Nihilist Assault Group
09. International Colouring Contest
10. The Stars Our Destination
11. Transporte Sans Bouger
12. L'Enfer Des Formes
13. Outer Accelerator
14. New Orthophony
15. Fiery Yellow
CD 2
01. Ulan Bator
02. Klang Tone
03. Melochord Seventy-Five [Original Pulse Version]
04. Outer Accelerator – [Original Mix]
05. Nihilist assault Group – Part 6
06. Wow and Flutter [7″/EP Version – Alternative Mix]
07. Des Etoile Electroniques – Demo
08. Ping Pong- Demo
09. The Stars Our Destination – Demo
10. Three Longers Later – Demo
11. Transona Five – Demo
12. Transporté Sans Bouger – Demo