 News
Stone Temple Pilots / Purple reissue
3CD+LP set features remaster plus host of unreleased audio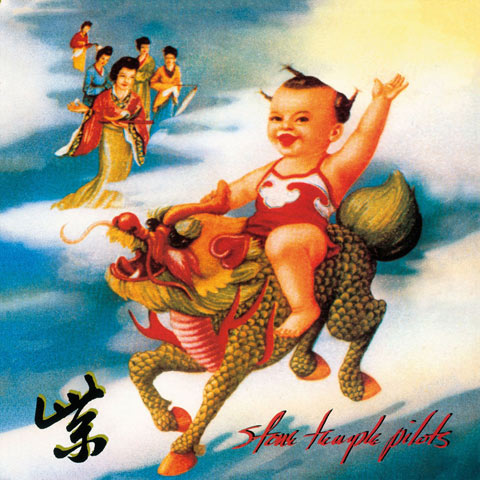 Stone Temple Pilots are to reissue their 1994 album Purple as a four-disc super deluxe edition.

The 3CD+LP package includes a newly remastered version of the original studio album on both CD and vinyl, plus unreleased versions of album tracks and rarities, along with an unheard full concert recording from 1994.
The super deluxe edition features three CDs and a vinyl LP

The band's second long-player, Purple gave the Scott Weiland-fronted combo a number one album in the states, selling over six million copies, as well as a top ten placing in the UK. Produced by Brendan O'Brien, it featured the singles 'Big Empty', 'Interstate Love Song' and 'Vasoline'. Purple saw the band still primarily routed in the grunge sphere, while adding new elements of psychedelia and country into the mix.



Among the bonus content, this new edition explores the making of the album with a mix of unreleased music that includes demos ('Unglued' and 'Army Ants') and early versions of album tracks ('Meat Plow' and 'Interstate Love Song'), plus acoustic recordings ('Big Empty').

The second CD of the collection also features three unreleased live performances from the 1994 KROQ Acoustic Christmas show, including a version of 'Christmastime Is Here' from A Charlie Brown Christmas. There is also the previously unreleased demo of 'She Knows Me Too Well', a song the Beach Boys originally recorded in 1965.

The third disc also has the full, previously unreleased August 23, 1994 concert from New Haven, Connecticut, a 17-song set featuring both electric and acoustic sets, including ten songs from Purple along with hits from their debut Core ('Plush' and 'Sex Type Thing') and some covers.

If you don't really want the vinyl there is also a two-CD deluxe which includes the demos/early versions CD from the super deluxe but omits the live tracks. If you really want to, you can just buy the remaster on a single CD!

Purple is reissued on 18 October 2019 (was 13 September).


Compare prices and pre-order
Stone Temple Pilots
Purple - 3CD+LP super deluxe
Compare prices and pre-order
Stone Temple Pilots
Purple - 2CD deluxe
Compare prices and pre-order
Stone Temple Pilots
Purple - single CD remaster

Purple
 3CD+vinyl LP super deluxe
Vinyl LP:
Purple 2019 remaster
CD 1:
Purple 2019 Remaster (CD)
1.    "Meat Plow"
2.    "Vasoline"
3.    "Lounge Fly"
4.    "Interstate Love Song"
5.    "Still Remains"
6.    "Pretty Penny"
7.    "Silvergun Superman"
8.    "Big Empty"
9.    "Unglued"
10.  "Army Ants"
11.  "Kitchenware & Candybars"
CD 1
: Early Versions, Demos & Acoustic
1.    "Meat Plow" – Early Version *
2.    "Interstate Love Song" – Early Version *
3.    "Big Empty" – Acoustic Version *
4.    "Unglued" – Demo *
5.    "Army Ants" – Demo *
6.    "Kitchenware & Candybars" – Demo *
7.    "Dancing Days"
8.    "She Knows Me Too Well" – Demo *
9.    "Interstate Love Song" – Acoustic Version *
Live At KROQ Acoustic Christmas 1994
10.    "Pretty Penny" – Acoustic Version *
11.    "Kitchenware & Candybars" – Acoustic Version *
12.    "Christmastime Is Here" – Acoustic Version *
CD 3
: Live at New Haven Vererans Memorial Coliseum, New Haven, CT, August 23, 1994
1.    "Vasoline" *
2.    "Silvergun Superman" *
3.    "Crackerman" *
4.    "Lounge Fly" *
5.    "Meat Plow" *
6.    "Still Remains" *
7.    "Gypsy Davy" *
8.    "Pretty Penny" *
9.    "Creep" *
10.  "Andy Warhol" *
11.  "Army Ants" *
12.  "Big Empty" *
13.  "Interstate Love Song" *
14.  "Plush" *
15.  "Unglued" *
16.  "Dead & Bloated" *
17.  "Sex Type Thing" *
* previously unreleased
CD1:
 Purple 2019 Remaster
"Meat Plow"
"Vasoline"
"Lounge Fly"
"Interstate Love Song"
"Still Remains"
"Pretty Penny"
"Silvergun Superman"
"Big Empty"
"Unglued"
"Army Ants"
"Kitchenware & Candybars"
CD 2:
Early Versions, Demos & Acoustic
"Meat Plow" – Early Version *
"Interstate Love Song" – Early Version *
"Big Empty" – Acoustic Version *
"Unglued" – Demo *
"Army Ants" – Demo *
"Kitchewnware & Candybars" – Demo *
"Dancing Days"
"She Knows Me Too Well" – Demo *
"Interstate Love Song" – Acoustic Version *
Live At KROQ Acoustic Christmas 1994
"Pretty Penny" – Acoustic Version *
"Kitchenware & Candybars" – Acoustic Version *
"Christmastime Is Here" – Acoustic Version *
* previously unreleased