 News
Stone Temple Pilots / Tiny Music reissue
3CD+vinyl LP super deluxe of 1996 album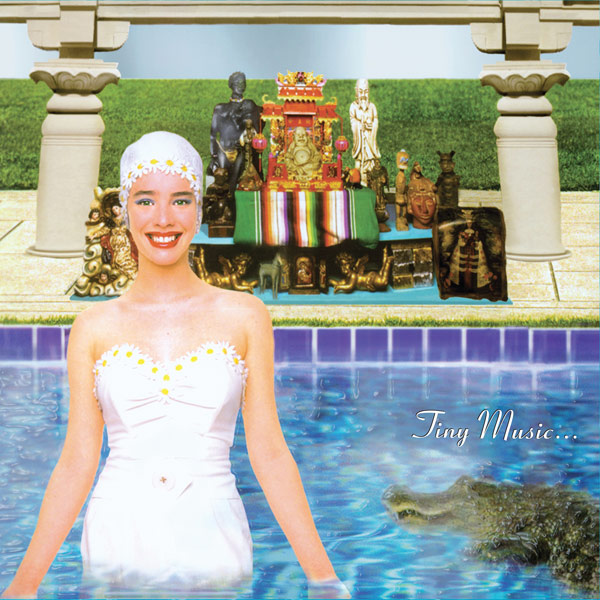 Stone Temple Pilots' third album, Tiny Music… Songs From The Vatican Giftshop will be reissued in the summer as a four-disc super deluxe edition box set.

Released 25 years ago TODAY the album features the singles 'Big Bang Baby', 'Trippin' on a Hole in a Paper Heart' and 'Lady Picture Show'. All three reached the top of Billboard's Mainstream Rock chart (the band never really had any 'proper' hits in America, 'Sour Girl' from 2000 came closest, peaking at 78 in the Hot 100).
Rhino's is reissuing the album as a 3CD+vinyl LP super deluxe edition. This includes a newly remastered version of Tiny Music… on CD and black vinyl, 15 early versions/instrumentals/alternates (on CD2) and a complete concert recording from 1997 on the third CD. This gig is the band's 14 March 1997 concert in Panama City Beach, Florida.
In addition to the super deluxe there will be a two-CD deluxe edition (with CD 1 and CD 2 from the box) and a single CD remaster. There is no standalone vinyl edition.
Tiny Music… Songs From The Vatican Giftshop will be released on 23 July 2021 (was 9 July)
Compare prices and pre-order
Stone Temple Pilots
Tiny Music... Songs From The Vatican Giftshop - 3CD+LP super deluxe
Compare prices and pre-order
Stone Temple Pilots
Tiny Music... Songs From The Vatican Giftshop - 2CD deluxe
Compare prices and pre-order
Stone Temple Pilots
Tiny Music... Songs From The Vatican Giftshop - single CD remaster
Tracklisting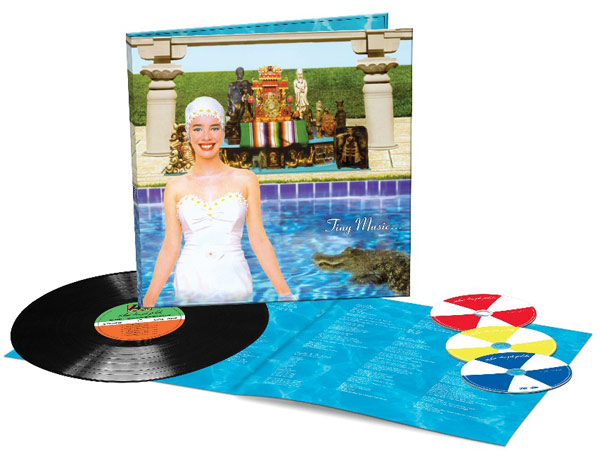 Tiny Music Stone Temple Pilots
/
3CD+LP super deluxe
"Press Play"
"Pop's Love Suicide"
"Tumble In The Rough"
"Big Bang Baby"
"Lady Picture Show"
"And So I Know"
"Trippin' On A Hole In A Paper Heart"
"Art School Girl"
"Adhesive"
"Ride The Cliché"
"Daisy"
"Seven Caged Tigers"

"Press Play" – Full Length Version *
"Pop's Love Suicide" – Early Version *
"Tumble In The Rough" – Early Version *
"Big Bang Baby" – Early Version *
"Lady Picture Show" – Early Version *
"And So I Know" – Early Version *
"Trippin' On A Hole In A Paper Heart" – Early Version *
"5 Or 4 Times (Art School Girl)" – Early Version *
"Adhesive" – Instrumental *
"Ride The Cliché" – Instrumental *
"Seven Caged Tigers" – Early Version *
"Big Bang Baby" – Alternate Version *
"Trippin' On A Hole In A Paper Heart" – Percussion Mix *
"Art School Girl" – Jaw Harp Version *
"Kretz's Acoustic Song" *

Crackerman" *
"Meatplow" *
"Tumble In The Rough" *
"Vasoline" *
"Wicked Garden" *
"Trippin' On A Hole In A Paper Heart" *
"Plush" *
"Big Empty" *
"Interstate Love Song" *
"Lady Picture Show" *
"Unglued" *
"Big Bang Baby" *
"Dead & Bloated" *
"Sex Type Thing" *

Side A

"Press Play"
"Pop's Love Suicide"
"Tumble In The Rough"
"Big Bang Baby"
"Lady Picture Show"
"And So I Know"

Side B

"Trippin' On A Hole In A Paper Heart"
"Art School Girl"
"Adhesive"
"Ride The Cliché"
"Daisy"
"Seven Caged Tigers"