 News
T. Rex / Whatever Happened to the Teenage Dream? (1973)
Tanx and Zinc Alloy explored 50 years on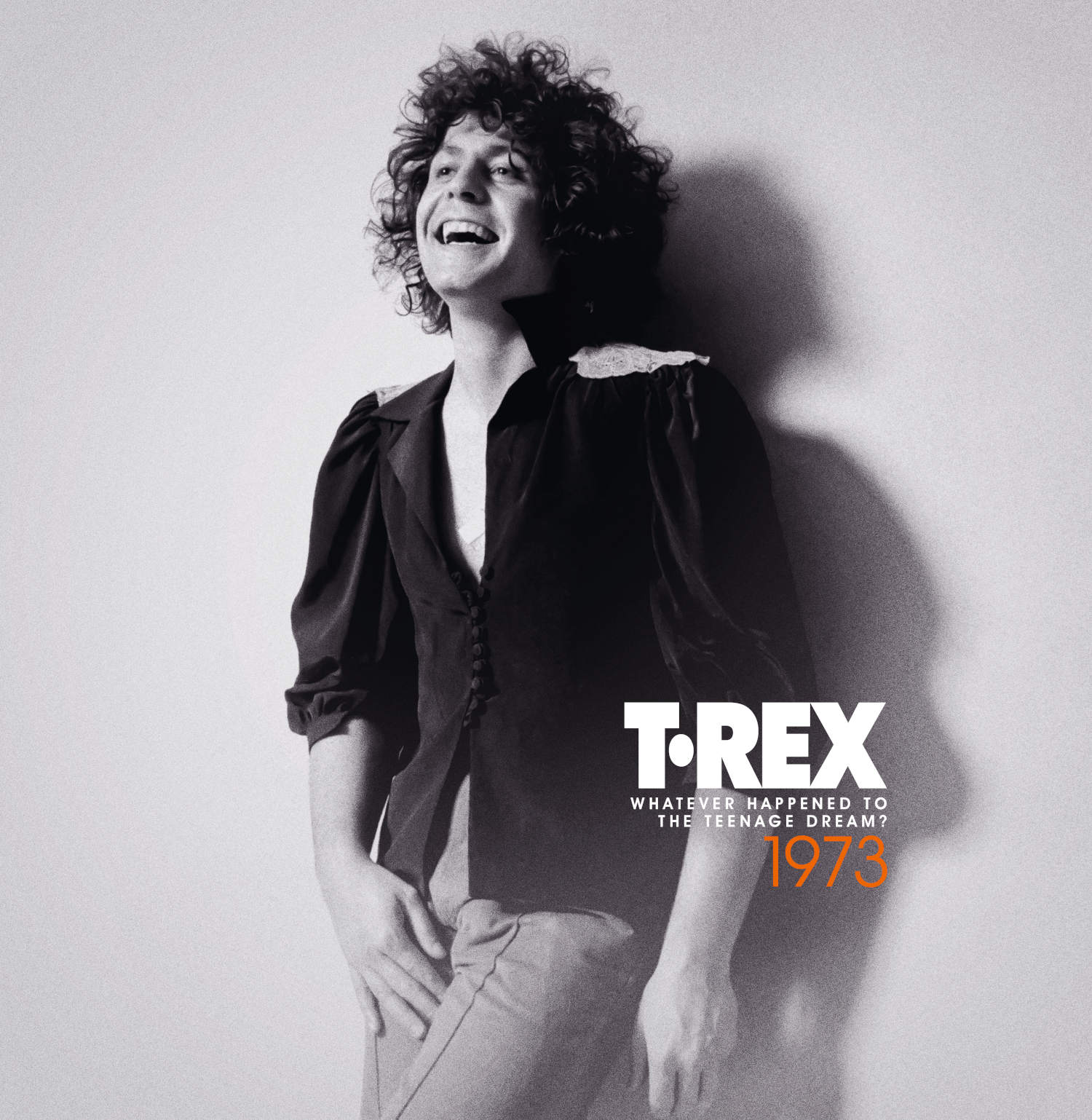 Demon Music continue with their year-themed Marc Bolan / T. Rex releases with CD and vinyl box sets focused on 1973 called Whatever Happened to the Teenage Dream?
The 4CD and 5LP sets include the Tanx and Zinc Alloy albums, along with the non-album hit singles & B-sides, including 'Children Of The Revolution', 'Solid Gold Easy Action", '20th Century Boy' and 'The Groover' as well demos and outtakes from both albums. The sets also focus on Marc's initial forays into the world of soul music and highlights from the unfinished album he wrote and produced for the American singer 'Sister' Pat Hall.
Both box sets feature a brand new 16,000-word essay by Mark Paytress, detailing Bolan's life through this eventful period along with many previously unpublished photos taken by Keith Morris, as well as ephemera from the era.
The 5LP vinyl edition is pressed on orange vinyl and the official artists shop offers A4 prints of Tony Visconti's score for 'Whatever Happened To the Teenage Dream' (note: these are not signed).
Additionally there's a single LP 'Songwriter' version of this release and two seven-inch picture discs (20th Century Boy and 'The Groover' both limited to just 1000 units.
All formats of Whatever Happened to the Teenage Dream? will be released on 26 May 2023.
Compare prices and pre-order
T.Rex
Whatever Happened to the Teenage Dream - 4CD box set
Compare prices and pre-order
T.Rex
Whatever Happened to the Teenage Dream - 5LP orange vinyl
Compare prices and pre-order
T.Rex
20th century boy - seven-inch picture disc
Compare prices and pre-order
T.Rex
The Groover - seven-inch picture disc
Tracklisting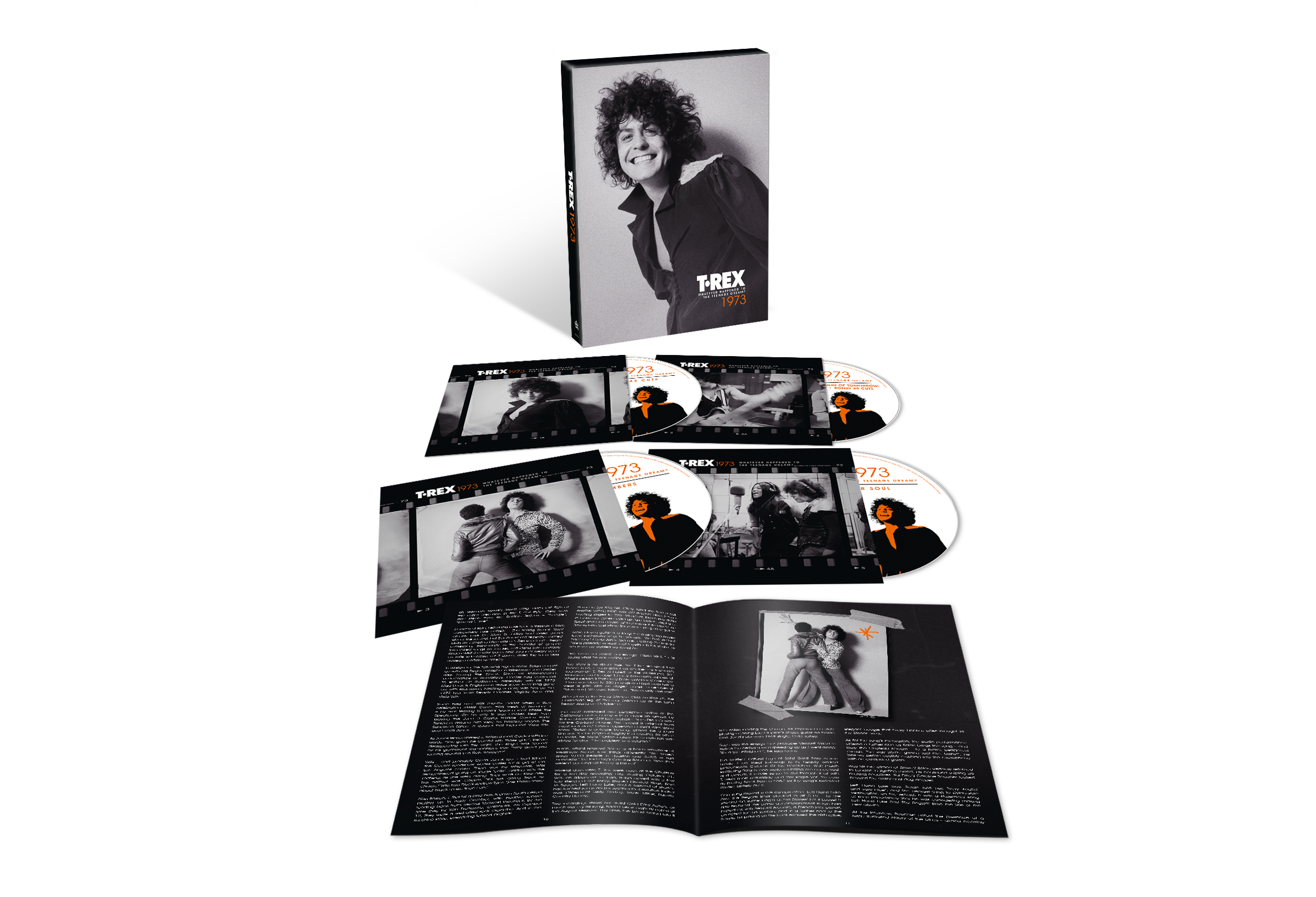 Whatever Happened to the Teenage Dream T. Rex
/
CD 1: Tanx

Tenement Lady
Rapids
Mister Mister
Broken-Hearted Blues
Shock Rock
Country Honey
Electric Slim And The Factory Hen
Mad Donna
Born To Boogie
Life Is Strange
The Street And Babe Shadow
Highway Knees
Left Hand Luke And The Beggar Boys

Bonus 45 Cuts

Children Of The Revolution
Jitterbug Love
Sunken Rags
Solid Gold Easy Action
Xmas Riff
20th Century Boy
Free Angel

CD 2: ZINC ALLOY AND THE HIDDEN RIDERS OF TOMORROW / A CREAMED CAGE IN AUGUST

Venus Loon
Sound Pit
Explosive Mouth
Galaxy
Change
Nameless Wildness
Teenage Dream [single version]
Liquid Gang
Carsmile Smith And The Old One
You've Got To Jive To Stay Alive – Spanish Midnight
Interstellar Soul
Painless Persuasion v The Meathawk Immaculate
The Avengers (Superbad)
The Leopards Featuring Gardenia & The Mighty Slug

Bonus 45 cuts

The Groover
Midnight
Truck On (Tyke)
Sitting Here
Satisfaction Pony

CD 3: PRIVATE NUMBERS

Tanx Era

Jitterbug Love
Electric Slim And The Factory Hen [alias You Got The Look]
Highway Knees
Mad Donna
Mister Mister
Country Honey
Rapids
Life Is Strange
The Street & Babe Shadow
Darling
Free Angel
Left Hand Luke And The Beggar Boys

Zinc Alloy Era

Change
Galaxy
Carsmile Smith & The Old One
Spanish Midnight
Sitting There [Sitting Here]
Gardenia & The Mighty Slug
The Groover
Dance In The Midnight
Saturation Syncopation
Delanie
Saturday Night
Till Dawn
Stand By Me

CD 4: LOOK TO YOUR SOUL

T. REX

Hope You Enjoy The Show

BIG CARROT

Black Jack
Squint Eye Mangle

T. REX – ZINC ALLOY OUTTAKES

The Avengers (Superbad)
Look To Your Soul
Down Home Lady
All My Love

SISTER PAT HALL

When I Was A Child
Ghetto Baby
Sailors Of The Highway
Jitterbug Love
High
City Port
Sunken Rags
Do Your Thing
Tell Me

T. REX

Sky Church Music
Teenage Dream [Top Of The Pops version]
Tracklisting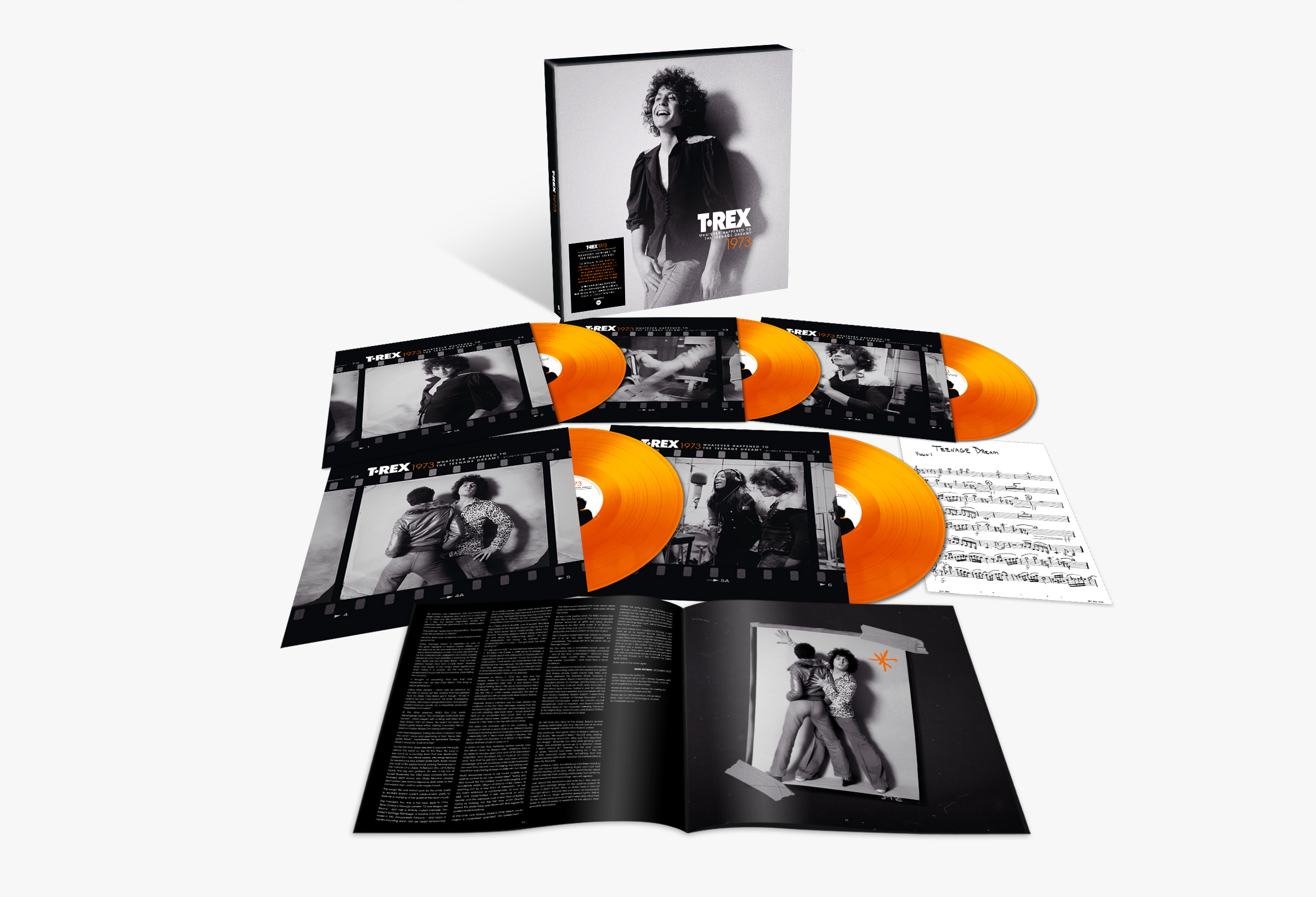 Whatever Happened to the Teenage Dream T. Rex
/
LP 1: Tanx

SIDE A

Tenement Lady
Rapids
Mister Mister
Broken-Hearted Blues
Shock Rock
Country Honey
Electric Slim And The Factory Hen

SIDE B

Mad Donna
Born To Boogie
Life Is Strange
The Street And Babe Shadow
Highway Knees
Left Hand Luke And The Beggar Boys

CD 2: ZINC ALLOY AND THE HIDDEN RIDERS OF TOMORROW/A CREAMED CAGE IN AUGUST

SIDE A

Venus Loon
Sound Pit
Explosive Mouth
Galaxy
Change
Nameless Wildness
Teenage Dream [single version]

SIDE B

Liquid Gang
Carsmile Smith And The Old One
You've Got To Jive To Stay Alive – Spanish Midnight
Interstellar Soul
Painless Persuasion v The Meathawk Immaculate
The Avengers (Superbad)
The Leopards Featuring Gardenia & The Mighty Slug

LP 3: HITS AND FLIPS: THE SINGLES

SIDE A

Children Of The Revolution
Jitterbug Love
Sunken Rags
Solid Gold Easy Action
Xmas Riff
20th Century Boy
Free Angel

SIDE B

The Groover
Midnight
Truck On (Tyke)
Sitting Here
Satisfaction Pony
Black Jack [by Big Carrot]
Squint Eye Mangle [by Big Carrot]

LP 4: PRIVATE NUMBERS

SIDE A: TANX ERA

Jitterbug Love
Electric Slim And The Factory Hen [alias You Got The Look]
Highway Knees
Mad Donna
Mister Mister
Country Honey
Rapids
Life Is Strange
The Street & Babe Shadow
Darling
Free Angel
Left Hand Luke And The Beggar Boys

SIDE B: ZINC ALLOY ERA

Change
Galaxy
Spanish Midnight
The Groover
Dance In The Midnight
Saturation Syncopation
Delanie
Saturday Night
Till Dawn

LP 5: LOOK TO YOUR SOUL

SIDE A

T. REX

Hope You Enjoy The Show
Look To Your Soul
Down Home Lady

SISTER PAT HALL

When I Was A Child
Ghetto Baby
Sailors Of The Highway
City Port
Jitterbug Love

SIDE B

High
Sunken Rags
Do Your Thing
Tell Me

T. REX

Sky Church Music
Teenage Dream [Top Of The Pops version]