 News
Tangerine Dream / In Search of Hades: The Virgin Recordings 1973-1979
16CD + 2 x blu-ray • Steven Wilson 5.1 mixes • Pre-order from SDE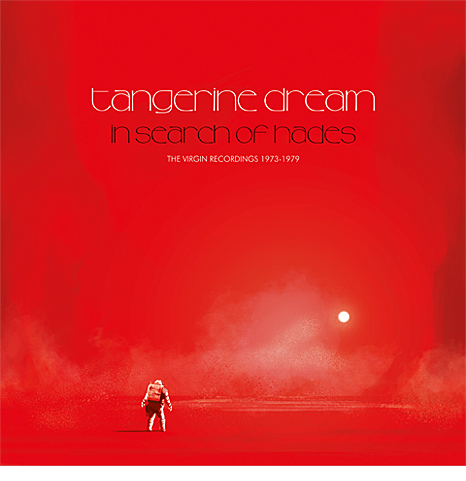 This June, Universal Music will issue In Search of Hades: The Virgin Recordings 1973 – 1979 a massive 18-disc Tangerine Dream collection.

Tangerine Dream were pioneers of electronic and ambient music and this box set features newly remastered versions of the albums Phaedra, Rubycon, Ricochet, Stratosfear, Encore, Cyclone and Force Majeure all drawn from the original first generation master tapes and and new Stereo and 5.1 Surround Sound mixes of Phaedra and Ricochet by Steven Wilson.
In Search of Hades includes eight CDs of previously unreleased material including two CDs of Phaedra outtakes, three London concerts in full (Victoria Palace Theatre in 1974, The Rainbow Theatre in 1974 and Royal Albert Hall in 1975) along with the previously unreleased full soundtrack to 'Oedipus Tyrannus', recorded in July 1974 (which is also on the blu-ray remixed in 5.1 Surround Sound and Stereo by Steven Wilson).
Due to what multi-track tapes were available Steven Wilson could only create stereo remixes of two tracks from Phaedra (the title track and 'Sequent C'). Therefore for the 5.1 mix on the blu-ray, the other two tracks – 'Mysterious Semblance at the Strand of Nightmares' and 'Moments of a Visionary' – are Penteo up-mixes (i.e. not 'true' 5.1 but according to SW these still sound "very good").
Steven explains his approach below:
"My role was to create new stereo and 5.1 mixes of whatever could be found of the original album multitrack tapes, but that turned out to be only Ricochet and 2 tracks from Phaedra. However, a number of reels of unreleased music were also found, such that 'In Search of Hades' also includes a generous 8 CDs of previously unreleased material. Perhaps most notable amongst these is the previously unreleased full soundtrack to 'Oedipus Tyrannus' (75 minutes) recorded in July 1974. Extracts from these recording sessions have previously been included on Rubycon, Encore and the Virgin sampler album 'V', but the full 75 minute recording has for the first time been mixed in stereo and 5.1 for the box set."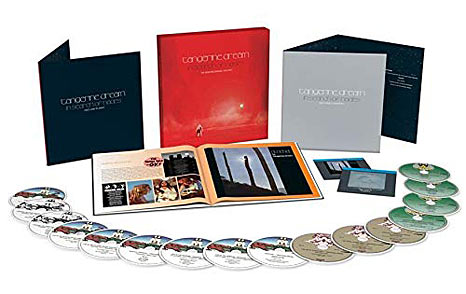 As well as the 5.1 mixes of Phaedra, Oedipus Tyrannus and Ricochet, the two blu-ray discs offer visual content in the form of a 1976 German TV performance and a 30 minute live recording of Tangerine Dream at Coventry Cathedral (The Old Grey Whistle Test).
The record label are calling this the "definitive statement of this period in Tangerine Dream's history" and in terms of packaging this is presented as a 68-page hardback book featuring new sleeve notes, rare photographs and images of memorabilia.
In Search of Hades: The Virgin Recordings 1973-1979 is released on 14 June 2019.
As Steven Wilson himself said "As a big Tangerine Dream fan myself, I've waited a long time for a definitive set covering their classic period, so of course was very happy to be involved in putting this one together. If you are a fan too please note that, as with many of these lavish box set editions, it's likely to be strictly a limited one-off pressing run, so don't hesitate to pick it up!
You can pre-order this box set from the SDE shop via this link or the button below.
<![CDATA[
/**/
]]>

CD 1

'Phaedra' – released in 1974
Phaedra – (17.36)

Mysterious Semblance at the Strand of Nightmares – (9.41)

Moments of a Visionary – (7.55)

Sequent C – (2.18)
Bonus tracks:
Phaedra (Steven Wilson stereo remix) (17.37)

Sequent C (Steven Wilson stereo remix) (2.21)
CD 2

'November 1973 – Phaedra out-takes volume one'
2nd Day (20.31)

Flute Organ Piece (10.57)

Phaedra Out-Take version 2A (20.37)
All tracks previously unreleased

CD 3

'November 1973 – Phaedra out-takes volume two'
Phaedra Out-Take 1 (11.43)

Phaedra Out-Take 2B (5.42)

2nd Side piece 1 (13.02)

2nd Side piece 2 (9.17)

Organ piece (5.49)
All tracks previously unreleased

CD 4

'Live at the Victoria Palace Theatre, London – 16th June 1974'
The Victoria Palace Concert Part One (46.54)
Previously unreleased

CD 5

'Live at the Victoria Palace Theatre, London – 16th June 1974'
The Victoria Palace Concert Part Two (28.16)

The Victoria Palace Concert – Encore (13.01)
Both tracks Previously unreleased

CD 6

'Oedipus Tyrannus' – recorded in July 1974
Overture (10.58)

Act 1 (16.42)

Act 2: Battle (10.05)

Act 2: Baroque (8.53)

Act 2: Zeus (5.39)

Act 3 (22.08)
All tracks previously unreleased

Mixed by Steven Wilson

CD 7

'Live at the Rainbow, London – 27th October 1974'
Introduction by John Peel (2.36)

The Rainbow Concert Part One (36.51)

The Rainbow Concert Part Two (29.22)
All tracks previously unreleased

CD 8

'Live at the Rainbow, London – 27th October 1974'
The Rainbow Concert Part Three (37.55)

The Rainbow Concert Encore (12.27)
Both tracks Previously unreleased

CD 9

'Rubycon' – released in 1975
Rubycon Part One (17.14)

Rubycon Part Two (17.35)
Bonus track:
Rubycon (extended introduction) (15.04)
Previously unreleased

Mixed by Steven Wilson

CD 10

'The Royal Albert Hall, London 2nd April 1975'
The Royal Albert Hall Concert – Part One (1:10.33)
CD 11

'The Royal Albert Hall, London 2nd April 1975'
The Royal Albert Hall Concert – Part Two (40.13)

The Royal Albert Hall Concert – Encore (13.46)
CD 12

'Ricochet' – released in 1975
Ricochet Part One (16.59)

Ricochet Part Two (21.04)
Bonus tracks:
Ricochet Part One (17.06)

Ricochet Part Two (21.21)
Both tracks Steven Wilson new stereo remixes

CD 13

'Stratosfear' – released in 1976
Stratosfear (10.33)

The Big Sleep in Search of Hades (4.27)

3am at the Border of the Marsh from Okefenokee (8.48)

Invisible Limits (11.25)
Bonus tracks:
Coventry Cathedral – The Original Film Soundtrack (34.02) – recorded 1975
Previously unreleased (other than original broadcast)
Stratosfear (single edit) (4.17)

The Big Sleep in Search of Hades (single edit) (3.24)
A & B-sides of promotional only single – released in 1976 

CD 14

'Encore' – released in 1977
Cherokee Lane (16.24)

Monolight (19.53)

Cold Water Canyon (18.05)

Desert Dream (14.47)
Bonus tracks:
Encore (3.14)

Hobo March (4.49)
A & B-sides of 7" single – released in 1977

CD 15

'Cyclone' – released in 1978
Bent Cold Sidewalk (13.07)

Rising Runner Missed by Endless Sender (5.02)

Madrigal Meridian (20.30)
Bonus tracks:
Haunted Heights (6.11)

Barryl Blue (7.19)
Taken from the compilation '70 – '80 – released in 1980

CD 16

'Force Majeure' – released in 1979
Force Majeure (18.18)

Cloudburst Flight (7.28)

Thru Metamorphic Rocks (14.30)
Bonus track:
Chimes and Chains (4.47)
Taken from the compilation '70 – '80 – released in 1980 

Disc 17 – Blu-Ray 

'Phaedra'
Phaedra (17.36)

Mysterious Semblance at the Strand of Nightmares (9.41)

Moments of a Visionary (7.55)

Sequent C (2.18)
All tracks 5.1 Surround Sound & 96 kHz / 24-bit stereo mixes by Steven Wilson

'Oedipus Tyrannus' – recorded in July 1974
Overture (10.58)

Act 1 (16.42)

Act 2: Battle (10.05)

Act 2: Baroque (8.53)

Act 2: Zeus (5.39)

Act 3 (22.08)
All tracks 5.1 Surround Sound & 96 kHz / 24-bit stereo mixes by Steven Wilson

Disc 18 – Blu-Ray

'Ricochet'
Ricochet Part One (17.06)

Ricochet Part Two (21.21)
Both tracks 5.1 Surround Sound & 96 kHz / 24-bit stereo mixes by Steven Wilson

Visual content:
Tangerine Dream at Coventry Cathedral (27.50)
From BBC TV Old Grey Whistle Test – 3rd October 1976

Previously unreleased (other than original broadcast)
Signale aus der Schwäbischen Strasse – (44.44)
Tangerine Dream documentary & performance from NDR / SFB TV Germany – broadcast 23rd May 1976

Previously unreleased (other than original German broadcast)