 News
Tasmin Archer / Sweet Little Truths – The EMI Years 1992-1996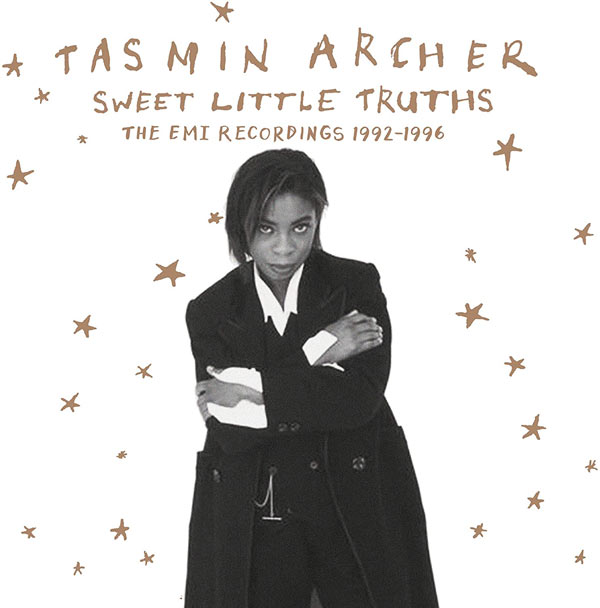 3CD anthology • Remastered albums • Rarities and remixes
Cherry Pop will release Sweet Little Truths: The EMI Years 1992-1996 a new Tasmin Archer anthology that brings together both her albums for the the label and rounds up B-sides, remixes and live material.

Archer's first single 'Sleeping Satellite' enjoyed a two-week spell at number one in the UK singles chart in October 1992 and in hindsight, this was probably a blessing and a curse. She had a few more minor hits from her first album Great Expectations, but 'relations' with EMI soured and sadly her brilliant second album Bloom (1996) never reached the wider audience it deserved.
Produced by Mitchell Froom and recorded and mixed by Tchad Blake, Bloom has a great pedigree and sounds fantastic. It benefits from two-thirds of The Attractions – Bruce and Pete Thomas – playing on every track, along with Froom himself and guitarists Steve Donnelly and John Hughes. This is excellent grown-up melodic rock/pop but it bombed. Quite how EMI let singles such as 'One More Good Night With The Boys' and 'Sweet Little Truth' languish at the lower reaches of the chart, is a mystery.
Perhaps unsurprisingly, Archer parted ways with the major label and didn't make another album for 10 years (2006's On). Not much has been heard of her since.
This new triple-CD set is very welcome and features remastered and expanded versions of both albums, the complete 'Shipbuilding' EP, and various other rarities.
Sweet Little Truths: The EMI Years 1992-1996 is released on 18 September 2020, via Cherry Pop.
Compare prices and pre-order
Tasmin Archer
Sweet Little Truths - The EMI Years 1992-1996 (3CD)
CD1: GREAT EXPECTATIONS
SLEEPING SATELLITE
ARIENNE
LORDS OF THE NEW CHURCH
WHEN IT COMES DOWN TO IT
STEELTOWN
THE HIGHER YOU CLIMB
IN YOUR CARE
SOMEBODY'S DAUGHTER
HERO
RIPPED INSIDE
HALFWAY TO HEAVEN
MAN AT THE WINDOW
(Acoustic Version)
SEA OF REST
STRINGS OF DESIRE
REAL OH SO REAL
SLEEPING SATELLITE
(Acoustic Version)
IN YOUR CARE (U.S. Radio Edit)
LORDS OF THE NEW CHURCH (Radio Edit)
ARIENNE (Radio Edit)
SOMEBODY'S DAUGHTER
(Radio Edit)
CD 2 : BLOOM
SWEET LITTLE TRUTH
AFTER HELL
ONE MORE GOOD NIGHT WITH THE BOYS
RAIN FALLING
I LIKE IT SO
BREAKING MY BACK
I WOULD LOVE TO BE RIGHT
YOU MADE A FOOL OF ME
MEMORY
GIVE IN WITH GRACE
IN YOUR GARDEN
GUILTY
ITCHYCOO PARK
TUMBLING TUMBLEWEEDS
OBEAH WEDDING (Live)
SHIPBUILDING
DEEP DARK TRUTHFUL MIRROR
ALL GROWN UP
NEW AMSTERDAM
CD 3: ONE MORE…
SLEEPING SATELLITE
(Extended Version)
LORDS OF THE NEW CHURCH (Remix)
RIPPED INSIDE (12" Version)
THE HIGHER YOU CLIMB (Remix)
WHEN IT COMES DOWN TO IT (12" Version)
RIPPED INSIDE
(Ben Chapman Mix)
SLEEPING SATELLITE (Fitz Mix)
IN YOUR CARE (Live)
LORDS OF THE NEW CHURCH (Live)
STEELTOWN (Live)
MAN AT THE WINDOW (Live)
AFTER HELL (Live)
RAIN FALLING (Live)
SLEEPING SATELLITE
(Rock Version)