 News
Terry Pratchett's Vinyl Discworld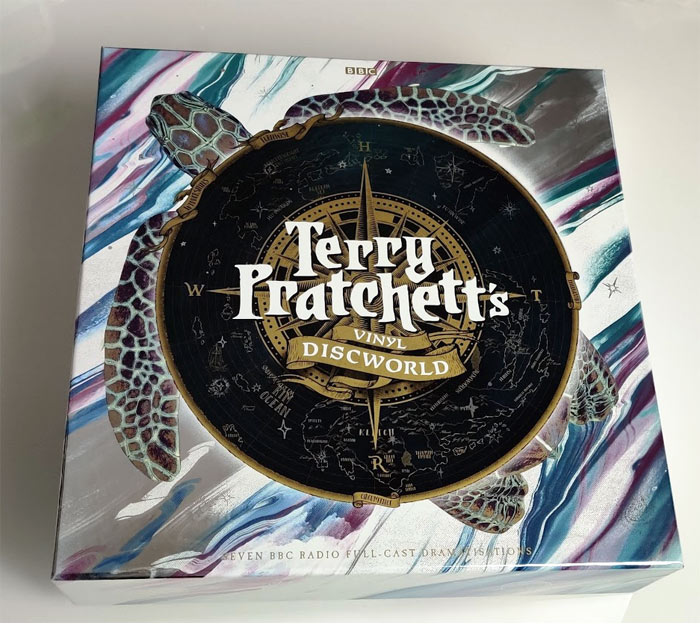 Seven BBC dramatisations • 15LP coloured vinyl box • Limited to 500
BBC Radio dramatisations of English author Terry Pratchett's comic fantasy book series Discworld will be issued as a lavish 15LP vinyl box set called Terry Pratchet's Vinyl Discworld, later this month.

Forty-one novels in the Discworld series were written in which a flat planet balanced on the backs of four elephants, which in turn stand on the back of a giant turtle.
This vinyl set presents seven BBC dramatisations, with the stories brought to life with music, sound effects and a large cast of actors including Anton Lesser, Sheila Hancock, Martin Jarvis, Melvyn Hayes, Philip Jackson, Alex Jennings, Geoffrey Whitehead, Patrick Barlow and Mark Heap.
Vinyl Discworld has been produced by Demon Records, who in recent times have put together the acclaimed Hitchhiker's Guide To The Galaxy vinyl packages as well as Good Omens, Pratchett's collaboration with Neil Gaiman, memorably adapted for TV on Amazon Prime.

The records are 'Discwirl' coloured vinyl (click image to enlarge)
This new set includes 15 vinyl records pressed on colourful 'Discswirl' vinyl. Each of the seven gatefold albums is beautifully illustrated and feature specially commissioned sleeve notes by Stephen Briggs (author of The Discworld Companion book) along with full cast and credits. Also included within the artwork is a recreation of the Discworld map created across the 15 printed inner bags.
The stories here are 'Mort', 'Wyrd Sisters', 'Guards! Guards!', 'Eric', 'Small Gods', 'Night Watch' and 'Only You Can Save Mankind' (which is actually a bonus non-Discworld story). Two of the records have themed etchings on one side. These are strictly limited to just 500 units!
Terry Pratchet's Vinyl Discworld will be released on 29 November 2019.
Compare prices and pre-order
Terry Pratchett
Terry Pratchett's Vinyl Discworld

Click image to enlarge
Mort
Side A 28.01
Side B 28.02
Side C 27.53
Side D 27.55
Wyrd Sisters
Side A 29.04
Side B 29.15
Side C 29.30
Side D 29.25

Click image to enlarge
Guards! Guards!
Side A 29.13
Side B 29.06
Side C 27.36
Side D 28.00
Side E 28.08
Side F 27.29
Eric
Side A 27.45
Side B 27.39
Small Gods
Side A 27.44
Side B 27.50
Side C 27.53
Side D 27.59
Night Watch
Side A 28.02
Side B Etched
Side C 27.55
Side D 27.54
Side E 27.59
Side F 27.55
Only You Can Save Mankind
Side A 28.53
Side B Etched
Side C 29.00
Side D 29.06