 News
The Action / Shadows and Reflections
4CD bookset • remastered • 'Comprehensive'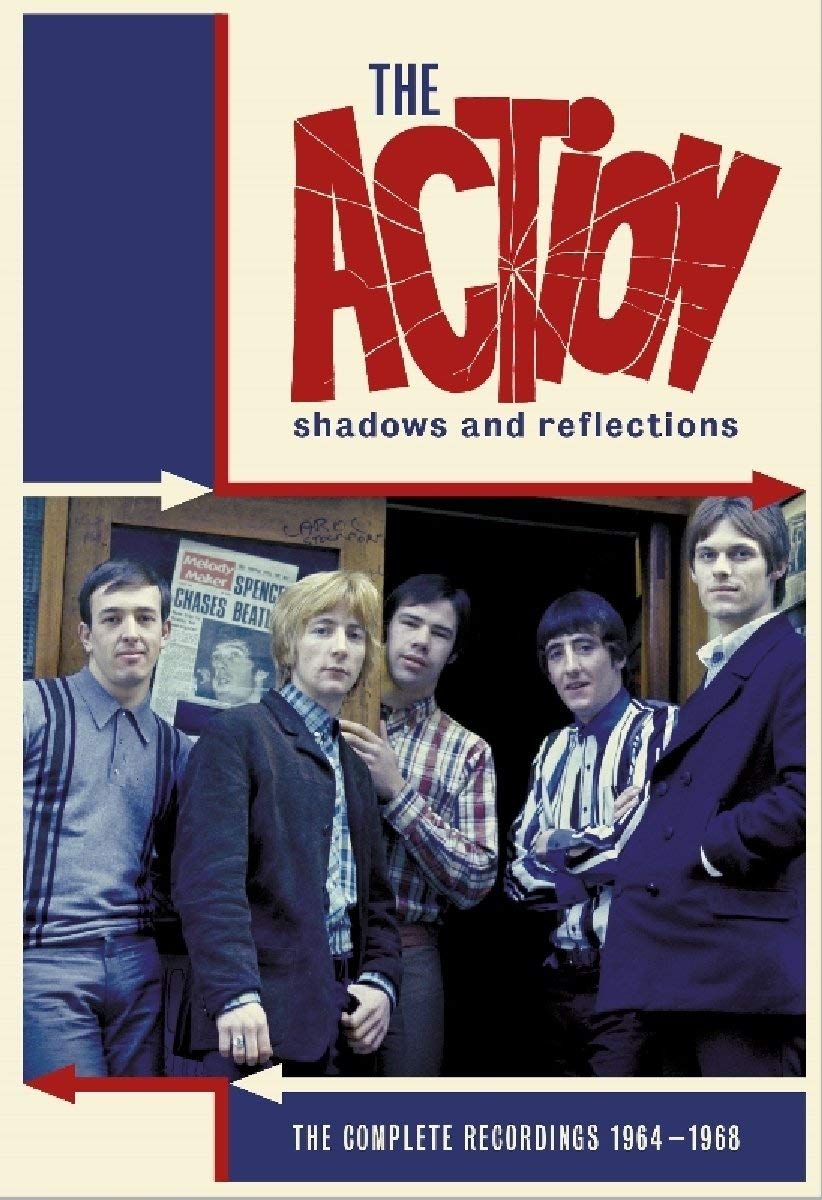 Sixties Mod band The Action's Complete Recordings (1964-1968) will be released as a new four-CD set in October.

The band (originally known as 'The Boys') were signed by George Martin after he left EMI in the mid-sixties and the 'fifth Beatle' produced the five singles issued on Parlophone between 1965-1967 as well as tracks for a never-released album.

Shadows and Reflections (issued by Cherry Red imprint Grapefruit) is said to be "the most comprehensive tribute" to The Action thus far, with many of the original single mixes getting their debut on CD as part of this set and newly found multi-tracks and rehearsal tapes allowing for a whole disc's worth of previously unheard mixes and performances.

This deluxe set comes as a bookset and includes a 16,000 words of notes by David Wells in a 36-page booklet. It will be issue on 26 October 2018. On the same day, a new 12-track vinyl LP, The New Action!, will be issued.


Compare prices and pre-order
The Action
Shadows And Reflections: The Complete Recordings 1964-1968
Compare prices and pre-order
The Action
The New Action! [VINYL]
DISC ONE

THE PARLOPHONE MASTERS
THE SINGLES
1. LAND OF ONE THOUSAND DANCES
2. IN MY LONELY ROOM
3. I'LL KEEP HOLDING ON
4. HEY SAH-LO-NEY
5. BABY YOU'VE GOT IT
6. SINCE I LOST MY BABY
7. NEVER EVER
8. TWENTYFOURTH HOUR
9. SHADOWS AND REFLECTIONS
10. SOMETHING HAS HIT ME
11. THE HARLEM SHUFFLE
12. WASN'T IT YOU
13. THE PLACE
14. THE CISSY
15. I LOVE YOU (YEAH!)
16. COME ON, COME WITH ME
17. JUST ONCE IN MY LIFE (New Mono Mix) *
BONUS TRACKS
18. MINE EXCLUSIVELY (BBC Session)
19. REG KING INTERVIEW / BABY YOU'VE GOT IT (BBC Session)
20. TAKE ME IN YOUR ARMS (ROCK ME A LITTLE WHILE) (BBC Session)
21. I SEE YOU (BBC Session)
22. SHADOWS AND REFLECTIONS (BBC Session)
* Previously unissued
DISC TWO

AT ABBEY ROAD
NEW STEREO MIXES
1. I'LL KEEP HOLDING ON
2. THE CISSY
3. NEVER EVER
4. SINCE I LOST MY BABY
5. SHADOWS AND REFLECTIONS
6. HEY SAH-LO-NEY
7. SOMETHING HAS HIT ME
8. BABY YOU'VE GOT IT
9. I LOVE YOU (YEAH!)
10. WASN'T IT YOU
11. THE HARLEM SHUFFLE
12. THE PLACE
13. TWENTYFOURTH HOUR
14. COME ON, COME WITH ME
15. JUST ONCE IN MY LIFE
OUTTAKES
16. SOMETHING HAS HIT ME (Rehearsal)
17. I LOVE YOU (YEAH) (Backing Track Take 1)
18. NEVER EVER (Rehearsal)
19. COME ON, COME WITH ME (Backing Track Take 4)
20. TWENTYFOURTH HOUR (Alternative Version)
21. THE PLACE (Backing Track Take 2)
22. JUST ONCE IN MY LIFE (Take 2)
23. SOMETHING HAS HIT ME (Alternative Backing Track)
24. SHADOWS AND REFLECTIONS (Backing Track)
All tracks previously unissued
DISC THREE

ROLLED GOLD PLUS:THE 1967-68 RECORDINGS
1. COME AROUND
2. SOMETHING TO SAY
3. LOVE IS ALL
4. ICARUS
5. STRANGE ROADS
6. THINGS YOU CANNOT SEE
7. BRAIN (Full Length Version)
8. LOOK AT THE VIEW
9. CLIMBING UP THE WALL (SEE ME) (Full Length Vers.)
10. REALLY DOESN'T MATTER (Full Length Version)
11. I'M A STRANGER
12. LITTLE BOY (Full Length Version)
13. FOLLOW ME
14. IN MY DREAM (George Martin Orchestrated Version)
ACTION SPEAKS LOUDER THAN…
15. ONLY DREAMING
16. DUSTBIN FULL OF RUBBISH
17. AN UNDERSTANDING LOVE
18. MY FAVOURITE DAY
19. A SAYING FOR TODAY
BONUS TRACK
20. IN MY DREAM (Demo Version)
DISC FOUR

ACTION EXTRAS
1. IT AIN'T FAIR – The Boys
2. I WANT YOU – The Boys
3. FINE LOOKING GIRL – The Boys
4. GIRL (WHY YOU WANNA MAKE ME BLUE) (Decca Audition)
5. IN MY LONELY ROOM (Decca Audition)
6. YOU'LL WANT ME BACK (Decca Audition)
7. I'LL KEEP HOLDING ON (Live)
8. LAND OF ONE THOUSAND DANCES / UPTIGHT (EVERYTHING'S ALRIGHT) (Live)
9. GOING TO A GO-GO (BBC Session)
10. NEVER EVER (BBC Session)
11. INDIA (BBC Session)
12. LOVE IS ALL (BBC Session)
13. I'LL KEEP HOLDING ON ("Edsel" mix)
14. BABY YOU'VE GOT IT ("Edsel" mix)
15. THE HARLEM SHUFFLE ("Edsel" mix)
16. JUST ONCE IN MY LIFE ("Edsel" mix)
17. NEVER EVER ("Edsel" mix)
18. TWENTYFOURTH HOUR ("Edsel" mix)
19. SOMETHING HAS HIT ME ("Edsel" mix)
20. SHADOWS AND REFLECTIONS ("Edsel" mix)