 News
The B52's / Cosmic Thing / 30th anniversary expanded edition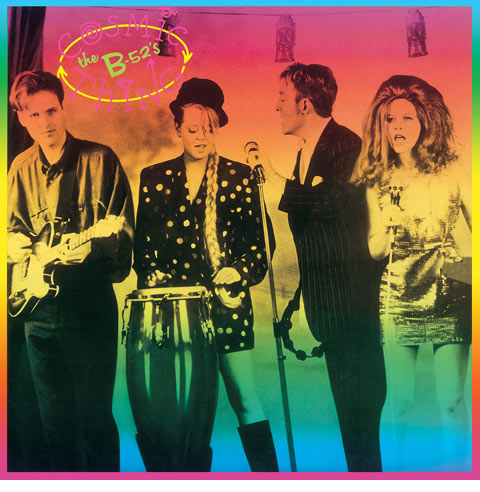 Remastered • 2CD deluxe • Bonus remixes and live cuts
The B-52's album Cosmic Thing will be reissued as an expanded two-CD deluxe edition next month, for its 30th anniversary reissue.

The 1989 long-player was a big success at the time, spawning the transatlantic top five hit 'Love Shack' and 'Roam' (also top five in the USA).
This two-CD reissue (there appears to be no vinyl edition) includes remastered audio and bonus tracks include edits, a megamix, 12-inch remixes and unreleased concert recordings from 1990's Cosmic Tour.
Cosmic Thing will be reissued on 28 June 2019.
Compare prices and pre-order
The B-52's
Cosmic Thing: 30th Anniversary Expanded Edition
CD 1
1. Cosmic Thing (Remastered)
2. Dry County (Remastered)
3. Deadbeat Club (Remastered)
4. Love Shack (Remastered)
5. Junebug (Remastered)
6. Roam (Remastered)
7. Bushfire (Remastered)
8. Channel Z (Remastered)
9. Topaz (Remastered)
10. Follow Your Bliss (Remastered)
11. B-52's Megamix (Remastered)
12. Love Shack (Edit) [Remastered]
13. Channel Z (Rock Mix) [Remastered]
14. Roam (Extended Remix) [Remastered]
15. Roam (12″ Remix) [Remastered]
CD 2
1. Cosmic Thing (Live)
2. Bushfire (Live)
3. Quiche Lorraine (Live)
4. Dance This Mess Around (Live)
5. Dry County (Live)
6. Private Idaho (Live)
7. Give Me Back My Man (Live)
8. Deadbeat Club (Live)
9. Mesopotamia (Live)
10. Strobe Light (Live)
11. Roam (Live)
12. 52 Girls (Live)
13. Love Shack (Live)
14. Rock Lobster (Live)
15. Whammy Kiss (Live)
16. Channel Z (Live)