 News
The Band / Cahoots 50th anniversary
Remixed, remastered & expanded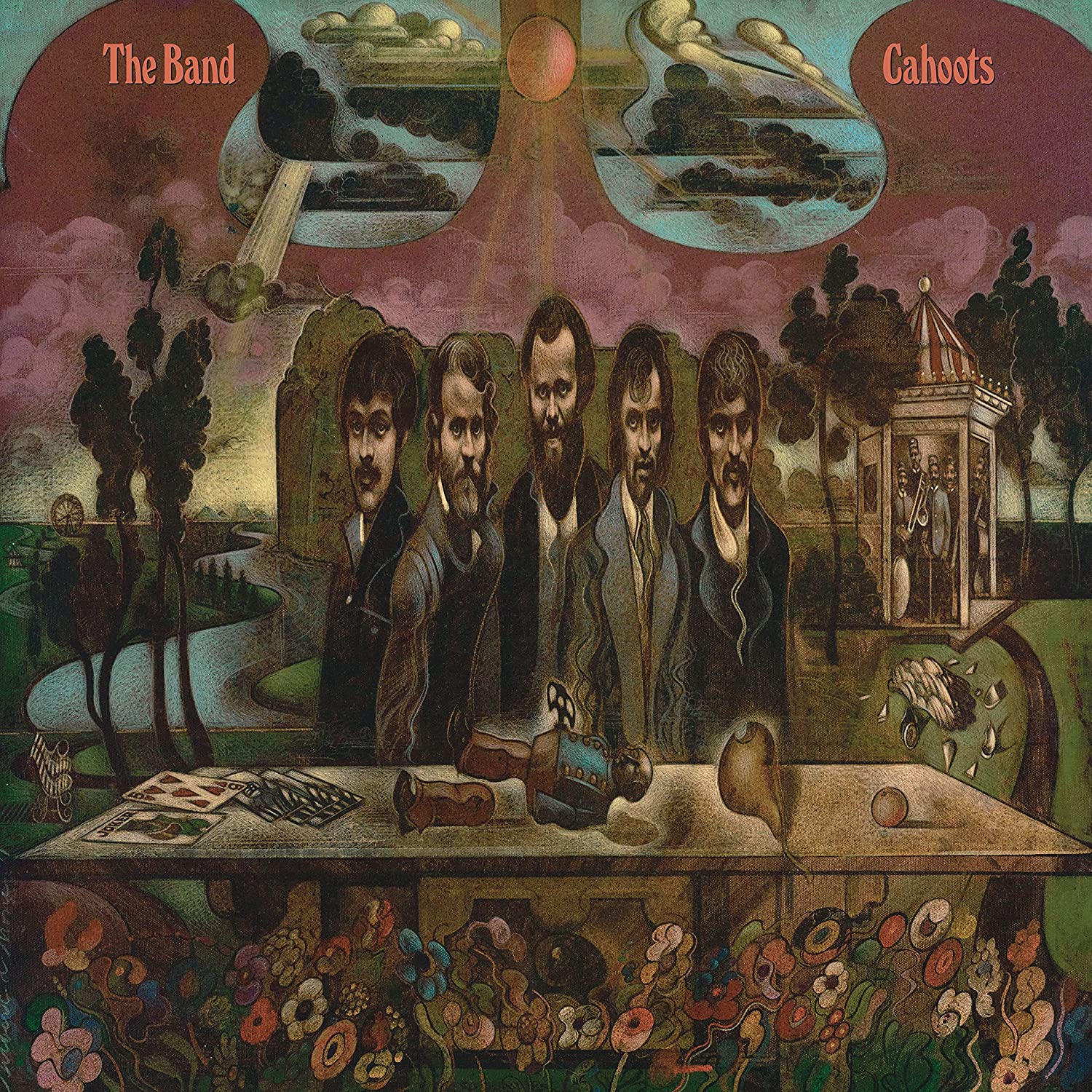 The Band's fourth album, Cahoots, will be reissued for its 50th anniversary in December across four physical formats, including a five-disc super deluxe edition.
All releases feature a new stereo mix of the 1971 album by Bob Clearmountain and the two-CD and box set editions offer eight bonus tracks in the form of outtakes/alternate mixes plus Live at the Olympia Theatre, Paris, May 1971, which is described as "a rousing bootleg partial concert" consisting of 11 tracks culled from a European tour.
The super deluxe edition (which is 2CD+blu-ray+vinyl LP+seven-inch) adds Dolby Atmos and 5.1 surround mixes of the album (also by Clearmountain) and four bonus tracks. The box set also includes a reproduction of the Japanese pressing of the 'Life Is A Carnival'/'The Moon Struck' seven-inch single (these are the new stereo mixes).
The box set also includes a black vinyl edition of teh album, a 20-page booklet with new notes by Robbie Robertson and sleeve notes by Rob Bowman and three lithographs.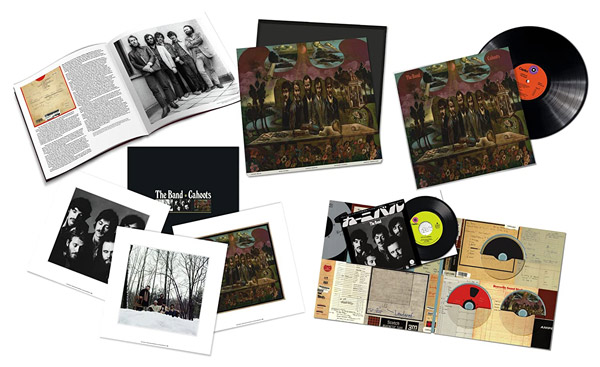 Interestingly, for the stereo mix, Bob Clearmountain was told to "transform" the original mixes based on what was lacking. He says: "Robbie told me, 'Just think of the original mixes as rough mixes. Pretty much don't pay attention to the mixes themselves'". Robertson concurs: ""I told Bob, 'There are no rules. So, every mix we do, I want to start from scratch. I don't even want to listen to the original. I want to listen to the way we hear it now and be fearless and experimental with it".
As before with The Band reissues vinyl will be available separately and a half-speed mastered gatefold vinyl edition will also be available via specific channels.
Cahoots is reissued on 10 December 2021 via UMC. Super deluxe box set is delayed until 21 Jan 2022.
Compare prices and pre-order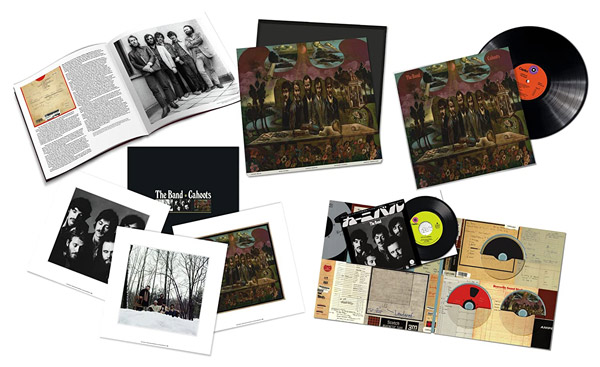 The Band
Cahoots super deluxe edition
Compare prices and pre-order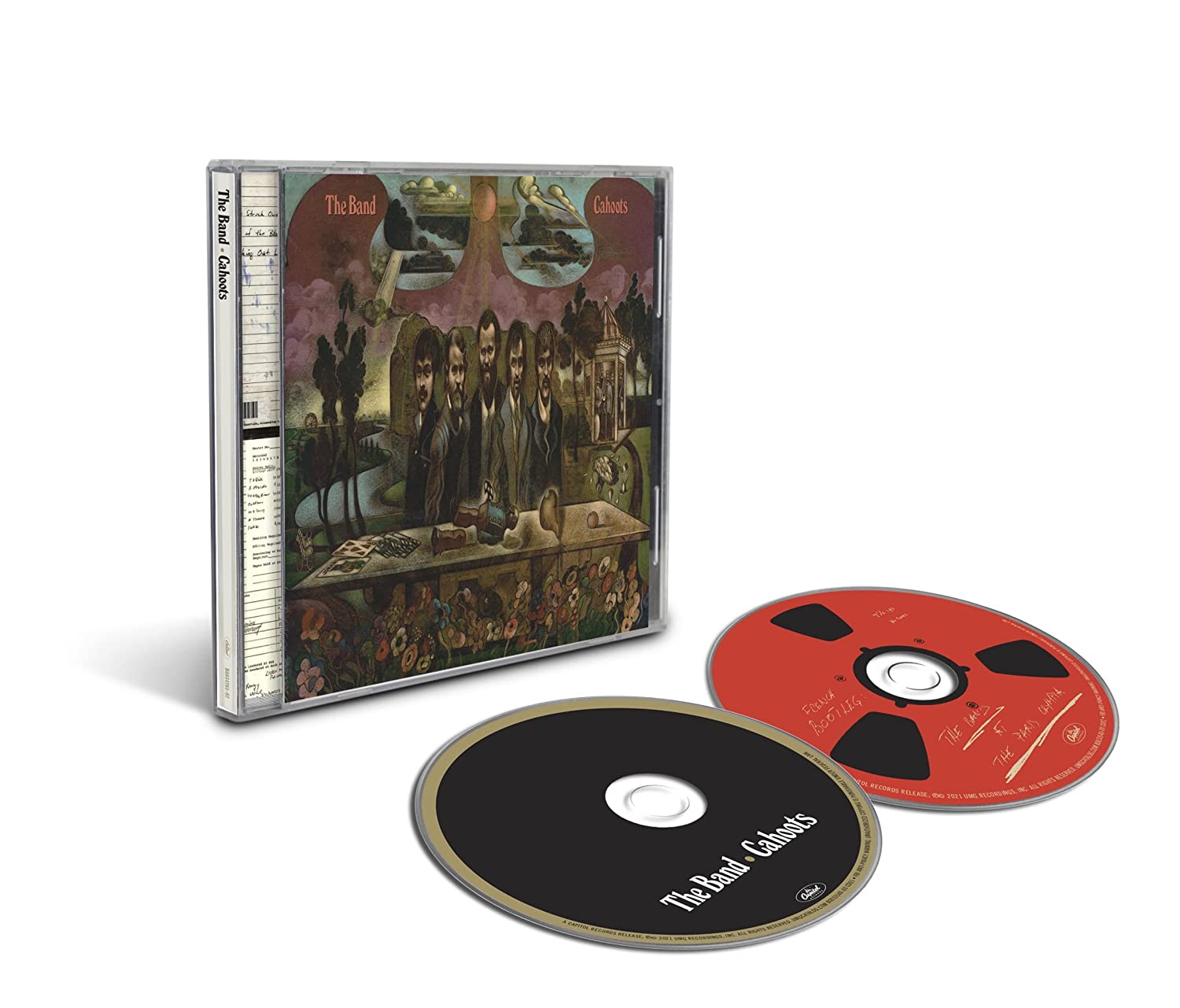 The Band
Cahoots - 2CD edition
Compare prices and pre-order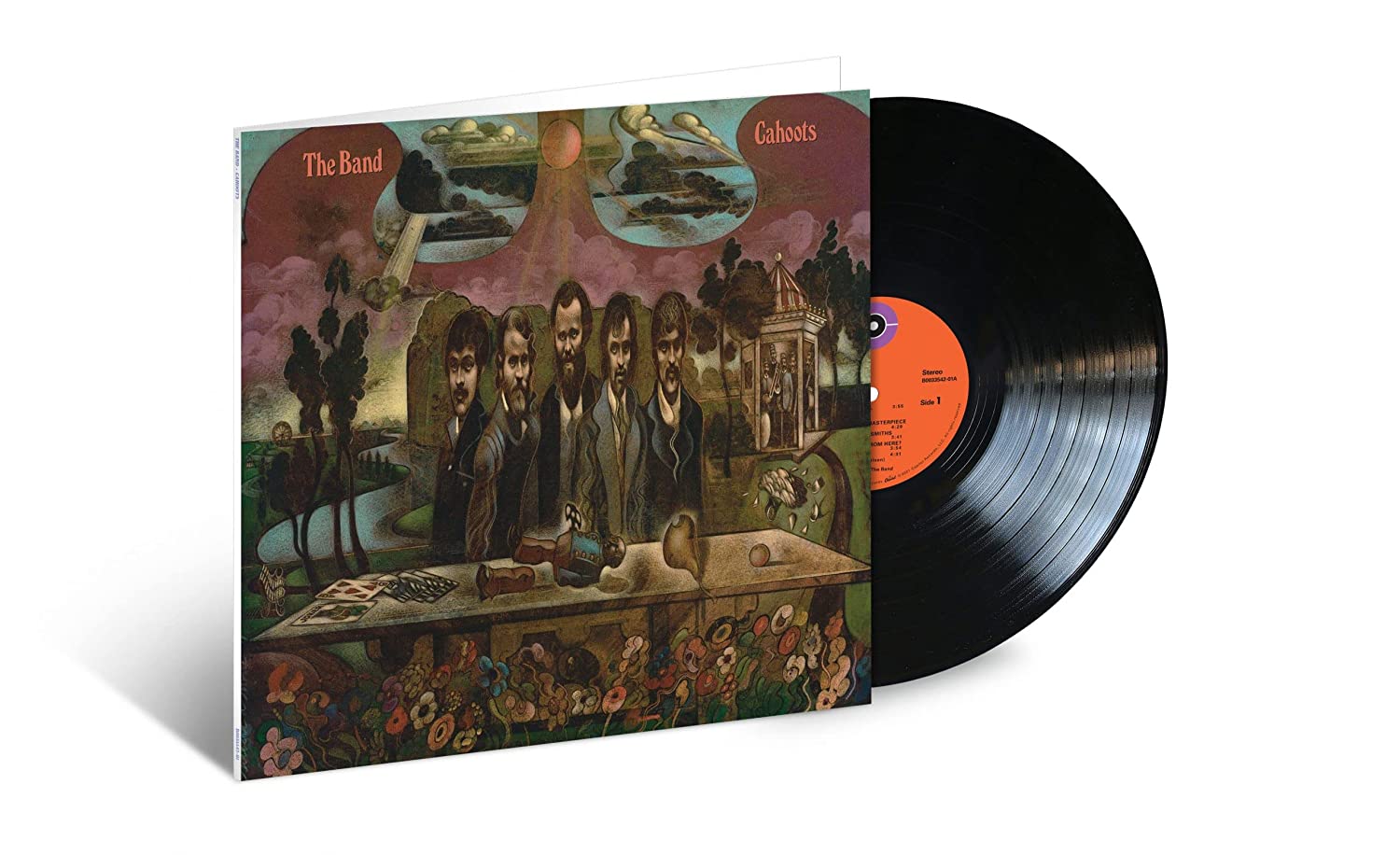 The Band
Cahoots - vinyl LP
Tracklisting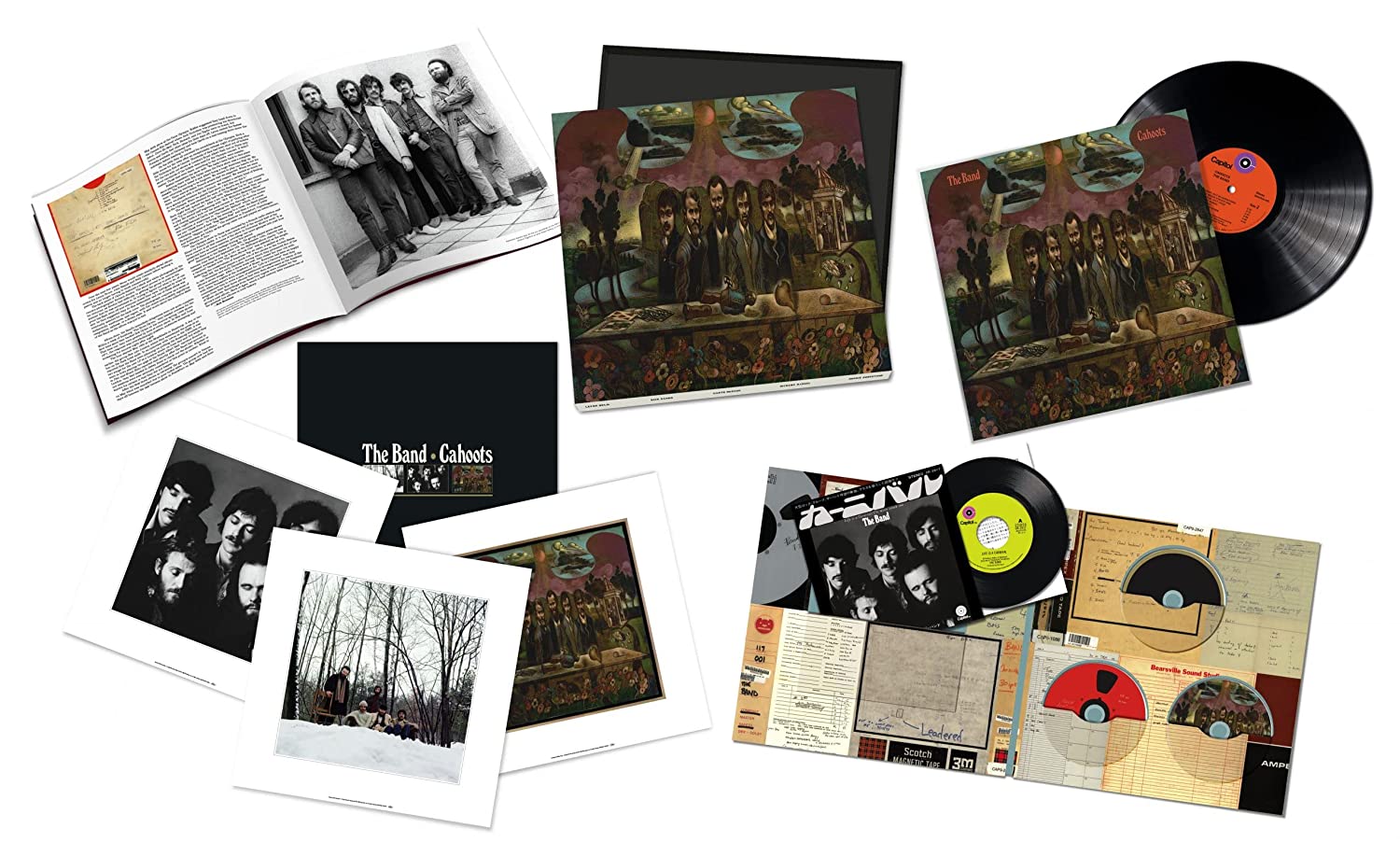 Cahoots The Band
/
super deluxe edition
CD 1

Life Is A Carnival
When I Paint My Masterpiece
Last Of The Blacksmiths
Where Do We Go From Here?
4% Pantomime
Shoot Out In Chinatown
The Moon Struck One
Thinkin' Out Loud
Smoke Signal
Volcano
The River Hymn

Bonus Tracks

Endless Highway (Early Studio Take, 2021 Mix)

When I Paint My Masterpiece (Alternate Take, 2021 Mix)
4% Pantomime (Takes 1 & 2)
Don't Do It (Outtake – Studio Version, 2021 Mix)
Bessie Smith (Outtake)

CD 2: Live at The Olympia Theatre, Paris, May 1971 (Bootleg, Partial Concert)*

The W.S. Walcott Medicine Show
We Can Talk
Loving You Is Sweeter Than Ever
The Night They Drove Old Dixie Down
Across The Great Divide
The Unfaithful Servant
Don't Do It
The Genetic Method
Chest Fever
Rag Mama Rag
Slippin' And Slidin'

Bonus Tracks

Life Is A Carnival (Instrumental)*
Volcano (Instrumental)*
Thinkin' Out Loud (Stripped Down Mix)*

* Previously unreleased

blu-ray

Dolby Atmos, DTS-HD Master Audio 5.1, and Stereo
High Resolution Audio: 96 kHz/24 bit

Life Is A Carnival
When I Paint My Masterpiece
Last Of The Blacksmiths
Where Do We Go From Here?
4% Pantomime
Shoot Out In Chinatown
The Moon Struck One
Thinkin' Out Loud
Smoke Signal
Volcano
The River Hymn

Bonus Tracks

Endless Highway
(Early Studio Take, 2021 Mix)
When I Paint My Masterpiece
(Alternate Take, 2021 Mix)
4% Pantomime (Takes 1 & 2)
Don't Do It (Outtake – Studio Version, 2021 Mix)

* Previously unreleased

Vinyl LP (33RPM)

Side One

Life Is A Carnival
When I Paint My Masterpiece
Last Of The Blacksmiths
Where Do We Go From Here?
4% Pantomime

Side Two

Shoot Out In Chinatown
The Moon Struck One
Thinkin' Out Loud
Smoke Signal
Volcano
The River Hymn

Original 1971 7" Capitol Single, Japanese Pressing (45 RPM)

Life Is A Carnival
The Moon Struck One